Commentary
Unsung Green getting job done for Patriots
After overcoming a back injury in college, Jarvis Green also had to overcome his lack of ideal size to emerge as a key member of the Patriots' defense, writes William Bendetson.
Originally Published:
October 11, 2007
By
William Bendetson
| ESPN.com
FOXBOROUGH, Mass. -- It was a minor car accident, yet it almost ended the career of New England Patriots defensive lineman Jarvis Green.
Green, an LSU true freshman at the time, described the December 1997 accident as a fender bender, yet he started experiencing lower back pain a month later. Green still managed to record eight sacks as a redshirt freshman in 1998, the most sacks by a freshman in LSU history, and 50 tackles. But he missed most of spring practice before his sophomore season, as his back pain slowly got worse until it was unbearable.
GIVING BACK
LSU athletic trainer Jack Marucci has a big picture of Jarvis Green on his wall. He also has something else, a lower back stregthening table that Green donated to the LSU progam after he graduated in 2001. Green keeps in touch with Marucci and visits LSU at least once a year. On Sept. 21, Green held his first annual Jarvis Green Foundation Wine Tasting Gala in Seekonk, Mass. Patriots linebackers Rosevelt Colvin, Adalius Thomas and Junior Seau were in attendance as well as defensive lineman Ty Warren and rookie safety Brandon Meriweather. The event raised money for single mothers suffering from the effects of Hurricane Katrina. As a child, Green played in an area where one of the levies broke. The wine gala also raised money for the family of deceased Patriots DL Marquise Hill. Green gave an emotional speech about Hill, who died last summer in a jet ski accident. Green has started a trust fund for Hill's son, Ma'shy, to whom he considers a godson. "Marquise was like a little brother to me," Green said. "I was kind of his mentor as we played together at LSU and in New England. I feel that I have a responsibility and a duty to take care of Ma'shy. "
Green could not bend over, and it hurt him to cough or sneeze. He had trouble taking off his clothes and putting on his shoes. He was on multiple painkillers. LSU head athletic trainer Jack Marucci wondered if Green would be able to play football again.
It turned out Green had minor fractures in his back. At the advice of a chiropractor, Marucci helped Green with a 17-week rehabilitation program, which involved 2½ hours of physical activity daily. Grueling would be an understatement. Green did a lot of pilates and many stretching exercises to strengthen the muscles around his vertebrae.
"Minor fractures can be asymptomatic," said Dr. Brent Underwood of Underwood Chiropractic in Baton Rouge, La., who treated Green. "But their presentation comes about as a result of increased physical activity. That could include running, heavy lifting, etc.. Jarvis was going through a lot of two a-days and taking a lot of hits so that could have have been what brought on the pain."
Green, now 28, says the pain mostly subsided in August 1999, before the start of his sophomore season. He calls it a miracle, saying he prayed one night for an hour and the next day the pain was gone. In LSU's final scrimmage before the 1999 season, Green recorded five sacks and thought he had returned to form.
The road blocks, though, did not end there.
Green once again reached the 50-tackle plateau as a sophomore, but his production declined significantly as a junior. He finished with only 31 tackles.
Family and friends kept asking Green why he was not playing well. He became so angry with all the pressure that he almost quit football. However, he improved his senior year, starting all 13 games and recording 52 tackles and four sacks, and was a second-team All-Southeastern Conference selection.
When NFL scouts visited LSU in 2002, Marucci went out on a limb and told them Green could be a great player despite his size. He compared Green to former Arizona Cardinals DE Andre Wadsworth. Still, many teams would not listen.
LSU coaches expected Green to be drafted in the second or third round, but the Patriots selected Green in the fourth. The Patriots' choice was somewhat of a surprise, considering they play a 3-4 defense and Green played in the 4-3 at LSU.
Green did not have much experience with the two-gap, a staple of the 3-4 defense. In the two-gap, a defensive lineman can be responsible for the gap between the center and guard, as well as the gap between the guard and tackle. In the 4-3, linemen generally are responsible for only one gap.
Many thought Green (6-foot-3, 270 pounds at the time) also might be too small to play in the 3-4. Green, who has gained 15 pounds since he left LSU to bulk up to 285, admits that playing in the 3-4 is something he still is getting used to, with his primary job being to occupy blockers so the linebackers can fill the holes.
Green, though, has become a reliable backup for Richard Seymour. The Patriots placed Seymour on the physically unable to perform list at the end of training camp, meaning he won't be eligible to play until Week 7.
Green, who already has three sacks this season, had 7½ sacks last season, the highest total of his career. In six seasons with the Patriots, Green has started 26 regular-season games. He also started in the 2004 playoffs against the Indianapolis Colts and Pittsburgh Steelers. One of Green's best performances came in the 2003 AFC Championship Game, when he had 2½ sacks versus Peyton Manning and the Colts.
"You are not going to get a lot of glory in the 3-4 defense," Warren says. "But Jarvis does a great job whenever he is called upon."

Defensive Lineman
New England Patriots
2007 Season Stats

| | | | | | |
| --- | --- | --- | --- | --- | --- |
| Tot | Solo | Ast | FF | Sack | Int |
| 15 | 9 | 6 | 0 | 3 | 0 |
Green's play is starting to receive notice around the league. Cleveland Browns coach Romeo Crennel called Green a "good technician" after the Patriots defeated the Browns 34-17 in Week 5. Green lined up against Browns left tackle Joe Thomas, who was impressed with Green's quickness and speed.
Even though Green is 25 pounds lighter than Seymour, he has enough strength to hold up in the 3-4. According to Thomas, Green does an excellent job of controlling offensive linemen with his hands.
Still, Green is not satisfied. He is happy with his pass-rushing but admits his play against the runs needs improvement. Green says he needs to be a good run-stopper all the time, not just some of the time.
"It has been a long road to get to where I am today," Green says. "But I have a long way to go to get where I want to be as a player."
William Bendetson covers pro football for ESPN.com.
SPONSORED HEADLINES
MORE NFL HEADLINES
MOST SENT STORIES ON ESPN.COM
THE DUEL IN DALLAS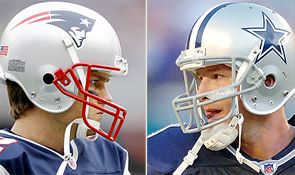 It's a battle of unbeatens ... and a potential preview of Super Bowl XLII. It's T.O. vs. Moss, Romo vs. Brady. It's 5-0 New England vs. 5-0 Dallas on Sunday at Texas Stadium (4:15 p.m. ET).
Commentary/features
•
Clayton's First and 10: Expect lots of offense
•
Garber: Moss and T.O. are two of a kind
•
Bendetson: Unsung Green gets job done for Pats
•
Sando: Brady, Moss among scheme-busters
|
List
•
Harasta: Sharing a moment with the Folk hero
•
Joyner: Cowboys defense passing the test

•
Wojciechowski: Mr. Belichick, meet Mr. Romo
•
Helyar: Romo's marketability a 'perfect storm'
•
Pasquarelli: Cowboy ugly win against Bills
•
Tafoya: Is Romo the next Brett Favre?

•
Power Rankings: Pats No. 1, Cowboys No. 3
•
Great Debate: Will Pats go 16-0 this season?
•
Hashmarks: Matt Mosley blogs on the big game
News
•
Cowboys' Phillips denies 'Spygate' comments
•
T.O. goes silent until after the game
Video
•
Belichick, Phillips sound off
•
Is T.O. nervous for the duel?
•
Werder: T.O. lets sign speak for itself
•
Nix: Brady, receivers keep improving
•
Parcells: What Romo, Dallas will face
•
Duel dialogue: Cowboys leaking oil?
•
EA Sports Madden Challenge: Dallas
Audio
•
Parcells, Keyshawn, Mort on Romo, more

•
Green: Game preview
•
Green: Debating which team is better
•
Tirico: Jerry Jones on QB Tony Romo

•
Mosley: Taking the temperature in Dallas

•
Mortensen: Romo will improve with age

•
Mosley: Bills wake-up call for Dallas

•
Clayton: Timeout rule needs a change

Scouts Inc.
•
Horton's Film Room: Romo's misreads
•
Pats will come hard after Romo
•
Take 2: Pats-Cowboys scouting report
•
Green: Cowboys should use more of Barber
•
Pats vs. Cowboys: Tale of the Tape
•
Green: The new Moss is same as old Moss
•
How to slow down the playmakers
•
Kretz: Newman gives Dallas options
•
Patriots-Cowboys scouting report
•
Kidd: Patriots key on Cowboys TE
•
Maalouf: Dallas special teams will struggle
•
Green: Romo can lead Dallas to Super Bowl
•
Horton: Here's why the Patriots could go 16-0
Zoom Gallery
•
Scouts Inc. on under-the-radar players
Simulations
•
EA simulation: Patriots 41, Cowboys 10
•
AccuScore: Moss makes major difference
SportsNation
•
Pats-'Boys: Who'll win? Who'll make the plays?
•
Rank the Patriots and Cowboys
Community
•
Post a comment on Dallas' Tony Romo
•
Join the conversation on Power Rankings
•
Readers discuss Cowboys' win in Buffalo
Animated Plays
The Cowboys could have their hands full with a defense that is the master of disguise. •
Patriots' games on defense
2007 Results
NEW ENGLAND (5-0)
•
Game 1:
Patriots 38, Jets 14
•
Game 2:
Patriots 38, Chargers 14
•
Game 3:
Patriots 38, Bills 7
•
Game 4:
Patriots 34, Bengals 14
•
Game 5:
Patriots 34, Browns 17
•
Patriots clubhouse page
DALLAS (5-0)
•
Game 1:
Cowboys 45, Giants 35
•
Game 2:
Cowboys 37, Dolphins 20
•
Game 3:
Cowboys 34, Bears 10
•
Game 4:
Cowboys 35, Rams 7
•
Game 5:
Cowboys 25, Bills 24
•
Cowboys clubhouse page