Owens not talking to media until after Sunday's game
Updated:
October 10, 2007, 8:55 PM ET
Associated Press
IRVING, Texas -- A new tactic for Terrell Owens: Instead of talking, he wrote a note.
Even Owens apparently knows the Dallas Cowboys' game Sunday against New England, a pair of 5-0 teams and multiple Super Bowl winners, doesn't need any extra hype.
Nor does Tom Brady vs. Tony Romo, and more interestingly, Owens vs. Randy Moss in a matchup of the league's highest-scoring offenses.
In place of the usually talkative receiver, reporters found at Owens' locker Wednesday a nearly poster-sized, typewritten note:
"Dear Reporters,
"Due to the magnitude of this week's game and high volume of questions for the Original 81 about the other 81. I will be taking all questions immediately following Sunday's game.
"Sincerely, (followed by Owens' signature)
"p.s. Getcha Popcorn Ready."
The "other 81" was an obvious reference to Moss, the controversial five-time Pro Bowl receiver who after two difficult years in Oakland is flourishing in his first season with the Patriots.
Owens' postscript referred to his "get your popcorn ready" comment made when he signed with the Cowboys in the summer of 2006 -- before he caught an NFL-high 13 TDs in his Dallas debut. Owens has 21 catches for 387 yards and three TDs this season.
"I think he's pretty focused. We don't want to give them any bulletin-board material," tight end Jason Witten said. "There's enough said. We all know what the challenge is. ... He's staying focused. He's anxious, excited about the challenge."
Moss is tied for the NFL lead with seven touchdown catches and has a league-high 551 yards (on 34 catches), even after being sidelined much of training camp with a hamstring injury -- similar to Owens' first camp with the Cowboys last year.
While Owens wasn't in the locker room, he was at practice, an unusual Wednesday workout with players in shorts without pads or helmets.
During the open locker room period, several of Owens' teammates stopped and read the note, then walked away smiling.
"It was funny reading it," Chris Canty said. "That's T.O. being T.O. You've got to love that guy."
Plus, they saw bigger messages in Owens' short statement.
"He's going to show it on the field. ... The talk is over. Now it's all about getting prepared and trying to get a win," DeMarcus Ware said.
"Anytime it's a big game, you [reporters] get on that guy pretty good and look for a sound byte," Marcus Spears said. "He's taking a different road. he's letting 5-0 speak for him right now."
When reporters crowded around Romo, whose locker is in a different area of the room, they asked him about Owens' sign.
"I think it's interesting," Romo initially responded. "What is it?"
After being told, Romo quipped, "I may do that, too."

Copyright 2007 by The Associated Press
SPONSORED HEADLINES
MORE NFL HEADLINES
MOST SENT STORIES ON ESPN.COM
THE DUEL IN DALLAS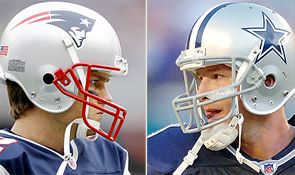 It's a battle of unbeatens ... and a potential preview of Super Bowl XLII. It's T.O. vs. Moss, Romo vs. Brady. It's 5-0 New England vs. 5-0 Dallas on Sunday at Texas Stadium (4:15 p.m. ET).
Commentary/features
•
Clayton's First and 10: Expect lots of offense
•
Garber: Moss and T.O. are two of a kind
•
Bendetson: Unsung Green gets job done for Pats
•
Sando: Brady, Moss among scheme-busters
|
List
•
Harasta: Sharing a moment with the Folk hero
•
Joyner: Cowboys defense passing the test

•
Wojciechowski: Mr. Belichick, meet Mr. Romo
•
Helyar: Romo's marketability a 'perfect storm'
•
Pasquarelli: Cowboy ugly win against Bills
•
Tafoya: Is Romo the next Brett Favre?

•
Power Rankings: Pats No. 1, Cowboys No. 3
•
Great Debate: Will Pats go 16-0 this season?
•
Hashmarks: Matt Mosley blogs on the big game
News
•
Cowboys' Phillips denies 'Spygate' comments
•
T.O. goes silent until after the game
Video
•
Belichick, Phillips sound off
•
Is T.O. nervous for the duel?
•
Werder: T.O. lets sign speak for itself
•
Nix: Brady, receivers keep improving
•
Parcells: What Romo, Dallas will face
•
Duel dialogue: Cowboys leaking oil?
•
EA Sports Madden Challenge: Dallas
Audio
•
Parcells, Keyshawn, Mort on Romo, more

•
Green: Game preview
•
Green: Debating which team is better
•
Tirico: Jerry Jones on QB Tony Romo

•
Mosley: Taking the temperature in Dallas

•
Mortensen: Romo will improve with age

•
Mosley: Bills wake-up call for Dallas

•
Clayton: Timeout rule needs a change

Scouts Inc.
•
Horton's Film Room: Romo's misreads
•
Pats will come hard after Romo
•
Take 2: Pats-Cowboys scouting report
•
Green: Cowboys should use more of Barber
•
Pats vs. Cowboys: Tale of the Tape
•
Green: The new Moss is same as old Moss
•
How to slow down the playmakers
•
Kretz: Newman gives Dallas options
•
Patriots-Cowboys scouting report
•
Kidd: Patriots key on Cowboys TE
•
Maalouf: Dallas special teams will struggle
•
Green: Romo can lead Dallas to Super Bowl
•
Horton: Here's why the Patriots could go 16-0
Zoom Gallery
•
Scouts Inc. on under-the-radar players
Simulations
•
EA simulation: Patriots 41, Cowboys 10
•
AccuScore: Moss makes major difference
SportsNation
•
Pats-'Boys: Who'll win? Who'll make the plays?
•
Rank the Patriots and Cowboys
Community
•
Post a comment on Dallas' Tony Romo
•
Join the conversation on Power Rankings
•
Readers discuss Cowboys' win in Buffalo
Animated Plays
The Cowboys could have their hands full with a defense that is the master of disguise. •
Patriots' games on defense
2007 Results
NEW ENGLAND (5-0)
•
Game 1:
Patriots 38, Jets 14
•
Game 2:
Patriots 38, Chargers 14
•
Game 3:
Patriots 38, Bills 7
•
Game 4:
Patriots 34, Bengals 14
•
Game 5:
Patriots 34, Browns 17
•
Patriots clubhouse page
DALLAS (5-0)
•
Game 1:
Cowboys 45, Giants 35
•
Game 2:
Cowboys 37, Dolphins 20
•
Game 3:
Cowboys 34, Bears 10
•
Game 4:
Cowboys 35, Rams 7
•
Game 5:
Cowboys 25, Bills 24
•
Cowboys clubhouse page