Commentary
AccuScore numbers game: Moss makes huge difference
The Patriots' chances of winning Sunday's duel in Dallas would decrease dramatically without Randy Moss, according to AccuScore simulations.
Originally Published:
October 12, 2007
By
Gibby McCaleb with statistical analysis by Stephen Oh
| AccuScore
Intel Report
Trends, projected top performers and more for New England at Dallas.

• Report

The Super Bowl in October? It sure seems that way as the 5-0
New England Patriots
roll into Irving, Texas, to square off against the 5-0
Dallas Cowboys
. This game has about as much hype as the Super Bowl but without the halftime show, thankfully. One can only withstand so many wardrobe malfunctions in one lifetime.
Never being one to miss out on a media frenzy, we here at AccuScore.com decided to fan the flames and take a deeper look at this game with the help of the AccuScore Super Computer. That's what we do. We're geeks. We like math.
Our baseline simulations give a slight edge to the Patriots in this game, with New England having a little more than a 53 percent chance of winning. Dallas should thank its lucky stars that this game is in Texas. Were this game being played in Foxboro, the odds dramatically swing in the Patriots' favor, with AccuScore data giving them a whopping 68 percent chance of winning.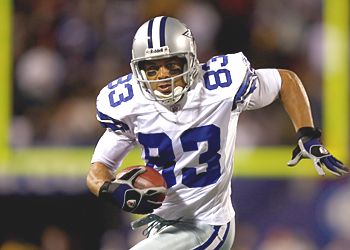 Rob Tringali/Sportschrome/Getty ImagesIf receiver Terry Glenn were playing Sunday, the Cowboys' chances of beating the Patriots would increase, according to the AccuScore Super Computer.
There is no doubt the Patriots have been one of the more dominating teams of the past several years. But the acquisition of Randy Moss makes them even more dominating. AccuScore simulated this game 10,000 times without Moss. After analyzing the data, the results are shocking. The Patriots without Moss drop nearly 12 percent in winning probability for this game, from 53 percent to 41 percent. Tom Brady's effectiveness drops 20 percent. New England's third-down conversion rate drops 3 percent.
Extrapolated over the course of a full season, Moss alone accounts for at least two additional wins. That could mean the difference between home-field advantage and a week off in the playoffs or playing on wild-card weekend.
AccuScore expects the Patriots to come out with a heavy passing attack. We adjusted New England's play calling and found that by having the Patriots pass 70 percent of the time instead of a more balanced attack, the team's probability of winning rose nearly 8 percentage points. This is a similar game plan to what the Patriots employed last season in the playoffs to defeat the San Diego Chargers, whose defense was coached by none other than Wade Phillips, the Cowboys' current coach.
If Dallas employs the same pass-happy strategy, its probability of winning had almost no change according to the data, but its probability of costly turnovers did rise, suggesting that Dallas would be better off sticking with a more balanced attack.
Regardless of the outcome, Dallas will only get better as the season goes on. The addition of Tank Johnson in a few weeks will certainly help, but the return of Terry Glenn from an injury will have a big impact on an already potent Dallas offense.
If Glenn were playing in this game, it would account for slightly less than a 2 percentage point increase in winning probability. While seemingly insignificant, every edge helps and those 2 percentage points make this game nearly a coin toss. It's amazing what we can do with excessive amounts of caffeine in our system. With Owens, Crayton and Glenn on the field at the same time, you have a solid possession receiver in Owens and two sure-handed receivers capable of breaking long yardage after the catch in Glenn and Crayton. In three key losses for the Patriots in the 2006 regular season, teams were able to throw underneath the coverage and break through. Look for Dallas to try to exploit that in this game with Crayton and Owens running slant patterns across the middle and a heavy dose of passes to Marion Barber, all hoping to break short passes into long gains.
What does this all mean? Well, other than that the folks here at AccuScore have too much free time, it means that if the New England Patriots have a good game, they will probably win. Dallas, on the other hand, must play a near-perfect game to have a chance.
Don't forget that last season, the Indianapolis Colts were 9-0 when they two-stepped into Dallas. The Cowboys executed an almost-perfect game and handed the Colts their first loss. And while many question the Cowboys' record, saying they have not faced a team like the Patriots, New England has not faced a team like the Cowboys.
Gibby McCaleb, an NFL analyst for AccuScore, is a contributor to ESPN.com.
SPONSORED HEADLINES
MORE NFL HEADLINES
MOST SENT STORIES ON ESPN.COM
THE DUEL IN DALLAS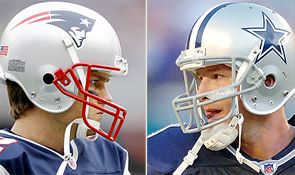 It's a battle of unbeatens ... and a potential preview of Super Bowl XLII. It's T.O. vs. Moss, Romo vs. Brady. It's 5-0 New England vs. 5-0 Dallas on Sunday at Texas Stadium (4:15 p.m. ET).
Commentary/features
•
Clayton's First and 10: Expect lots of offense
•
Garber: Moss and T.O. are two of a kind
•
Bendetson: Unsung Green gets job done for Pats
•
Sando: Brady, Moss among scheme-busters
|
List
•
Harasta: Sharing a moment with the Folk hero
•
Joyner: Cowboys defense passing the test

•
Wojciechowski: Mr. Belichick, meet Mr. Romo
•
Helyar: Romo's marketability a 'perfect storm'
•
Pasquarelli: Cowboy ugly win against Bills
•
Tafoya: Is Romo the next Brett Favre?

•
Power Rankings: Pats No. 1, Cowboys No. 3
•
Great Debate: Will Pats go 16-0 this season?
•
Hashmarks: Matt Mosley blogs on the big game
News
•
Cowboys' Phillips denies 'Spygate' comments
•
T.O. goes silent until after the game
Video
•
Belichick, Phillips sound off
•
Is T.O. nervous for the duel?
•
Werder: T.O. lets sign speak for itself
•
Nix: Brady, receivers keep improving
•
Parcells: What Romo, Dallas will face
•
Duel dialogue: Cowboys leaking oil?
•
EA Sports Madden Challenge: Dallas
Audio
•
Parcells, Keyshawn, Mort on Romo, more

•
Green: Game preview
•
Green: Debating which team is better
•
Tirico: Jerry Jones on QB Tony Romo

•
Mosley: Taking the temperature in Dallas

•
Mortensen: Romo will improve with age

•
Mosley: Bills wake-up call for Dallas

•
Clayton: Timeout rule needs a change

Scouts Inc.
•
Horton's Film Room: Romo's misreads
•
Pats will come hard after Romo
•
Take 2: Pats-Cowboys scouting report
•
Green: Cowboys should use more of Barber
•
Pats vs. Cowboys: Tale of the Tape
•
Green: The new Moss is same as old Moss
•
How to slow down the playmakers
•
Kretz: Newman gives Dallas options
•
Patriots-Cowboys scouting report
•
Kidd: Patriots key on Cowboys TE
•
Maalouf: Dallas special teams will struggle
•
Green: Romo can lead Dallas to Super Bowl
•
Horton: Here's why the Patriots could go 16-0
Zoom Gallery
•
Scouts Inc. on under-the-radar players
Simulations
•
EA simulation: Patriots 41, Cowboys 10
•
AccuScore: Moss makes major difference
SportsNation
•
Pats-'Boys: Who'll win? Who'll make the plays?
•
Rank the Patriots and Cowboys
Community
•
Post a comment on Dallas' Tony Romo
•
Join the conversation on Power Rankings
•
Readers discuss Cowboys' win in Buffalo
Animated Plays
The Cowboys could have their hands full with a defense that is the master of disguise. •
Patriots' games on defense
2007 Results
NEW ENGLAND (5-0)
•
Game 1:
Patriots 38, Jets 14
•
Game 2:
Patriots 38, Chargers 14
•
Game 3:
Patriots 38, Bills 7
•
Game 4:
Patriots 34, Bengals 14
•
Game 5:
Patriots 34, Browns 17
•
Patriots clubhouse page
DALLAS (5-0)
•
Game 1:
Cowboys 45, Giants 35
•
Game 2:
Cowboys 37, Dolphins 20
•
Game 3:
Cowboys 34, Bears 10
•
Game 4:
Cowboys 35, Rams 7
•
Game 5:
Cowboys 25, Bills 24
•
Cowboys clubhouse page
Antigua Men's Atlanta Falcons Esteem Long Sleeve Red Shirt Shop »