Cowboys coach denies saying spying scandal taints Pats' titles
Updated:
October 12, 2007, 6:15 PM ET
ESPN.com news services
IRVING, Texas -- Dallas Cowboys coach Wade Phillips insisted Friday that he never said that the New England Patriots' three Super Bowl championships were tainted.
Two days before the already much-hyped matchup of 5-0 teams, when the Patriots play in Dallas, Phillips denied making such comments after New England coach Bill Belichick was fined $500,000 and the team lost a draft pick for videotaping an opposing sideline this season.
"I think it's ludicrous to demean a team, an organization that has done a great job and won all those games and deserved every bit of it," Phillips said. "They won all those championships. They deserve every bit of what they got."
On HBO's "Inside the NFL" program this week, Peter King claimed in a discussion about the Patriots that Phillips suggested to King their three Super Bowl titles in four seasons were tainted because of the spying allegations.
"The league, the Patriots, everybody, they just want this spygate thing to go away," King said. "But Wade Phillips this week told me something that I think a lot of coaches around the league and a lot of people around the league are still thinking, and that is, 'Hey, New England was caught cheating and it is a black mark on their success.'"
Phillips acknowledged talking to King but insisted that isn't what he said -- or even inferred -- during their conversation.
"To quote me as saying 'black mark,' that's an Eastern term. That's a Connecticut term," Phillips said. "I might use smudge or something like that from Texas. ... I'm sure he misconstrued what I said."
Phillips, the folksy coach and Texas native, said he doesn't think the alleged comments would have any impact on Sunday's game.
King told ESPN's Ed Werder on Friday that he talked to Phillips by phone Tuesday night.
"The only thing he had right in there is that I did have a conversation with him," Phillips said at his news conference Friday.
Phillips said he was not aware of King's remarks until a reporter told him on Thursday.
"No, I didn't say that at all," Phillips told The Dallas Morning News after Thursday's practice. "I think they would have won no matter what. I don't know. I have no idea if it even helped them. But they were a great football team, well-coached. I don't see any way that they wouldn't have won what they did.
"I don't think that at all. I don't know why Peter would say that," Phillips said.
King told Werder on Friday that he stands by his report.
"I don't think Wade did anything. He's a pretty trustworthy guy," Cowboys tight end Jason Witten said.
"That's not the character of our coach. I'm sure he didn't do anything like that," linebacker Bradie James said. "It really doesn't matter. We're about 48 hours away from playing a pretty big in-season game, so that really doesn't matter."
The Patriots were fined $250,000 for allegedly recording defensive signals relayed to opposing players on the field. New England must also forfeit a first-round draft pick next year if it makes the playoffs or a second- and third-rounder if it doesn't.
A video camera aimed at New York Jets coaches was confiscated from a Patriots employee during the first quarter of the team's 38-14 win Sept. 9 over New York. Jets coach Eric Mangini is the Patriots' former defensive coordinator.
"If you're cheating and you get caught, something is tainted," Cowboys defensive end Marcus Spears said. "It has an asterisk by it."
Spears then mentioned Marion Jones, who returned five Olympic medals after admitting she used performance-enhancing drugs. So should the Patriots have to give up their Super Bowl trophies?
"No, because I didn't know if they were cheating before they won the Super Bowl. They got caught after they won the Super Bowl," Spears said. "It's not cheating if you don't get caught. ... When you get caught, say you're sorry, take your punishment and move on."
Information from The Associated Press was used in this report.
THE DUEL IN DALLAS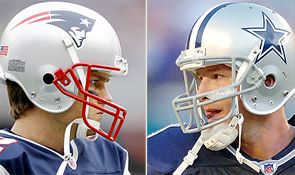 It's a battle of unbeatens ... and a potential preview of Super Bowl XLII. It's T.O. vs. Moss, Romo vs. Brady. It's 5-0 New England vs. 5-0 Dallas on Sunday at Texas Stadium (4:15 p.m. ET).
Commentary/features
•
Clayton's First and 10: Expect lots of offense
•
Garber: Moss and T.O. are two of a kind
•
Bendetson: Unsung Green gets job done for Pats
•
Sando: Brady, Moss among scheme-busters
|
List
•
Harasta: Sharing a moment with the Folk hero
•
Joyner: Cowboys defense passing the test

•
Wojciechowski: Mr. Belichick, meet Mr. Romo
•
Helyar: Romo's marketability a 'perfect storm'
•
Pasquarelli: Cowboy ugly win against Bills
•
Tafoya: Is Romo the next Brett Favre?

•
Power Rankings: Pats No. 1, Cowboys No. 3
•
Great Debate: Will Pats go 16-0 this season?
•
Hashmarks: Matt Mosley blogs on the big game
News
•
Cowboys' Phillips denies 'Spygate' comments
•
T.O. goes silent until after the game
Video
•
Belichick, Phillips sound off
•
Is T.O. nervous for the duel?
•
Werder: T.O. lets sign speak for itself
•
Nix: Brady, receivers keep improving
•
Parcells: What Romo, Dallas will face
•
Duel dialogue: Cowboys leaking oil?
•
EA Sports Madden Challenge: Dallas
Audio
•
Parcells, Keyshawn, Mort on Romo, more

•
Green: Game preview
•
Green: Debating which team is better
•
Tirico: Jerry Jones on QB Tony Romo

•
Mosley: Taking the temperature in Dallas

•
Mortensen: Romo will improve with age

•
Mosley: Bills wake-up call for Dallas

•
Clayton: Timeout rule needs a change

Scouts Inc.
•
Horton's Film Room: Romo's misreads
•
Pats will come hard after Romo
•
Take 2: Pats-Cowboys scouting report
•
Green: Cowboys should use more of Barber
•
Pats vs. Cowboys: Tale of the Tape
•
Green: The new Moss is same as old Moss
•
How to slow down the playmakers
•
Kretz: Newman gives Dallas options
•
Patriots-Cowboys scouting report
•
Kidd: Patriots key on Cowboys TE
•
Maalouf: Dallas special teams will struggle
•
Green: Romo can lead Dallas to Super Bowl
•
Horton: Here's why the Patriots could go 16-0
Zoom Gallery
•
Scouts Inc. on under-the-radar players
Simulations
•
EA simulation: Patriots 41, Cowboys 10
•
AccuScore: Moss makes major difference
SportsNation
•
Pats-'Boys: Who'll win? Who'll make the plays?
•
Rank the Patriots and Cowboys
Community
•
Post a comment on Dallas' Tony Romo
•
Join the conversation on Power Rankings
•
Readers discuss Cowboys' win in Buffalo
Animated Plays
The Cowboys could have their hands full with a defense that is the master of disguise. •
Patriots' games on defense
2007 Results
NEW ENGLAND (5-0)
•
Game 1:
Patriots 38, Jets 14
•
Game 2:
Patriots 38, Chargers 14
•
Game 3:
Patriots 38, Bills 7
•
Game 4:
Patriots 34, Bengals 14
•
Game 5:
Patriots 34, Browns 17
•
Patriots clubhouse page
DALLAS (5-0)
•
Game 1:
Cowboys 45, Giants 35
•
Game 2:
Cowboys 37, Dolphins 20
•
Game 3:
Cowboys 34, Bears 10
•
Game 4:
Cowboys 35, Rams 7
•
Game 5:
Cowboys 25, Bills 24
•
Cowboys clubhouse page


MOST SENT STORIES ON ESPN.COM