Commentary
Patriots masters of disguising defensive looks
The Patriots are the masters at disguising their defensive looks and Scouts Inc.'s animated plays show just how they'll try to confuse Tony Romo and the Cowboys on Sunday.
Originally Published:
October 12, 2007
By
Scouts Inc.
Duel In Dallas: New England at Dallas, 4:15 p.m. ET
New England defense working 9 to ?
If Tony Romo thought Buffalo was confusing, wait until he gets a load of what New England can do on Sunday. The Patriots will put nine guys in the box, maybe five yards off the line of scrimmage. That's when the fun begins as Romo and the offensive line are left wondering who's coming and who's dropping back in coverage. It's a guessing game and one that always favors the Patriots thanks to their versatility. They have so many players able to do so many things, it enables New England to disguise exactly what its doing right until the last second and makes it tough to read this defense.
New England: From 9 to Cover 2
Who says everything has to be difficult? From the nine in the box presnap, the Patriots will simply move into a Cover 2, leaving the four down linemen to rush and dropping seven in coverage -- five underneath and two deep. It's a basic defense, but still can force bad reads. And the threat of blitz often keeps backs in to block instead of releasing out, so the Cover 2 is that much more effective with fewer receivers out.

From 9 to Cover 2
New England; From 9 to Overload Blitz
From nine in the box, New England will drop off to a Cover 3 (with the CBs and S splitting the deep part of the field into thirds) and bring an overload blitz over the left side of the offensive line. The Patriots will bring a safety and outside linebacker and drop the defensive end into a zone-blitz look. This puts a lot of pressure on the left side of the line and the backs in blitz pickups. The QB may think he has a hot hole in the area the OLB vacated, not realizing the DE dropped back into coverage, which could lead to an interception.

From 9 to Overload Blitz
New England: From 9 to ILB Delayed Blitz
Tedy Bruschi (54) does this extremely well. He shows outside coverage responsibilities, seemingly following the running back out in the flat before reversing back and shooting through to the QB. A key here is the pressure on the left side of the offensive line. With the defensive end taking an outside rush, the nose tackle shooting the A gap and the outside linebacker acting likes he's coming, the O-line is forced to make tough decisions. The left tackle goes to handle the apparent blitzing OLB while the guard slides out on the end and the center deals with the nose tackle. That leaves Bruschi unaccounted for as he shoots through leaving the O-line wondering where he came from.

From 9 to ILB Delayed Blitz
New England: From 9 to Coner Fire Blitz
The Patriots love to bring a corner off the edge and he is usually unblocked. A safety will rotate over to the left with the other one in the deep middle. The OLB comes inside and the ILB acts like he's blitzing before dropping off into coverage. This is a tough defense to figure out because the holes that look like they're there really aren't. It looks like there's a hot spot where the OLB was, but the ILB actually shows up there. Or it looks like there's the receiver open on the left, but the safety is over there. This is another example of the Patriots' versatility making it impossible to get a read since there are so many interchangeable parts. They safety can be just as good in coverage as the corner. The linebackers looking like he's rushing is covering. It makes it tough for the QB and O-line to get a good read.

From 9 to Coner Fire Blitz
Scouts Inc. watches games, breaks down film and studies football from all angles for ESPN.com.
THE DUEL IN DALLAS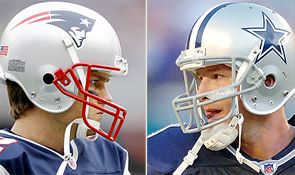 It's a battle of unbeatens ... and a potential preview of Super Bowl XLII. It's T.O. vs. Moss, Romo vs. Brady. It's 5-0 New England vs. 5-0 Dallas on Sunday at Texas Stadium (4:15 p.m. ET).
Commentary/features
•
Clayton's First and 10: Expect lots of offense
•
Garber: Moss and T.O. are two of a kind
•
Bendetson: Unsung Green gets job done for Pats
•
Sando: Brady, Moss among scheme-busters
|
List
•
Harasta: Sharing a moment with the Folk hero
•
Joyner: Cowboys defense passing the test

•
Wojciechowski: Mr. Belichick, meet Mr. Romo
•
Helyar: Romo's marketability a 'perfect storm'
•
Pasquarelli: Cowboy ugly win against Bills
•
Tafoya: Is Romo the next Brett Favre?

•
Power Rankings: Pats No. 1, Cowboys No. 3
•
Great Debate: Will Pats go 16-0 this season?
•
Hashmarks: Matt Mosley blogs on the big game
News
•
Cowboys' Phillips denies 'Spygate' comments
•
T.O. goes silent until after the game
Video
•
Belichick, Phillips sound off
•
Is T.O. nervous for the duel?
•
Werder: T.O. lets sign speak for itself
•
Nix: Brady, receivers keep improving
•
Parcells: What Romo, Dallas will face
•
Duel dialogue: Cowboys leaking oil?
•
EA Sports Madden Challenge: Dallas
Audio
•
Parcells, Keyshawn, Mort on Romo, more

•
Green: Game preview
•
Green: Debating which team is better
•
Tirico: Jerry Jones on QB Tony Romo

•
Mosley: Taking the temperature in Dallas

•
Mortensen: Romo will improve with age

•
Mosley: Bills wake-up call for Dallas

•
Clayton: Timeout rule needs a change

Scouts Inc.
•
Horton's Film Room: Romo's misreads
•
Pats will come hard after Romo
•
Take 2: Pats-Cowboys scouting report
•
Green: Cowboys should use more of Barber
•
Pats vs. Cowboys: Tale of the Tape
•
Green: The new Moss is same as old Moss
•
How to slow down the playmakers
•
Kretz: Newman gives Dallas options
•
Patriots-Cowboys scouting report
•
Kidd: Patriots key on Cowboys TE
•
Maalouf: Dallas special teams will struggle
•
Green: Romo can lead Dallas to Super Bowl
•
Horton: Here's why the Patriots could go 16-0
Zoom Gallery
•
Scouts Inc. on under-the-radar players
Simulations
•
EA simulation: Patriots 41, Cowboys 10
•
AccuScore: Moss makes major difference
SportsNation
•
Pats-'Boys: Who'll win? Who'll make the plays?
•
Rank the Patriots and Cowboys
Community
•
Post a comment on Dallas' Tony Romo
•
Join the conversation on Power Rankings
•
Readers discuss Cowboys' win in Buffalo
Animated Plays
The Cowboys could have their hands full with a defense that is the master of disguise. •
Patriots' games on defense
2007 Results
NEW ENGLAND (5-0)
•
Game 1:
Patriots 38, Jets 14
•
Game 2:
Patriots 38, Chargers 14
•
Game 3:
Patriots 38, Bills 7
•
Game 4:
Patriots 34, Bengals 14
•
Game 5:
Patriots 34, Browns 17
•
Patriots clubhouse page
DALLAS (5-0)
•
Game 1:
Cowboys 45, Giants 35
•
Game 2:
Cowboys 37, Dolphins 20
•
Game 3:
Cowboys 34, Bears 10
•
Game 4:
Cowboys 35, Rams 7
•
Game 5:
Cowboys 25, Bills 24
•
Cowboys clubhouse page
Nike Youth Home Game Jersey Atlanta Falcons Julio Jones #11 Shop »

MOST SENT STORIES ON ESPN.COM