Commentary
AccuScore: Expect Pats to outlast Colts
Expect the Patriots to prevail over the Colts in what should be a close and high-scoring battle, according to AccuScore simulations.
Originally Published:
October 30, 2007
By
Gibby McCaleb with statistical analysis by Stephen Oh
| AccuScore
Intel Report
Trends, projected top performers and more for New England at Indianapolis.

• Report

The Super Bowl champion
Indianapolis Colts
. The unstoppable
New England Patriots
.
Peyton Manning
,
Tom Brady
,
Marvin Harrison
,
Randy Moss
. The only thing wrong with this game is that both teams play in the same conference and can't meet in the Super Bowl.
Although the "Duel in Dallas" didn't live up to all the hype, this Pats-Colts matchup will. The folks here at ESPN wanted us to look into this game a little more closely, so we fired up the AccuScore Super Computer, rolled up our sleeves and threw on a pot of coffee.
Based on current data, AccuScore shows the Patriots with the edge, winning 62 percent of AccuScore simulations by an average score of 31-27. In the baseline simulation averages, Brady throws for a shade over 300 yards and three touchdowns while Manning comes in just under 300 yards and two touchdowns. However, if this game were played in New England, the Patriots would roll, winning 77 percent of game simulations and by an average margin of 10 points.
Clearly, Brady isn't overrated, but we wanted to see how the Patriots would fare with Matt Cassel starting at quarterback. Not surprisingly, AccuScore data shows that there is a pretty big drop-off between Brady and Cassel.
Cassel puts up decent numbers in average simulations with around 200 yards passing, one touchdown and at least one interception. With Brady out, the Patriots would look to run more, making Colts safety Bob Sanders a critical player. With Cassel starting, the Colts win in 69 percent of simulations, according to AccuScore forecast data.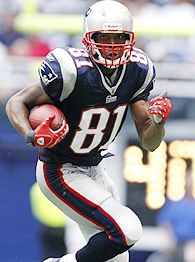 Matthew Emmons/US PresswireRandy Moss has bought into the Patriots' philosophy and is having one of his finest seasons.
So we know Brady is valuable and we know Moss is valuable, but just how valuable is Moss? In 2004, Bill Belichick picked up much-maligned RB Corey Dillon, who caused turmoil in the Bengals' locker room. Thanks to the team-first mentality of the Patriots, Dillon had his best season as a pro, rushing for more than 1,600 yards and earning a Super Bowl ring.
Now it appears Belichick has done the same with Moss, who is on pace to have his best season ever. Clearly, there is something in the water in New England that turns selfish players into good teammates.
Certainly, Moss' stats make his value plain as day, but what isn't in the stat sheet is how much value he adds to other receivers on his team. Moss is almost always the target of double coverage, thus freeing up other receivers in single coverage.
No team did more to improve in the offseason than New England, with key acquisitions such as Moss, LB Adalius Thomas and WR Donte' Stallworth. What doesn't get a lot of attention is what the Colts did to bolster their roster. We wanted to see just how much each team improved, so we played this year's Patriots against last year's Colts and then flipped it, playing this year's Colts against last year's Patriots.
The Colts' running game has gotten much better with Joseph Addai carrying the load and not splitting carries with Dominic Rhodes. Although Indy's defense was solid in last season's playoff run, it was subpar during much of the regular season. A matchup between this year's Patriots and last year's Colts shows New England winning in 69 percent of AccuScore simulations, a 7 percent jump in favor of Brady and the gang. In a matchup of this year's Colts playing last year's Patriots, the Colts win 70 percent of simulations, a whopping 32 percent increase for Manning and the Colts.
After pouring over AccuScore data, the most interesting observation involves the Patriots and their likelihood of an undefeated season. The Patriots currently have a 30 percent chance of going 16-0, which is a statistically huge number. However, should the Patriots defeat the Colts in Indianapolis, New England's probability of going undefeated literally doubles to an astounding 60 percent.
Our apologies to Nick Buoniconti, Don Shula, Bob Griese, Jim Kiick and the rest of the 1972 Dolphins. They were a great team, but AccuScore data says there is a really good chance the bubbly might stay in the fridge this year. A 60 percent chance if the Patriots win on Sunday.
Gibby McCaleb, an NFL analyst for AccuScore, is a contributor to ESPN.com.
SPONSORED HEADLINES
MORE NFL HEADLINES
MOST SENT STORIES ON ESPN.COM
PATRIOTS BEAT COLTS, 24-20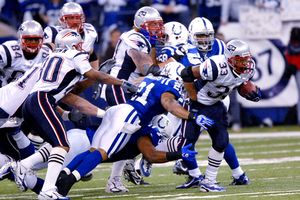 It's a battle of unbeatens ... and a possible AFC title game preview. It's Brady vs. Manning. Belichick vs. Dungy. It's 8-0 New England vs. 7-0 Indianapolis in Week 9 at the RCA Dome.
Sunday Countdown, (ESPN, 11 a.m. ET)
• In a report by Greg Garber, Hall of Fame QBs weigh in on the matchup of future Hall of Fame QBs Peyton Manning and Tom Brady. Also, special guest analyst Bill Parcells joins the crew to help cover every crucial angle of the epic matchup.
Commentary/features
•
Predictions: ESPN experts make their picks
•
Pasquarelli: Colts, Patriots take different paths
•
Clayton: Colts face Pats' big weapons
•
Sando: Manning or Brady? Experts make the call
•
Garber: Hall of Famers assess Manning, Brady
•
Drehs: Colts' Sanders a small wonder
•
EA Sports video: How they use Sanders
•
Chadiha: NFL's Top 5 rivalries
•
Power rankings: Pats No. 1, Colts No. 2
•
AccuScore: Pats have the edge
•
Clayton: Belichick seeks to run it up
•
Pasquarelli: Colts can finally focus on Pats
•
TMQ: It's an NFL battle of good vs. evil
Page 2
•
Got a problem? Ask coach Belichick
•
Inside the brain of ... Adam Vinatieri
•
Hill: Just call him Suge Belichick
•
Gallo: Secrets facts about Colts and Pats
•
Animation: Belichick's Cleveland years
Video
•
Colts, Patriots gamebreakers
•
EA Sports: How Colts use Sanders
•
Colts relishing underdog role
•
Cowboys' Crayton wants Colts to beat Pats
•
Keyshawn on Pats-Colts
•
Schlereth: Belichick breaking unwritten rules
•
Ismail: Colts, Pats right there together
•
Fassel: Teams must block out hype
•
Colts' Jackson ready for the Pats
Audio
•
Mike & Mike: Jimmy Johnson's preview
•
Jaws: Previewing Super Bowl XLI½

•
Freeney: Colts won't change approach

•
Patriots-Colts debate
•
Crayton: Colts have a great shot

•
Phil Simms on Brady-Manning

•
Jaws: QBs are pleasure to watch

Scouts Inc.
•
Horton: Both offensive lines are underrated
•
Green: Addai is offensive X-factor
•
Kidd: Maroney gives Pats another weapon
•
Maalouf: Pats have edge in punt game
•
Six keys to beating the Pats and Colts
•
Pats vs. Colts: Tale of the tape
•
Take 2: Pats-Cowboys scouting report
•
Colts' secondary will get physical
•
Cowboys' safeties are vulnerable
•
Follow this red-zone checklist
•
Wayne emerging as Colts' No. 1 receiver
•
Patriots-Colts scouting report
•
Seymour's return big for Pats
•
Clark, Welker play big roles
SportsNation
•
Who will win? Who's the better QB?
•
Where does the Colts-Pats rivalry rank?
Community
•
Got an opinion on the game? Let's hear it
•
Colts good, Patriots evil?
•
Sound off on Belichick's no-mercy approach
Manning vs. Brady: Previous results
•
Sept. 30, 2001 (at NE):
Patriots 44, Colts 13
•
Oct. 21, 2001 (at Indy):
Patriots 38, Colts 17
•
Nov. 30, 2003 (at Indy):
Patriots 38, Colts 34
•
Jan. 18, 2004 (at NE):
Patriots 24, Colts 14 *
•
Sept. 9, 2004 (at NE):
Patriots 27, Colts 24
•
Jan. 16, 2005 (at NE):
Patriots 20, Colts 3 **
•
Nov. 7, 2005 (at NE):
Colts 40, Patriots 21
•
Nov. 5, 2006 (at NE):
Colts 27, Patriots 20
•
Jan. 21, 2007 (at Indy):
Colts 38, Patriots 34 *
* = AFC championship game
** = AFC divisional playoffs
2007 Results
NEW ENGLAND (8-0)
•
Game 1:
Patriots 38, Jets 14
•
Game 2:
Patriots 38, Chargers 14
•
Game 3:
Patriots 38, Bills 7
•
Game 4:
Patriots 34, Bengals 14
•
Game 5:
Patriots 34, Browns 17
•
Game 6:
Patriots 48, Cowboys 27
•
Game 7:
Patriots 49, Dolphins 28
•
Game 8:
Patriots 52, Redskins 7
•
Patriots clubhouse page
INDIANAPOLIS (7-0)
•
Game 1:
Colts 41, Saints 0
•
Game 2:
Colts 22, Titans 20
•
Game 3:
Colts 30, Texans 24
•
Game 4:
Colts 38, Broncos 20
•
Game 5:
Colts 33, Bucs 14
•
Game 6:
Colts 29, Jaguars 7
•
Game 7:
Colts 31, Panthers 7
•
Colts clubhouse page