Pats or Colts? ESPN.com's experts make their picks
The showdown between the Patriots and Colts is finally here. Our panel of experts offer their predictions.
Originally Published:
November 2, 2007
ESPN.com
With the New England Patriots and Indianapolis Colts set to square off in one of the biggest regular-season matchups in league history, ESPN.com's NFL writers offer their predictions on the epic showdown.
Jeffri Chadiha
Chadiha Prediction
Colts 31, Patriots 28
There's been so much attention given to the Patriots' electric start that people forget one thing: Indianapolis won the Super Bowl last season and is even better this season.
The Colts have beaten stronger teams than the ones New England has faced. They absolutely whipped a Jacksonville team two weeks ago that is as physical as any squad in the NFL. Furthermore, the Colts won't be intimidated by the Patriots' high-flying offense. Bob Sanders leads a defense that ranks first in the NFL in passing yards allowed (165.4), and second in points given up (14.6) per game.
The only concern Indianapolis should have is the health of wide receiver Marvin Harrison and left tackle Tony Ugoh. Harrison apparently could've played in last week's win over Carolina, but head coach Tony Dungy decided his bruised knee needed extra time to heal. If both players are available, we should see a repeat of what happened in last year's AFC Championship Game: plenty of points, plenty of drama and, in the end, a Colts victory.
John Clayton
Clayton Prediction
Colts 41, Patriots 38
I think the Colts will edge the Patriots. Nevertheless, I still think the Patriots will win the Super Bowl. In fact, after seeing the way the schedule shapes up, the Patriots can still lose this game and rally down the stretch to clinch home-field advantage.
Tom Brady has had a better career than Peyton Manning, but Manning has the slight edge as the game's best quarterback. That may sound crazy, with Brady on pace to shatter Manning's touchdown record of 49. But Manning manages the game in a manner that puts so much pressure on the opposing quarterback to score touchdowns. Like Brady, Manning can come from behind with two or three touchdown drives in the fourth quarter. Plus, the Colts' defense doesn't give up the big plays that it did a year ago.
Matt Mosley
Mosley Prediction
Patriots 35, Colts 24
I desperately want this game to live up to the hype but fear it won't. The Titans and Panthers actually slowed the Colts down at times. They did it by forcing Peyton Manning out of the pocket. About the only thing he doesn't do well is throw on the run. Bill Belichick will bring pressure from everwhere. Every week he brings a new wrinkle, and last week it was playing cornerback
Randall Gay
at safety.
The Colts are going to have inexperience at left tackle, and Belichick will feed off that.
The way the Patriots have beaten the Colts in the past is to come out throwing a lot early, then gashing them with the run. People say New England's offense hasn't been challenged, but that's not quite fair. We thought the Chargers, Cowboys and Redskins had pretty solid defenses before the Patriots played them.
Maybe it's time to accept that this is one of the most prolific offenses in league history and no one can stop them. The Patriots win big.
Len Pasquarelli
Pasquarelli Prediction
Patriots 41, Colts 41
There hasn't been a tie game in the NFL since Nov. 10, 2002, when Pittsburgh and Atlanta played to a 34-34 stalemate. So the league is certainly overdue for one. Both offenses will go up and down the field for four quarters before the defenses figure things out in the extra stanza. And then the Colts and Patriots can do this all over again in the AFC Championship Game, with even more hype, if possible, than this time.
Mike Sando
Sando Prediction
Patriots 37, Colts 24
The contrarian picks the Colts and hopes for the best. Everyone else acknowledges the obvious: New England is playing at another level by every measure. The Colts will score, but the Patriots will probably score more unless Indianapolis can rough up Tom Brady.
Dwight Freeney knocked Jacksonville's David Garrard out of the game two weeks ago, and crowd noise will play to the Colts' speed on defense. But no quarterback in the league avoids trouble as effectively as Brady. If he's healthy, the Patriots have too many weapons to lose a big game, even against the defending champs.
More ESPN experts
Here's the picks from our other NFL experts. To see all the predictions for Week 9, go to our
Sunday Countdown page
and our
Experts page
.
• Patriots will win: Emmitt Smith, Keyshawn Johnson, Ron Jaworski, Sean Salisbury, Merril Hoge, Mark Schlereth, Seth Wickersham
• Colts will win: Mike Ditka, Tom Jackson, Chris Mortensen, Eric Allen, Mike Golic
PATRIOTS BEAT COLTS, 24-20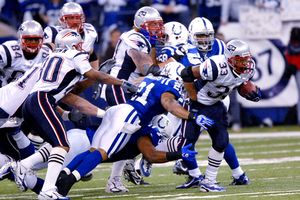 It's a battle of unbeatens ... and a possible AFC title game preview. It's Brady vs. Manning. Belichick vs. Dungy. It's 8-0 New England vs. 7-0 Indianapolis in Week 9 at the RCA Dome.
Sunday Countdown, (ESPN, 11 a.m. ET)
• In a report by Greg Garber, Hall of Fame QBs weigh in on the matchup of future Hall of Fame QBs Peyton Manning and Tom Brady. Also, special guest analyst Bill Parcells joins the crew to help cover every crucial angle of the epic matchup.
Commentary/features
•
Predictions: ESPN experts make their picks
•
Pasquarelli: Colts, Patriots take different paths
•
Clayton: Colts face Pats' big weapons
•
Sando: Manning or Brady? Experts make the call
•
Garber: Hall of Famers assess Manning, Brady
•
Drehs: Colts' Sanders a small wonder
•
EA Sports video: How they use Sanders
•
Chadiha: NFL's Top 5 rivalries
•
Power rankings: Pats No. 1, Colts No. 2
•
AccuScore: Pats have the edge
•
Clayton: Belichick seeks to run it up
•
Pasquarelli: Colts can finally focus on Pats
•
TMQ: It's an NFL battle of good vs. evil
Page 2
•
Got a problem? Ask coach Belichick
•
Inside the brain of ... Adam Vinatieri
•
Hill: Just call him Suge Belichick
•
Gallo: Secrets facts about Colts and Pats
•
Animation: Belichick's Cleveland years
Video
•
Colts, Patriots gamebreakers
•
EA Sports: How Colts use Sanders
•
Colts relishing underdog role
•
Cowboys' Crayton wants Colts to beat Pats
•
Keyshawn on Pats-Colts
•
Schlereth: Belichick breaking unwritten rules
•
Ismail: Colts, Pats right there together
•
Fassel: Teams must block out hype
•
Colts' Jackson ready for the Pats
Audio
•
Mike & Mike: Jimmy Johnson's preview
•
Jaws: Previewing Super Bowl XLI½

•
Freeney: Colts won't change approach

•
Patriots-Colts debate
•
Crayton: Colts have a great shot

•
Phil Simms on Brady-Manning

•
Jaws: QBs are pleasure to watch

Scouts Inc.
•
Horton: Both offensive lines are underrated
•
Green: Addai is offensive X-factor
•
Kidd: Maroney gives Pats another weapon
•
Maalouf: Pats have edge in punt game
•
Six keys to beating the Pats and Colts
•
Pats vs. Colts: Tale of the tape
•
Take 2: Pats-Cowboys scouting report
•
Colts' secondary will get physical
•
Cowboys' safeties are vulnerable
•
Follow this red-zone checklist
•
Wayne emerging as Colts' No. 1 receiver
•
Patriots-Colts scouting report
•
Seymour's return big for Pats
•
Clark, Welker play big roles
SportsNation
•
Who will win? Who's the better QB?
•
Where does the Colts-Pats rivalry rank?
Community
•
Got an opinion on the game? Let's hear it
•
Colts good, Patriots evil?
•
Sound off on Belichick's no-mercy approach
Manning vs. Brady: Previous results
•
Sept. 30, 2001 (at NE):
Patriots 44, Colts 13
•
Oct. 21, 2001 (at Indy):
Patriots 38, Colts 17
•
Nov. 30, 2003 (at Indy):
Patriots 38, Colts 34
•
Jan. 18, 2004 (at NE):
Patriots 24, Colts 14 *
•
Sept. 9, 2004 (at NE):
Patriots 27, Colts 24
•
Jan. 16, 2005 (at NE):
Patriots 20, Colts 3 **
•
Nov. 7, 2005 (at NE):
Colts 40, Patriots 21
•
Nov. 5, 2006 (at NE):
Colts 27, Patriots 20
•
Jan. 21, 2007 (at Indy):
Colts 38, Patriots 34 *
* = AFC championship game
** = AFC divisional playoffs
2007 Results
NEW ENGLAND (8-0)
•
Game 1:
Patriots 38, Jets 14
•
Game 2:
Patriots 38, Chargers 14
•
Game 3:
Patriots 38, Bills 7
•
Game 4:
Patriots 34, Bengals 14
•
Game 5:
Patriots 34, Browns 17
•
Game 6:
Patriots 48, Cowboys 27
•
Game 7:
Patriots 49, Dolphins 28
•
Game 8:
Patriots 52, Redskins 7
•
Patriots clubhouse page
INDIANAPOLIS (7-0)
•
Game 1:
Colts 41, Saints 0
•
Game 2:
Colts 22, Titans 20
•
Game 3:
Colts 30, Texans 24
•
Game 4:
Colts 38, Broncos 20
•
Game 5:
Colts 33, Bucs 14
•
Game 6:
Colts 29, Jaguars 7
•
Game 7:
Colts 31, Panthers 7
•
Colts clubhouse page


MOST SENT STORIES ON ESPN.COM