Commentary
Cheer up, Miami fans: Your team will win a game
The Dolphins have lost their first 10 games, but here's why they will not go winless this season, according to Football Outsiders.
Originally Published:
November 23, 2007
By
Aaron Schatz
| FootballOutsiders.com
This year, we are lucky enough to watch not one but two teams challenging NFL records that some thought would never be surpassed. The New England Patriots are trying to go undefeated, winning two more games than the 1972 Miami Dolphins. Meanwhile, the current Dolphins are trying very hard to not go the entire season without a win; if they did, it would surpass the 1976 Tampa Bay Buccaneers in setting a new mark for football futility.
[+] Enlarge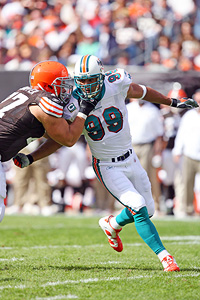 Jamie Mullen/US PresswireCheer up, Jason Taylor -- the numbers say to expect a win.
The Patriots are a different argument for a different day -- not to mention a different Monday night game (next week). But you can take this to the bank: The Miami Dolphins are not going to finish the season 0-16.
They simply aren't bad enough.
Bill Parcells once said, "You are what you are," but that's not really true. What's true is that "you were what you were." The Dolphins are 0-10, and nothing can change that. Nonetheless, if we want to figure out if the Dolphins will go 0-6 in the next six weeks, points and yards are going to tell us more than simple wins and losses.
Statisticians use a method called "Pythagorean projection" to estimate each team's wins based solely on points scored and allowed (an explanation is here). The Dolphins have been outscored 274-183. That seems like a lot, but based on the Pythagorean projection, a team that has been outscored 274-183 through 10 games will usually be 2-8 or 3-7, not 0-10. (The exact projection is 2.8 wins.)
The Dolphins don't have the worst Pythagorean projection among this season's teams. They are higher than both San Francisco (1.7) and St. Louis (2.2). For an even better picture of how unlikely it is for the Dolphins to end the season winless, compare them to the worst teams in NFL history.
Since the AFL-NFL merger, including the strike-shortened 1982 season, two teams have finished the season winless, and another 11 have finished the season with just one win. The 2007 Dolphins have more Pythagorean wins than any of them. To make comparison easier, Pythagorean wins on the table below is always based on a 16-game season.
Year
Team
W-L
PF
PA
Pyth. Pct.
Pyth. Wins*
2007
Miami
0-10
183
274
.278
4.4
2001
Carolina
1-15
253
410
.242
3.9
1996
NY Jets
1-15
279
454
.240
3.8
2000
San Diego
1-15
269
440
.238
3.8
1980
New Orleans
1-15
291
487
.228
3.6
1982
Houston
1-8
136
245
.199
3.2
1989
Dallas
1-15
204
393
.175
2.8
1982
Baltimore
0-8-1
113
236
.149
2.4
1971
Buffalo
1-13
184
394
.141
2.3
1973
Houston
1-13
199
447
.128
2.0
1972
Houston
1-13
164
380
.120
1.9
1990
New England
1-15
181
446
.106
1.7
1991
Indianapolis
1-15
143
381
.089
1.4
1976
Tampa Bay
0-14
125
412
.056
0.9
* - all teams projected for a 16-game season
The Dolphins are also far from the worst team in the NFL when measured by yards per play. Miami is getting 5.47 yards per play on offense and giving up 5.76 yards per play on defense, a difference of minus-0.29 yards. That's better than 12 other NFL teams.
Wait, you say … aren't a lot of those yards in garbage time? Looking only at yardage in the first half, the Dolphins are still better than seven other teams.
Worst gap between yards per play on offense and defense, first half only
| | | | |
| --- | --- | --- | --- |
| Team | Offense | Defense | Difference |
| San Francisco | 3.68 | 5.49 | -1.81 |
| Chicago | 4.23 | 5.86 | -1.63 |
| Oakland | 4.31 | 5.68 | -1.37 |
| Carolina | 4.05 | 5.41 | -1.35 |
| Buffalo | 4.61 | 5.86 | -1.25 |
| St. Louis | 4.27 | 5.07 | -0.81 |
| Kansas City | 4.28 | 5.07 | -0.79 |
| Miami | 4.81 | 5.45 | -0.64 |
| New York Jets | 4.97 | 5.59 | -0.62 |
| Jacksonville | 5.51 | 6.13 | -0.62 |
If the Dolphins aren't getting outgained by their opponents, surely they are losing the turnover battle, right? Not really. Through 10 games, the Dolphins have turned the ball over only four more times than their opponents. Seven teams have a worse turnover margin than the Dolphins do.
If they aren't the league's worst team when it comes to yards, points or turnovers, how come the Dolphins can't get a win? The main issues are luck and schedule.
The Dolphins have lost five games by just a field goal. That in itself is rare. Since 1983, just six teams have lost five of their first 10 games by a field goal or less: this year's Dolphins, the 2005 Packers, the 2000 Chargers, the 1995 Bengals, the 1994 Oilers and the 1993 Patriots.
One reason the Dolphins keep losing by three points: Opposing kickers don't screw up, and there isn't much the Dolphins can do about it. Blocking a field goal is a great special teams play, but it is rare. In general, the defense has no control over whether or not the opposing kicker makes a field goal.
Football Outsiders compares each field goal attempt to the NFL average on kicks from that distance, and Dolphins opponents have gained an estimated 8.7 points from connecting on difficult field goals (figures explained here). Leaguewide, kickers have hit only 44 percent of all field goals from 50 yards or more. Against the Dolphins, Houston's Kris Brown connected on three field goals of 54 yards or more in one game -- which Houston won by a field goal, of course. The only kicker to miss against the Dolphins was Lawrence Tynes of the Giants, and he was kicking in the torn-up mudpit of Wembley Stadium.
As for schedule, that's a problem the Dolphins share with the Jets and Bills. If you play in the AFC East this season, you are stuck playing the perfect Patriots twice. You also have to face the Steelers, the surprising Browns, and all four teams in the NFC East -- a division in which no team has a losing record.
The Dolphins' first 10 opponents have a combined record of 56-44 after the first 11 weeks. That's the fourth-hardest schedule so far. Their remaining opponents have a combined record of 31-29. Take out the Patriots and Steelers, and their remaining opponents have a combined record of 14-26. That's four winnable games, and three of them (Jets, Ravens and Bengals) are at home.
There's no question the Dolphins are bad. You don't lose 10 straight games unless you have a bad team. But to go without a win for 16 games, you have to be the worst team in the league, and the Dolphins are not. They probably are not going to beat the Steelers on Monday night, but eventually the Dolphins are going to beat somebody.
Aaron Schatz is president of Football Outsiders Inc. and the lead author of Pro Football Prospectus 2007 and 2008.
NFL analyst for ESPN Insider
Founder of Footballoutsiders.com
SPONSORED HEADLINES
MORE NFL HEADLINES
MOST SENT STORIES ON ESPN.COM
EDITORS' PICKS
Will the Broncos or Bengals win Monday night? We pick every Week 16 game.
NFL Nation »

Two straight losses have put the Eagles in a must-win situation vs. the Redskins.
Preview »

Texans DB Jumal Rolle plays to support his son, who survived brain surgery.
Ganguli »