Commentary
Another great improviser: Snoop Dogg on Romo
It's clear Snoop Dogg has a handle on the improvisational skills of Tony Romo, ESPN associate producer Lydelle King writes.
Originally Published:
November 28, 2007
By
Lydelle King
| Special to ESPN.com
ESPN associate producer Lydelle King recently visited Los Angeles and interviewed legendary rapper Snoop Dogg for an "NFL Countdown" feature on the improvisational gifts of Cowboys quarterback Tony Romo.
From the outside, it's a pretty nondescript building -- no big billboards, no bright lights -- just a charcoal grey exterior outfitted with the No. 1140.
[+] Enlarge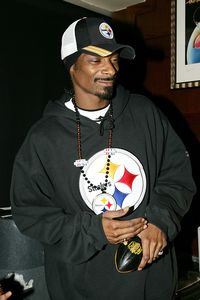 Frank Micelotta/Getty ImagesSnoop Dog, a Steelers fan, on Tony Romo: "The people around him, he make them look good, but they make him look better."
But the interior of Atlantis Studio is quite the opposite; the lobby lavished with a high-end, 50-inch flat screen television, a pool table and kitchenette stocked with enough refreshments to serve a Pop Warner football team.
On this day, the studio belonged to Snoop Dogg. It was the perfect location to sit him down and pick his brain about the emerging playmaking ability of Romo.
Snoop walked in fashionably late. He was donning a blue-and-white authentic Romo No. 9 jersey. Only a professional such as Snoop, a Steelers fan, would be considerate enough to be late in the name of good TV -- and it was good TV.
It was clear during the interview that Snoop was not your ordinary NFL fan. He began by giving analysis on how Romo has too many weapons to be flustered by swarming defenders, how Terrell Owens draws all the looks, how Jason Witten is the go-to guy, and Marion Barber is the safety valve that every QB needs to be successful. All was well until in mid-sentence he suddenly realized his gift, the ability to come up with off-the-cuff anecdotes and put them into rhyme.
Snoop began to freestyle:
It's like a real deal, this is not a promo
It's big Snoop Dog, they can compare me to Romo.
But when I bring it to you, you know you gonna go slow
Listen to me give it to you -- pause -- take the photo.
He continued on, explaining his likeness to Romo: "The people around him, he make them look good, but they make him look better. The same with me, you know, when I was with Dr. Dre, when I was with Pharrell, whoever I was with I always made them look good, but they made me look better."
There wasn't much more to do after that, other than get Snoop into the booth, put him in front of a microphone and get out of his way.
This big Snoop Dogg on the freestyle one time,
No groove needed, proceed it -- take my time.
Do you really understand the game of football?
Hut, Hut, Hike! First down, second, third and fourth.
See Snoop Dogg, I'm usually on the basketball court,
But today I'm in the N-F-L.
Doing things for my people, because my voice does sell.
My freestyle is like a quarterback, Tony Romo,
In the pocket reading the blitz -- staying with this
Snoopy D-O, double G, I pop like Crys.
I'm so original, they love the way I flow.
I do it smooth, and I'm always on the go.
Oh, yes, indeed. Proceed to give it to y'all.
The freshest SN, double-O-P, Doggy Dogg.
"That should give you more than enough," he added.
Exit stage left, as if he had just quieted a stadium of screaming fans.
SPONSORED HEADLINES
MORE NFL HEADLINES
MOST SENT STORIES ON ESPN.COM
PACKERS AT COWBOYS (Thursday, 8:15 ET)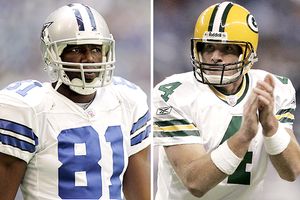 Terrell Owens and the Dallas Cowboys (10-1) play host to Brett Favre and the Green Bay Packers (10-1) on Thursday night in a game that could determine homefield advantage in the NFC playoffs. Only about a third of the homes in the U.S. will be able to watch the game on TV. Here's why

| Discuss the game.

Commentary/features
•
Power rankings: Dallas second, Green Bay third
•
Garber: Romo, Favre are improvising masters
•
Garber: Five improvising QB masters
•
Snoop Dogg raps Tony Romo
•
Clayton: First and 10
•&nbsp
Grant's run to glory
•
Wickersham: Best of weak NFC
•
Packers or Cowboys? Experts make their picks
•
Page 2: Inside Favre's brain
•
Cowboys-Packers through the years
News
•
Clayton: Injury report

ZOOM galleries
•
Top 5 NFL improvisational QBs
•
Top 5 NFL improvisational QBs ever
•
Top 5 college improvisational QBs
Video
•
Steve Young: QB improvisation about awareness
•
Brett Favre: "Play loose but be ready to play"
•
Dissecting Brett Favre's renaissance
•
Keyshawn Johnson's advice for Tony Romo
•
Field Pass: Green Bay vs. Dallas
•
Phillips and McCarthy surprising many
Simulation
•
EA Simulation: The winner in OT is...
Scouts Inc.
•
Tale of the tape: Too close to call
•
Offenses are in high gear
•
Improved Packers' O-line benefits Grant
•
Packers' terrific cornerback tandem
•
Packers' coaches are the key
•
Game could be decided by trench warfare
•
Horton: Notes from the film room