Reports: Namath's life to be subject of movie
Updated:
November 28, 2007, 2:41 PM ET
ESPN.com news services
Joe Namath was larger than life. He was a highly-touted high school prospect who starred for Bear Bryant at Alabama, took New York City by storm and led the New York Jets of the upstart AFL to a Super Bowl victory he had brashly guaranteed.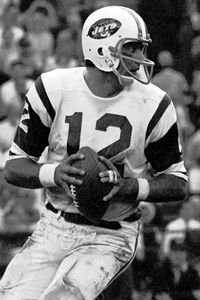 AP PhotoJake Gyllenhaal is slated to play Joe Namath, seen here during the Jets' Super Bowl III win, in a film about the Hall of Fame quarterback's life.
Sounds like a good idea for a movie.
Good enough that Universal Studios will make a movie about the Hall of Fame quarterback, with Jake Gyllenhaal playing Broadway Joe, according to reports.
The film will recount Namath's journey from Beaver Falls, Pa. to Alabama to New York, where Jets owner Sonny Werblin bet a then unheard-of $400,000 on Namath giving the struggling Jets and the AFL instant credibility. "Broadway Joe" became a sports hero, a celebrity pitchman and a sex symbol in New York as the Jets won Super Bowl III.
"Most of the stuff you saw in 'Forest Gump,' Joe lived through all of it," executive producer Jimmy Walsh said, according to Variety.
Variety reported that David Hollander will write the script once the writers' strike ends, with Andrew Lazar producing and Walsh as executive producer. According to the report, Namath and Walsh signed off on the project partially because they believed Gyllenhaal was the right actor to play Namath.
EDITORS' PICKS
Josh Gordon opens up about suspensions, perceptions and running out of chances.
Merrill »

Mailbag: What's up with the NFC South and AFC East? Plus: 49ers' identity and more.
Clayton »

Can Buffalo win the AFC East? The answer might surprise you.
Outsiders