Commentary
AccuScore numbers game: Why Dallas should prevail
According to AccuScore simulations that consider lots of probabilities and even remote possibilities, Dallas should beat Green Bay Thursday night.
Originally Published:
November 28, 2007
By
Gibby McCaleb with statistical analysis by Stephen Oh
| AccuScore
Intel Report
Trends, projected top performers and more for Green Bay at Dallas.

• Report

Yet another marquee matchup is on tap this Thursday in the NFL. This might prove to be the most exciting one yet, as the
Dallas Cowboys
play host to the
Green Bay Packers
. In the NFC, there appears to be a significant dropoff in talent after these two teams; that means the likelihood of them meeting up again in the conference championship game is very high. Looks like it's time to once again fire up that AccuScore Super Computer. AccuScore baseline simulations give Dallas the clear edge here, with the Cowboys winning 72 percent of the time by an average margin of seven points. Both quarterbacks seem solid, passing for around 300 yards each. According to Accuscore data,
Tony Romo
throws more interceptions but also more touchdowns than
Brett Favre
in this game. For the Packers, halfback
Ryan Grant
continues to help, and AccuScore shows him gaining 80 yards on the ground with 4.5 yards per carry average. Ultimately the difference maker in this game is the Cowboys' combination of
Marion Barber
and
Julius Jones
. While much of the season the Packers' offense has been one-dimensional, featuring an aerial show by Favre,
Donald Driver
and company. The offense gained a dimension in Week 8, when Grant stepped in and stepped up the Green Bay running game. AccuScore adjusted Green Bay's play calling to a more run-oriented attack but found that doing so actually decreased the Packers' probability of winning from 28 percent to 19 percent. Dallas, however, has a great running tandem in Jones and Barber. Were the Cowboys to alter their strategy to a more run-focused game, their winning probability would not move at all. Dallas truly has a balanced offense that can beat teams either through the air or on the ground.
Simulations: Green Bay-Dallas
AccuScore considered the probabilities when the Packers and Cowboys meet. Here are the winning percentages for each team in scenarios realistic and imagined.
| | | |
| --- | --- | --- |
| Scenario | Packers | Cowboys |
| Baseline sim | 28 | 72 |
| Played in GB | 46 | 54 |
| Favre traded for Romo | 32 | 68 |
| T.O. as a Packer | 42 | 58 |
| Cowboys without Newman | 33 | 67 |
| Packers rely on run | 19 | 81 |
| Cowboys rely on run | 28 | 72 |
Were this game played in Green Bay, the outcome likely would be the same except I would get a runny nose. The current weather forecast in Green Bay is around 20 degrees at kickoff. The colder weather does affect the outcome of the game, but Dallas still holds the edge, winning 54 percent of AccuScore simulations. That represents an 18-percentage point drop by playing in the land of cheese.
Were it not for a man named Brady, both Romo and Favre would be strong MVP candidates this season. Besides that, the comparisons between Romo and Favre are endless, so we here at AccuScore wanted to see what would happen if Tony played for the Packers and Brett played for the Cowboys. While the star of '"There's Something About Mary" is certainly a future Hall of Fame inductee, AccuScore data suggests that Romo is currently a slightly better player today thanks in part to his increased mobility and passing accuracy outside the pocket.
Green Bay with Romo at the helm is winning 32 percent of AccuScore simulations; a four-percentage point increase over the Favre-led Packers. AccuScore data also suggests that next year Romo might challenge
Peyton Manning
for that ever-elusive title of "he's in too many damn ads." While the Packers' receiving corps is better as a whole, no one receiver is as dominant as
Terrell Owens
. We traded T.O. to Green Bay and noticed a significant change. While Dallas still had the highest probability of winning the game, the Cowboys dropped to winning just 58 percent of game simulations; a differential of 14 percentage points. In most AccuScore simulations, Favre-to-Owens racks up nearly 100 yards through the air and at least one touchdown, and not to mention the resulting Lambeau leap and some type of celebration-based fine from the league. With Green Bay's lethal passing attack, the play of Dallas'
Terence Newman
is also a key to the Cowboys' success. With an injured Newman out of the Cowboys' lineup, both the
New York Giants
and
Miami Dolphins
combined for nearly 600 yards and six touchdowns against the Dallas defense in the first two weeks of the season. Newman returned in Week 3 and the Dallas secondary has improved. Without Newman in the lineup, Dallas' winning probability decreases more than five percent. Including this game, Dallas has a very high 20.8 percent probability of going 15-1 on the season compared to Green Bay's 5.9 percent, meaning there is an extremely good chance the NFC champions will have to two-step through Texas on their way to Arizona in February. I can hear my wife saying "yee haw" in the distance. There are two more additional factors worth noting. Favoring the Cowboys: Dallas has led the league in the cheerleading department. Favoring the Packers: Dallas has a foam-headed mascot and Green Bay does not, having ditched Packy Pack Packer years ago. Do we really need some sweaty guy dressed in a foam-headed Cowboy costume prancing around the sideline? Are there a slew of six-year-olds in the stands who really wanted to go to Chuck E. Cheese instead and need to be entertained? Please stop the mascot.
Gibby McCaleb, an NFL analyst for AccuScore, is a contributor to ESPN.com.
PACKERS AT COWBOYS (Thursday, 8:15 ET)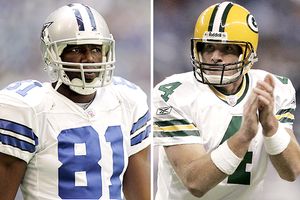 Terrell Owens and the Dallas Cowboys (10-1) play host to Brett Favre and the Green Bay Packers (10-1) on Thursday night in a game that could determine homefield advantage in the NFC playoffs. Only about a third of the homes in the U.S. will be able to watch the game on TV. Here's why

| Discuss the game.

Commentary/features
•
Power rankings: Dallas second, Green Bay third
•
Garber: Romo, Favre are improvising masters
•
Garber: Five improvising QB masters
•
Snoop Dogg raps Tony Romo
•
Clayton: First and 10
•&nbsp
Grant's run to glory
•
Wickersham: Best of weak NFC
•
Packers or Cowboys? Experts make their picks
•
Page 2: Inside Favre's brain
•
Cowboys-Packers through the years
News
•
Clayton: Injury report

ZOOM galleries
•
Top 5 NFL improvisational QBs
•
Top 5 NFL improvisational QBs ever
•
Top 5 college improvisational QBs
Video
•
Steve Young: QB improvisation about awareness
•
Brett Favre: "Play loose but be ready to play"
•
Dissecting Brett Favre's renaissance
•
Keyshawn Johnson's advice for Tony Romo
•
Field Pass: Green Bay vs. Dallas
•
Phillips and McCarthy surprising many
Simulation
•
EA Simulation: The winner in OT is...
Scouts Inc.
•
Tale of the tape: Too close to call
•
Offenses are in high gear
•
Improved Packers' O-line benefits Grant
•
Packers' terrific cornerback tandem
•
Packers' coaches are the key
•
Game could be decided by trench warfare
•
Horton: Notes from the film room
Nike Youth Away Limited Jersey Dallas Cowboys Tony Romo #9 Shop »

MOST SENT STORIES ON ESPN.COM