Commentary
Packers-Cowboys through the years
The Packers and Cowboys have played many memorable games over the years. Here are some highlights.
Originally Published:
November 28, 2007
By
Russell S. Baxter
| Special for ESPN.com
The Packers and Cowboys, who battle for NFC supremacy on Thursday night at Texas Stadium, have played many memorable games through the years. Here are some highlights:
Green Bay 34, Dallas 27 (1966 NFL Championship Game): The first title meeting between the Cowboys and Packers at the Cotton Bowl was a real nail-biter. After Green Bay opened a 14-0 lead, Dallas tied the score in the first quarter with a pair of touchdowns. Tom Landry's team trailed by seven late when they had a first-and-goal on the Packers' 2-yard line, but the Cowboys failed to crack the end zone on four tries.
Green Bay 21, Dallas 17 (1967 NFL Championship Game): It was minus-13 degrees at kickoff at Lambeau Field, and the Cowboys looked frozen as a pair of Bart Starr TD passes gave Vince Lombardi's club a 14-0 lead. Dallas rallied for a 17-14 edge, but Starr took over with 4:50 to play and drove his team. On third-and-goal, he followed guard Jerry Kramer into the end zone, and the Pack survived the "Ice Bowl."
Green Bay 20, Dallas 10 (Dec. 24, 1989): Packers QB Don Majkowski threw for 282 yards and a pair of touchdowns as the Cowboys suffered their final loss in a 1-15 season under first-year head coach Jimmy Johnson. Cowboys rookie QB Troy Aikman threw four interceptions in lowering his record as a starter to 0-11. That win remains the Packers' last one in Dallas; since then, they've lost eight straight at Texas Stadium.
Dallas 27, Green Bay 17 (1993 NFC divisional playoffs): Aikman was intercepted twice, but he also threw for 302 yards and three touchdowns as Dallas opened up a 17-3 halftime lead and never looked back. Packers QB Brett Favre threw for a pair of scores but was picked off twice, part of four Green Bay turnovers.
Dallas 42, Green Bay 31 (Nov. 24, 1994): The Cowboys were two-time defending Super Bowl champions but didn't have Aikman for this Thanksgiving Day tilt. Enter backup QB Jason Garrett (the current Cowboys offensive coordinator), who would throw for 311 yards and two scores. Packers wide receiver Sterling Sharpe caught four touchdown passes in a losing effort.
Dallas 35, Green Bay 9 (1994 NFC divisional playoffs): The Cowboys scored early and often as Barry Switzer's club opened up a 28-9 halftime lead. Emmitt Smith and Blair Thomas anchored the running game and Aikman threw for a pair of scores, including a 94-yarder to Alvin Harper.
Dallas 38, Green Bay 27 (1995 NFC Championship Game): Before the Cowboys could win their third Super Bowl in four years, they had to get by a very stubborn Packers team that was a year away from winning it all. It was a big day for the triplets as Smith ran for 150 yards and two touchdowns and Aikman threw for 255 yards and a pair of scores -- both to wide receiver Michael Irvin, who caught seven passes for 100 yards.
Dallas 21, Green Bay 6 (Nov. 18, 1996): Including playoffs, the Packers were riding a seven-game losing streak to the Cowboys, including a trio of postseason defeats. Although Mike Holmgren's club was on its way to winning it all, it suffered another setback in Irving. Cowboys place-kicker Chris Boniol tied the then-NFL record by kicking seven field goals, accounting for all of Dallas' points in a win over the eventual Super Bowl XXXI champions.
Russell S. Baxter works for ESPN Research.
SPONSORED HEADLINES
MORE NFL HEADLINES
MOST SENT STORIES ON ESPN.COM
PACKERS AT COWBOYS (Thursday, 8:15 ET)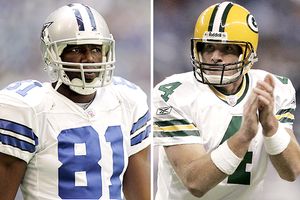 Terrell Owens and the Dallas Cowboys (10-1) play host to Brett Favre and the Green Bay Packers (10-1) on Thursday night in a game that could determine homefield advantage in the NFC playoffs. Only about a third of the homes in the U.S. will be able to watch the game on TV. Here's why

| Discuss the game.

Commentary/features
•
Power rankings: Dallas second, Green Bay third
•
Garber: Romo, Favre are improvising masters
•
Garber: Five improvising QB masters
•
Snoop Dogg raps Tony Romo
•
Clayton: First and 10
•&nbsp
Grant's run to glory
•
Wickersham: Best of weak NFC
•
Packers or Cowboys? Experts make their picks
•
Page 2: Inside Favre's brain
•
Cowboys-Packers through the years
News
•
Clayton: Injury report

ZOOM galleries
•
Top 5 NFL improvisational QBs
•
Top 5 NFL improvisational QBs ever
•
Top 5 college improvisational QBs
Video
•
Steve Young: QB improvisation about awareness
•
Brett Favre: "Play loose but be ready to play"
•
Dissecting Brett Favre's renaissance
•
Keyshawn Johnson's advice for Tony Romo
•
Field Pass: Green Bay vs. Dallas
•
Phillips and McCarthy surprising many
Simulation
•
EA Simulation: The winner in OT is...
Scouts Inc.
•
Tale of the tape: Too close to call
•
Offenses are in high gear
•
Improved Packers' O-line benefits Grant
•
Packers' terrific cornerback tandem
•
Packers' coaches are the key
•
Game could be decided by trench warfare
•
Horton: Notes from the film room
GameWear Dallas Cowboys NFL Team Color Football Bracelet Shop »