Commentary
Congress questions NFL record-keeping on disabled players
Updated:
December 4, 2007, 3:12 PM ET
By
Peter Keating
| ESPN The Magazine
While the NFL has insisted that it is committed to helping disabled former players, the league does not maintain records of which players, or how many, are driven from the game by injury, ESPN.com has learned.
That fact is contained in more than 2,000 pages of documents the NFL and NFL Players Association delivered to the House Judiciary Committee last month. It has startled members of Congress who are investigating the NFL's disability benefits. And it has added to a growing feeling among key members of the House and Senate that the league's business practices deserve increased scrutiny and possibly new regulation.
"Neither the NFL nor the NFLPA keeps data on players who retire due to injury, a simple fact that I find amazing," Rep. Linda Sanchez, D-Calif., who chairs the House Subcommittee on Commercial and Administrative Law, told ESPN.com. "Sometimes you don't keep track of something when you don't want to know what the answers are."
[+] Enlarge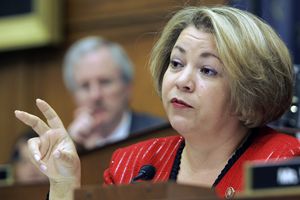 AP Photo/Susan WalshRep. Linda Sanchez, D-Calif., is still looking for answers from the NFL and the NFLPA.
"We are still in the information-gathering steps," Sanchez said. "But we're not going to go away, throw our hands in the air and let the league and the players' association run the system the way they want."
Sanchez's subcommittee, a subset of the House Judiciary Committee, held hearings on the league's disability benefits plan on June 26 this year. Emotional testimony was offered at those hearings by several former players, including Brent Boyd, a Vikings offensive lineman whose career was ended by injuries and who has spent a decade fighting for the highest category of disability benefits.
"The [NFL Retirement] Board's tactics are to delay, deny and hope we die," Boyd testified. Boyd and other retired players found a sympathetic audience among House members, who at times seemed irritated with statements made by the NFL and NFLPA. At one point in the June hearings, Douglas Ell, chief attorney for the disability plan and the NFLPA, revealed that 317 players were receiving disability payments, out of about 7,900 who are retired. "In one of the most dangerous sports in the history of mankind, only 300 players are receiving disability payments?" an incredulous Rep. Maxine Waters, D-Calif., asked. Despite such criticism, the NFL said it has not been lobbying Congress against taking action on disability benefits. "To the contrary, we have been fully cooperative with the interested members and committees and have provided the information they have requested," league spokesman Greg Aiello said. "If a proposal is advanced with respect to disability benefits, we would review and comment on it in a respectful and constructive way." On Sept. 18, the Senate Committee on Commerce, Science and Transportation took up the disability benefits issue. Members of that chamber seemed markedly less interested in the subject than their House counterparts -- only a handful attended.
Slow progress
The NFL and NFLPA have created several vehicles beyond the league's basic disability plan to assist injured former players. But these programs are in embryonic stages of development, and in some cases they have triggered grumbling among the families they are supposed to be helping. For example, last year, the league and union announced the 88 Plan, which was named after the uniform number of ailing Hall of Famer John Mackey and promised up to $88,000 a year to retired players with dementia, whatever the cause. The news made national headlines, and in May, the Alzheimer's Association of New York honored NFLPA chief Gene Upshaw for his role in developing the plan. So far, the 88 Plan has disbursed $861,502.64 to former players, an average of less than $17,000 per case. The details of the 88 Plan came as a nasty surprise to at least one recipient. "The way Roger Goodell and Gene Upshaw worded the plan, it sounded as if I could receive up to $88,000 a year to pay for whatever care my husband needed," Sharon Hawkins told ESPN.com. Sharon's husband, Wayne, a five-time AFL All-Star who played for the Raiders in the 1960s, has dementia and is unable to perform simple daily tasks. After applying for benefits, the Hawkinses learned that the 88 Plan offers a maximum of $54,000 for retired players living at home, even though home care is typically more expensive. It's also a reimbursement program: Families shell out, then wait to get paid back. If they cannot afford the bills in the first place, they are out of luck. To date, the 88 Plan has approved 73 player applications, but only 51 have incurred reimbursable expenses, ESPN.com has learned. Further, family members, such as wives who act as primary caregivers, cannot collect 88 Plan funds to care for retirees. So Sharon Hawkins either has to pay someone else to care for Wayne, or she can divorce her husband of 46 years to qualify as his caregiver. "That's not going to happen," she said. Wayne Hawkins' prescriptions are reimbursed by the 88 Plan, but only when the plan gets around to it. "I haven't heard from them since July," Sharon says. "And it actually comes to $40 a month. BFD. "Pardon my language," she adds. "Some may not understand the requirements at first, but our office provides a thorough explanation of what is needed to qualify [for the 88 Plan], such as a diagnosis of dementia from a specialist and receipts from a service provider," NFL spokesman Greg Aiello told ESPN.com. Aiello added, "Private insurance and government programs that deal with these kinds of needs are generally structured as reimbursement programs. This is not an income supplement, but a program to provide a specific type of care." The NFL, NFLPA, NFL Alumni Association and Hall of Fame have also created the NFL Alliance, which announced in July that it would spend $7 million to help injured former players. And last month, the league pledged $10 million to the Alliance for joint replacement surgery, cardiovascular screenings and assisted living for retired players. But the Alliance hasn't distributed any of that money. It has not yet established eligibility guidelines for former players or selected doctors or hospitals to provide the care it intends to offer. -- Peter Keating

But since then, individual senators have pursued the subject on their own. Sens. Trent Lott, R-Miss., and David Vitter, R-La., sent a series of nine questions to NFL commissioner Roger Goodell, who replied in writing. Sen. Jay Rockefeller, D-W.Va., sent queries to Goodell and NFLPA executive director Gene Upshaw, and met privately with retired players. And Sen. John Ensign, R-Ariz., met with Boyd, who recently launched Dignity After Football, an advocacy group for disabled former players. On Oct. 12, Rep. John Conyers, D-Mich., chairman of the House Judiciary Committee, and his colleagues on that committee wrote to Goodell and Upshaw, formally requesting information to prepare a bipartisan Congressional Research Service (CRS) report. According to the committee's letter, the CRS report will provide "an objective analysis of the types and severity of injuries suffered by NFL players, the benefits programs available to injured players, and the barriers to former players seeking benefits." "In addition," the letter stated, "the report will delve into related issues such as the problem of concussion and its long-term effects on players." "We do not know how many players end their careers because of injury," the NFL stated in its written responses to the House Judiciary Committee. "Players retire for many reasons; because they do not make the team, because they wish to start their second career, because they lose the desire to play, or because they wish to spend more time with their families. No records are kept regarding the reasons that players retire." The NFL released that portion of its response to ESPN.com this week. "The data concerning injuries and what does or does not cause a player to leave the game of football is not tracked by the NFLPA," a spokesperson for the players' association told ESPN.com. The judiciary committee expects the CRS report to be completed by the end of the year. The NFL and NFLPA took until Nov. 5, 10 days beyond the committee's original deadline, to answer the congressional queries. The league and players' association both declined to make the bulk of their responses public. Conyers has not yet determined whether or when his committee will release the documents. But neither the league nor the union could respond to all of the questions the committee posed. The sixth of 32 questions sent to the NFLPA asked, "How many players have retired because of an injury or injuries? What types of injuries did these players sustain?" The seventh of 11 questions sent to the NFL had almost identical wording. And neither the NFL nor the NFLPA knew the answers.
Asked this week about disabling injuries, the union suggested it is the league's job to track the reasons players retire.
"Perhaps you should ask the NFL this question -- or each team individually," an NFLPA spokesperson told ESPN.com. Meanwhile, the NFL said it is difficult to determine why players leave the game. "Other reasons players retire would be declining skill, the team has decided to go younger, the team says it will no longer pay the player at that level for cap reasons and the player decides it's time to hang it up," Aiello told ESPN.com. "In all those cases, an older player like that may also have some injuries from his long career. Did he retire 'due to injury'?"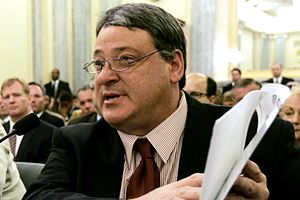 AP Photo/Susan WalshFormer Vikings guard Brent Boyd, shown testifying here in September, is a vocal critic of the current Retirement Board.
As members of Congress probe the rest of the responses, they are particularly concerned about the lack of representation former players have in the league's benefits process. "Right now, we're seeing so many claims rejected that it raises questions," Sanchez said. "This is my concern: Is it something that's systematic, to discourage, harass and utterly defeat these retirees? Let's face it, after years of going through the process, you wonder if it's worth it." The NFL offers several forms of assistance to disabled players. Under its main plan, players are eligible for anywhere from $18,000 to $224,000 a year, depending on when they played and the types of injuries they have sustained. But only four players have qualified for the maximum level of payments since 1993. And many of the former players who have tried to obtain benefits have described the process in nightmarish terms. Applications first go to a two-person Disability Initial Claims Committee. They then move to a Retirement Board that contains three members appointed by the NFL and three by the NFLPA. The board generally does not meet with the players or their physicians, but can ask them for additional medical reports, and has full discretion to accept whatever evidence it finds convincing. Currently, the Retirement Board includes Cardinals owner Bill Bidwill; Ravens president Dick Cass; Chiefs owner Clark Hunt; Tom Condon, who heads the football division at Creative Artists Agency and represents Upshaw; former All-Pro center Jeff Van Note, who is now a broadcaster; and former All-Pro safety Dave Duerson. None of the six members is a doctor or disability expert. If Congress chooses to act, it could affect the NFL's business in a wide variety of ways. The federal government regulates interstate commerce and workplace safety and has allowed the league to remain largely exempt from antitrust laws. In June, Rep. Tom Feeney, R-Fla., said that inspectors from the Occupational Safety and Health Administration could start showing up at NFL workouts. "I believe we could mandate almost any conditions that we wanted to," Feeney told The New York Times. The congressional investigations could also broaden to include a look at pensions for retired NFL players, another subject of considerable controversy in recent months. "This could go next to Ted Kennedy's Committee on Health, Education, Labor and Pensions," said one commerce committee staff member, who asked to remain anonymous while predicting what members of the Senate might do next.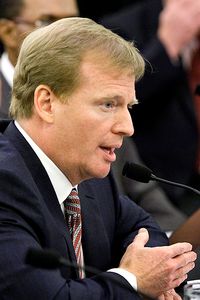 Win McNamee/Getty ImagesAccording to his spokesman, NFL commissioner Roger Goodell hasn't lobbied Congress despite the threat of action.
It's more likely, however, that after the CRS report on the disability plan is complete, Congress will amend federal labor laws to change the structure of the Retirement Board. In September, Upshaw proposed legislative action to give the union control of the board. "Since the NFLPA has been criticized when applications are denied … it makes sense for the players to be the ones making the disability decisions," he told the Senate. But many key members of Congress feel the board should be independent of both the league and the union, one way or another. At the June hearings, Rep. Hank Johnson, D-Ga., repeatedly told the NFLPA's lawyers that independent professionals, not NFL and players' association appointees, should be on the board. In September, Sen. Bill Nelson, D-Fla., suggested that the board should be made up of doctors -- and Goodell said he was "not opposed" to that idea. And Waters, who is married to former NFL player Sidney Williams and has said she personally was frustrated by the NFLPA when she tried to help a friend obtain disability benefits, reportedly is looking into a congressional takeover of the plan. "We do not believe that congressional action is necessary," the NFL's Aiello told ESPN.com. "The current system is a product of collective bargaining within the statutory, regulatory and legal framework established by Congress, various federal agencies and the federal courts. These are issues that must be addressed in the next round of collective bargaining."
Peter Keating writes about sports business for ESPN The Magazine.
Peter Keating is a senior writer at ESPN The Magazine, where he covers investigative and statistical subjects. He started writing "The Biz," a column looking at sports business from the fan's point of view, in 1999. He also coordinates the Magazine's annual "Ultimate Standings" project, which ranks all pro franchises according to how much they give back to fans. His work on concussions in football has earned awards from the Deadline Club, the New York Press Club and the Center for the Study of Sport in Society.
EDITORS' PICKS
Jameis Winston's pro day workout wasn't exceptional, but he confirmed he's worthy of being the top pick.
McShay

Athletes, teams

Mailbag: John Clayton explains why expanded playoffs are on hold and discusses overtime rules and extra points.
Story »

MOST SENT STORIES ON ESPN.COM