Grand jury identifies Rivera as gunman in death of Taylor
Updated:
December 4, 2007, 11:45 PM ET
Associated Press
MIAMI -- The 17-year-old suspect in the death of Sean Taylor was accused Tuesday of firing the shot that killed the Washington Redskins safety.
A Miami-Dade grand jury identified Eric Rivera as the gunman in its indictment.
Rivera and his three co-defendants were indicted by the grand jury on charges of first-degree felony murder and armed burglary.
[+] Enlarge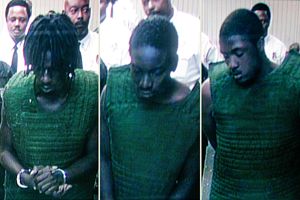 AP Photo/Lynn SladkyJason Mitchell, Charles Wardlow and Venjah Hunte (from left) were denied bail after appearing separately before a judge via a video link.
Charles Wardlow, 18; Jason Mitchell, 19; and Venjah Hunte, 20; were ordered held without bail during brief court appearances via a videoconference from Miami-Dade County jail. The three, who stood silently during the hearing, will remain at the jail under suicide watch after Judge John Thornton Jr.'s ruling.
Rivera was being transported from Fort Myers to Miami-Dade on Tuesday night and will make a court appearance Wednesday morning. One of his attorneys said the grand jury's identification of Rivera as the gunman was expected.
"This does not come as a surprise," said Sawyer Smith, who along with his father Wilbur represents Rivera.
The 24-year-old Taylor died Nov. 27, a day after he was shot in the bedroom of his home. Police have said he was a victim of a botched burglary.
"I think he's in disbelief over what occurred," said Wilbur Smith. "His expression to me was that 'I can't believe this kind of thing happened.'"
Asked how he would defend his client, Wilbur Smith said simply: "Stay tuned."
Attorneys said the four young men were agitated.
"He's very distraught," said Hunte's attorney, Michael Hornung. "He's scared."
Hornung offered glimpses of his client's possible involvement. He said Hunte was the only suspect with a valid driver's license and behind the wheel at least part of the time. He said Hunte did not have a gun and did not know his friends' plans.
"Just a bunch of friends that evening said they were going to the East Coast, and he went along," Hornung said. "He had no idea whatsoever what was going on."
Hunte is cooperating with police, his attorney said, and would tell them everything he knows.
Probable cause affidavits for Mitchell and Rivera said the two confessed to participating in armed burglary. According to the reports, Mitchell and Rivera admitted entering the home and said someone had a gun and shot Taylor, but they didn't identify who. Police and attorneys also have said some of the young men confessed, though they wouldn't elaborate.
Wardlow's attorney, David Brener, did not return a phone message.
Wilbur and Sawyer Smith have said there is a fifth suspect, though police would not confirm that.
The court proceedings came a day after Taylor's funeral, which was held at a university arena and drew about 3,000 mourners. Among those attending were NFL commissioner Roger Goodell, the Rev. Jesse Jackson, 300 members of the Redskins organization and actor Andy Garcia, uncle of Taylor's girlfriend, Jackie Garcia.
Richard Sharpstein, Taylor's former attorney, said the athlete's family was grateful for police and prosecutors' work, but that it did little to lessen their loss.
"They're still grieving, and no amount of justice could ever replace Sean to them," Sharpstein said. "However, they'll support this prosecution and wish the state attorney the best in achieving the most severe punishment to these people."

Copyright 2007 by The Associated Press
Sean Taylor: 1983-2007

Washington Redskins safety Sean Taylor died Nov. 27, a day after the Pro Bowl player was shot at home by what police say was an intruder. Four suspects are in custody and have been charged with first-degree felony murder and armed burglary.


News
Feb. 7
•
Autopsy shows bullet left through Taylor's left leg
Jan. 11
• Taylor shooting evidence include Miranda waivers

Jan. 8
• Judge in Sean Taylor case issues gag order

Dec. 21
• Taylor suspect's attorney says he seeks plea deal

Dec. 20
• Attorney: Gun from Taylor shooting in Everglades

Dec. 19
• Suspects in Taylor's killing file not guilty pleas
• Taylor posthumously voted to NFC Pro Bowl team
Dec. 15
• Taylor's girlfriend speaks: Family close as ever
Dec. 7
• Attorney: Noise nearly aborted Taylor burglary
Dec. 6
• Report: Suspects invoved in earlier break-in
Dec. 5
• Lawyer: Accused gunman wants plea deal
• Taylor leads NFC Pro Bowl voting at safety
Dec. 4
•
Three suspects in Taylor shooting denied bail
Dec. 3
•
Taylor's life celebrated at Florida funeral
Dec. 2
•
Skins honor Taylor with 10-man defense vs. Bills
•
Bail denied for fourth suspect in Taylor shooting
Dec. 1
•
Four charged with murder in Taylor shooting
•
Hurricanes grieve together again
Nov. 30
•
Four arrests made in connection to Taylor's killing
•
Memories and mystery frame Taylor's life
Nov. 29
•
Portis, Moss discuss Taylor
Nov. 28
•
Police still have no suspect
•
Childhood friend Rolle doubts burglary
•
Gore deals with death of friend
•
Taylor's death stirs memories of slain Bronco
•
Caps pay tribute to Taylor
Nov. 27
•
Taylor dies after being shot at home
•
Coaches, teammates remember Taylor
•
Artery injury suffered by Taylor difficult to treat
Nov. 26
•
Taylor shot, in critical condition
Reaction
•
Sando from Redskins' first game after tragedy
•
Merrill: Unanswered questions frame Taylor's life
•
Granderson: Pursuit of street cred a dangerous choice
•
Drehs: Pro athletes feeling targeted
•
Chadiha: Taylor's life was turning around
•
Pasquarelli: Taylor will be difficult to replace
•
Pasquarelli: NFL examining salary-cap impact
•
Hill: The grim statistic
•
Feldman: Taylor was a special talent

Video
•
Complete Taylor coverage
Audio
•
Taylor's ex-attorney's account of tragic night


•
Former coach Larry Coker remembers Taylor
Nike Women's Home Limited Jersey Washington Redskins Robert Griffin Iii #10 Shop »

MOST SENT STORIES ON ESPN.COM