Apologetic Vick gets 23-month sentence on dogfighting charges
Updated:
December 11, 2007, 3:49 PM ET
ESPN.com news services
RICHMOND, Va. -- Michael Vick was sentenced to prison Monday for running a dogfighting operation and will stay there longer than two co-defendants, up to 23 months, because he lied about his involvement when he was supposed to be coming clean to the judge who would decide his fate.
The disgraced NFL star received a harsher sentence than the others in the federal conspiracy case because of "less than truthful" statements about killing pit bulls.
Vick said he accepted responsibility for his actions, but U.S. District Judge Henry E. Hudson said he wasn't so sure.
"I'm not convinced you've fully accepted responsibility," Hudson told Vick, who arrived in court wearing the black-and-white striped prison uniform he was issued when he voluntarily surrendered Nov. 19 to begin serving his sentence early.
Despite the early surrender, a public apology and participation in an animal sensitivity training course, Vick was denied an "acceptance of responsibility" credit that would have reduced his sentence. Federal prosecutors opposed awarding Vick the credit.
Dogs that did not perform up to expectations were killed by electrocution, hanging, drowning and other violent means by the dogfighting ring. Hudson said evidence, including statements by the co-defendants, showed Vick was more directly involved than he admitted. Hudson also mentioned that Vick had been deceptive on a polygraph test. Though that evidence was not admissible in court, the results were discussed.
"He did more than fund it," prosecutor Michael Gill said, referring to the "Bad Newz Kennels" dogfighting operation. "He was in this thing up to his neck with the other defendants."
[+] Enlarge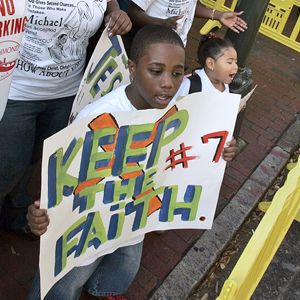 AP Photo/Steve HelberSome did not waver in their support for Michael Vick on Monday. At sentencing, the judge told Vick "you need to apologize to the millions of young people who looked up to you."
The judge agreed.
"You were instrumental in promoting, funding and facilitating this cruel and inhumane sporting activity," he said.
Flanked by two defense attorneys, Vick spoke softly as he acknowledged using "poor judgment" and added, "I'm willing to deal with the consequences and accept responsibility for my actions."
Vick apologized to the court and his family members, who along with other supporters occupied most of two rows in the packed courtroom. Before the hearing started, Michael Vick's brother, Marcus Vick, draped his right arm around their mother and comforted her as she wept.
"You need to apologize to the millions of young people who looked up to you," Hudson said sternly, reminding Vick of the fans he singled out when he pleaded guilty in August.
"Yes, sir," Vick answered.
Although there is no parole in the federal system, with time off for good behavior Vick could be released in the summer of 2009.
"This was an efficient, professional, and thorough investigation that well exposed a seamy side of our society," U.S. Attorney Chuck Rosenberg said in a statement. "I trust Mr. Vick learned important lessons and that his admission of guilt will speed his rehabilitation."
Lives, Careers Interrupted
Recent examples of athletes who have been sentenced to jail time while still active in their playing careers:

Tank Johnson (NFL), December 2006
• Lineman was arrested at his home in suburban Chicago and charged with six counts of possessing an unlicensed gun. Johnson was on probation for a previous weapons charge. Sentenced to house arrest, 4 months in jail for probation violation, fined $2,500, suspended one game by the NFL. Was later suspended 8 games by the NFL for additional legal trouble and released by the Bears.
Ugueth Urbina (MLB), November 2005
• Relief pitcher was arrested by Venezuelan authorities on a charge of attempted murder. Allegedly attacked five farm workers on his property and tried to injure them both with a machete and by attempting to pour gasoline on them. Was convicted in March 2007 of attempted murder and other charges. Sentenced to 14 years in prison, ending his professional baseball career.

Jamal Lewis (NFL), February 2004
• Running back was indicted on federal drug charges involving a drug deal in summer 2000. Was charged with conspiring to possess cocaine with the intent to distribute and using a cell phone in the commission of the crime. Pleaded guilty to using a cell phone to set up a drug deal. Spent 4 months in prison, suspended 2 games by the NFL.
Leonard Little (NFL),
October 1998
• Drank and drove his SUV into Susan Gutweiler's car. A wife and mother, she died the next day. The Rams put Little on paid leave. He pleaded guilty to involuntary manslaughter and served 90 days in jail, four years' probation and 1,000 hours of community service. Then NFL stated that Little could play in training camp and preseason games but was banned without pay for the first eight regular-season games. That half-season suspension cost him roughly $125,000.
Charles Smith (NBA),
March 1992
• Celtics guard was convicted of vehicular homicide and leaving the scene of a crime in the hit-and-run deaths of two Boston University students. Sentenced to 4½ years in prison, he was acquitted of the more serious charge of manslaughter. Smith returned to the NBA for the 1995-96 season and played 8 games with the Wolves.

Craig MacTavish (NHL), May 1984
• Was convicted of vehicular homicide while a member of the Bruins. While drunk, he rear-ended a car, causing it to skid into a parking lot, where it hit two more cars and overturned. The other driver died days later. Served one year in prison. MacTavish played 14 NHL seasons following his year in prison and has coached the Oilers since the beginning of the 2000-01 season.
-- Compiled by ESPN Research
Falcons owner Arthur Blank called the sentencing another step in Vick's "legal journey."
"This is a difficult day for Michael's family and for a lot of us, including many of our players and fans who have been emotionally invested in Michael over the years," Blank said. "We sincerely hope that Michael will use this time to continue to focus his efforts on making positive changes in his life, and we wish him well in that regard."
Blank told ESPN's Chris Mortensen he has not shut the door on the possibility Vick could play for the Falcons in the future.
"If the question is whether can I see a set of circumstances in which Michael [comes back to the team], the answer is yes," Blank said. "That being the case, we're moving forward as if he will not be back. I have learned you never say never but we're planning as if he will not be here. We are resolved to get this franchise on the rebound and become one of the most successful in the NFL."
Blank said he spoke with Vick "about six weeks ago," shortly before Vick entered prison to begin serving time.
"He was still remorseful, he felt badly and he told me he loved me," Blank told Mortensen. "I wish him well and I hope he has a positive, productive life ahead of him."
Vick was suspended without pay by the NFL and lost all his lucrative endorsement deals. NFL commissioner Roger Goodell was asked after Monday's ruling if Vick should play again.
"That's a determination we'll make later on," he told The Associated Press from a legislative hearing in Austin, Texas, involving the NFL Network. "As I said earlier when we suspended him indefinitely, we would evaluate that when the legal process was closed."
On its Web site Monday, the Atlanta Journal-Constitution estimated that Vick has incurred financial losses of $142 million, including $71 million in Falcons salary, $50 million in endorsement income and nearly $20 million in previously paid bonuses.
Federal sentencing guidelines called for a term of 18 months to two years. While prosecutors asked for a sentence on the high end, defense attorney Lawrence Woodward asked for leniency, noting his client's previously clean record despite growing up in a rough area in Newport News.
But in addition to initially lying about his role in killing dogs, Vick tested positive for marijuana use in violation of the terms set for his release -- then gave conflicting accounts about when he used the drug, Hudson noted.
He also said Vick's conflicting stories about drug use and his role in killing dogs stemmed from frustration with his interrogators and a desire to please people by telling them what he thinks they want to hear.
"We knew this was a statement case so I figured it'd be a statement verdict," Falcons tight end Alge Crumpler told ESPN.
Vick's lead attorney, Billy Martin, said Vick had been diagnosed as clinically depressed.
"Mr. Vick in life had numbed himself to a lot of events around him. That was, in a sense, his way of surviving," Martin said.
Outside court, Woodward said Vick didn't want anyone feeling sorry for him.
"He just wants a chance to prove himself when all this is over," he said. "But the other thing he said to me, which I also think is important for everyone to know, is that he understood that some of the things he was doing in life and off the field were dangerous, and he told me he feels lucky that he's alive and not hurt and now it's all about the future."
That future now includes a stay at a still-undetermined federal prison. He has been held at a jail in Warsaw, Va., since voluntarily beginning his term.
In a plea agreement, Vick admitted bankrolling the dogfighting ring on his 15-acre property in rural Virginia. He admitted providing money for bets on the fights but said he never shared in any winnings.
The gruesome details about the dogfighting enterprise prompted a public backlash against the once-popular Vick and enraged animal-rights groups, which used the case to call attention to the brutality of dogfighting.
John Goodwin of the Humane Society of the United States called Vick's sentence appropriate.
"People that are involved in this blood sport are on notice. You can throw your life away by being involved in this," he said.
Along with the prison term, Vick was fined $5,000 and will serve three years' probation after his release.
Two co-defendants were sentenced Nov. 30. Purnell Peace, of Virginia Beach, got 18 months. Phillips, of Atlanta, got 21 months. Another co-defendant, Tony Taylor, will be sentenced Friday.
All four men also are facing animal cruelty charges in Surry County Circuit Court. Trial has been set April 2 for Vick, March 5 for Phillips and Peace, and May 7 for Taylor.
Information from The Associated Press and ESPN NFL reporter Ed Werder was used in this report.
VICK SENTENCED TO 23 MONTHS

Michael Vick was sentenced to 23 months in federal prison and three years' probation for his role in a dogfighting conspiracy. The suspended Falcons quarterback is looking at a scheduled release of July 2009. Story
Update
•
GM: Falcons will attempt to trade Vick
•
Lawyer: Vick might move to halfway house
•
Former Vick estate fails to sell again
•
Vick house fails to sell at auction
•
Vick files for bankruptcy protection
•
Prosecutor: Vick's Virginia trial can wait
•
Vick ordered to repay Canadian bank $2.4 million
•
Judge denies NFL motion to reverse Vick ruling
•
Report: Vick not playing organized football in jail
•
Report: Vick passes time with prison-yard football
•
Vick's state dogfighting trial to begin June 27
•
Munson: Vick yet to enter drug treatment
The sentence
•
Vick sent to Kansas to serve rest of sentence
•
Vick asked judge for leniency before sentencing
•
Vick sentenced to 23 months
|
Document (pdf)
•
Poll: What do you think?
|
What they're saying
•
Clayton: Sentence puts career in jeopardy
•
Munson: Tough sentence by displeased judge
•
Teammates show support at Falcons game
•
Can Vick return to playing in NFL?
•
Pasquarelli: No longer top of mind in Atlanta
•
Last Vick co-defendant sentenced
•
Podcasts

:
Cossack

|
Schlereth

|
Munson/Naqi

|
Pasquarelli

•
Chat wrap: David Cornwell
Post Plea
•
NFL wants court to reverse Vick bonus ruling
•
Victory for Vick: QB can keep $20 million bonus
•
Fifth defendant in Vick case receives probation
•
Vick's house for sale for $1.1M
•
Some Falcons to visit Vick in prison
•
PETA unveils new e-card
•
Former Virginia estate fails to sell at auction
•
Out of Falcons' sight, almost out of mind
•
Judge's casework offers look at possible sentence
•
Remaining dogs placed with rescue groups
•
Source: Feds may push judge to up sentence
•
NFLPA argues Vick should not lose roster bonus
•
Vick co-defendants get 18, 21 months in prison
•
Vick agrees to put up almost $1M for dogs' care
•
Vick given April trial date on state charges
•
Vick surrenders to begin serving sentence early
•
Home at center of Vick dogfighting scandal sold
•
Vick fires one of his lawyers in dogfighting case
•
Man who sold Vick pit bull pleads guilty
•
Man connected to Vick dogfight ring pleads guilty
•
Third bank sues Vick, claims he defaulted on loan
•
Arbiter: Falcons have right to reclaim bonuses
•
PETA: Vick had class on animal cruelty
•
Evaluations show 48 of Vick's dogs placeable
•
Vick tests positive for marijuana
•
Vick supporters turn out for town meeting
•
Vick's apology notes fetch $10.2K at auction
Vick's Plea/NFL Suspension
•
Vick pleads guilty to federal dogfighting charge
•
The plea
(PDF) |
Statement of facts
(PDF)
• Vick's statement:
Watch it

|
Read it
•
Roger Cossack explains plea deal
•
Poll: Vick should be banned
•
Va. Tech, Beamer continue to support Vick
•
Vick supporters drown out protesters
•
NFL suspends Vick indefinitely
|
Goodell
(PDF)
•
Chris Mortensen on Vick's suspension
•
Vick files plea agreement admitting to dogfighting
Indictment
•
Marbury's about-face: Vick 'is 100 percent wrong'
•
National NAACP: Vick 'not a victim'
|
Audio

•
Atlanta NAACP: Vick should be allowed to return
•
Falcons come to terms with 'ex-teammate'
•
Vick timeline
|
What they're saying
•
Helyar: Even Atlanta turns against Vick
•
Goodell: Vick not overshadowing season
•
Vick co-defendant pleads guilty to charges
• Tony Taylor:
Summary of Facts
|
Plea agreement
•
Hometown residents stand by Vick
•
Falcons had planned to suspend Vick
•
Commish tells Vick to avoid camp
•
Vick indicted
|
The indictment (pdf)
|
Civil arrest warrant (pdf)
Town Hall meeting
•
Town Hall chat wrap: Chadiha
Previous columns/analysis
•
Munson: Q&A on Vick reporting to prison early
•
Munson: Looking at Judge Hudson
•
Vick's high school learning lessons
•
Bryant: Confounded by race issue
•
Munson: Q&A about local indictment
•
Munson: Next focus for Vick is length of sentence
•
Schlabach: Vick an afterthought on VT campus
•
Chadiha: Vick not running from truth
•
Hill: Coverage means bigger issues ignored
•
Wojciechowski: Pay attention to the fallen star
•
Bryant: Vick's plea deal comes with baggage
•
Bryant: In failing Vick, NFLPA fails itself
•
Munson: Vick plea means surrender
•
Forde: Vick's epic fall
•
Pasquarelli: Major blow for Falcons
•
Chadiha: Lots of lessons to be learned
•
Wojciechowski: Punishment with teeth
•
Easterbrook: Little sympathy?
•
Clayton: Vick's NFL future might be bleak
•
E-Ticket: A history of mistrust
•
Chadiha: Vick's bad choices
The Highland Mint Philadelphia Eagles Michael Vick Panoramic Photo Mint Shop »

MOST SENT STORIES ON ESPN.COM