Commentary
Vikings' run dominance might not be enough
Conventional wisdom dictates that a strong running game can carry a team far into the playoffs. But NFL history reveals just the opposite.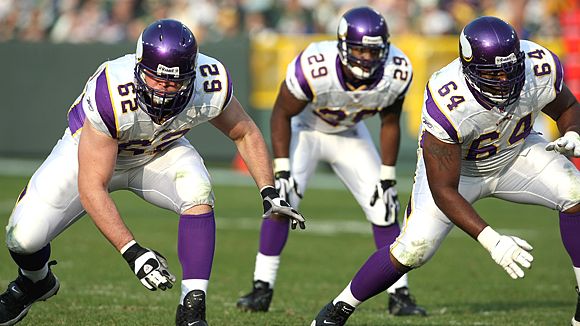 Jonathan Daniel/Getty ImagesRyan Cook (62) and Anthony Herrera (64) are two reasons Chester Taylor (29) and rookie sensation Adrian Peterson (not pictured) have excelled for the Vikings. But is a strong running game enough for a big playoff push?
Conventional wisdom says that to win in the playoffs, you have to be able to run the ball and stop the run. If that conventional wisdom is true, the most dangerous team in the NFC might be the
Minnesota Vikings
. No team since the AFL-NFL merger in 1970 has been quite as unbalanced, with both the offense and defense dramatically better on running plays than on passing plays. The Vikings lead the league in rushing average, getting 5.7 yards per carry. That's 0.8 better than the team in second place through Week 14, Denver (4.9 yards per carry). Only once since 1970 has there been a larger difference between the top two teams in rushing average: 1991, when the Barry Sanders-led Lions averaged 5.5 yards per carry and the Broncos were second with 4.6 yards per carry. The only reason the Vikings are not as dominant on run defense is that there is one other team that is their equal. Baltimore is allowing only 2.9 yards per carry to lead the league, and Minnesota is second with 3.1 yards per carry. Every other defense allows 3.7 yards per carry or more. In the passing game, however, the Vikings are merely average. They barely gain more yardage on passes than on runs. Their average of 5.8 net yards per pass is 20th in the league. On defense, they allow 6.1 net yards per pass, which ranks 15th. If the run is the key to winning in the playoffs, teams that are similar to Minnesota should have a strong record in the postseason. But when we look at NFL history, we find just the opposite: Most similar teams have losing records, and the teams with winning records generally flop in the postseason. To figure out which teams have had the strongest tilt toward the run on both offense and defense, I looked at each team's ranking in four categories: yards per carry on both sides of the ball and net yards per pass on both sides of the ball. When we add the two rushing rankings and subtract that sum from the total of the passing rankings, we'll call the stat produced "ground power." (Forget about total yardage and the "official" NFL rankings, which are significantly biased by the fact that winning teams will run more on offense and face fewer runs on defense.) For example, so far this season, the Vikings rank first in run offense and second in run defense (3) but 20th on pass offense and 15th in pass defense (35). That gives them a "ground power" grade of 32. It's not hard to remember the team with the highest ground power grade, since it played just a year ago: the 2006
Atlanta Falcons
. The Falcons were first in run offense and sixth in run defense but were 30th in pass offense and 31st in pass defense, for a ground power grade of 54. Here are the top 10 teams since 1970, plus the best team this year:
Ground Power
Year
Team
Off. Yd/Run Rank
Def. Yd/Run Rank
Off. Yd/Pass Rank
Def. Yd/Pass Rank
GP
W-L
2006
Atlanta
1
6
30
31
54
7-9
1984
L.A. Rams
1
3
22
28
46
10-6
1999
Cincinnati
3
9
24
30
42
4-12
2000
Cincinnati
5
7
31
22
41
4-12
1999
San Francisco
1
11
22
31
41
4-12
1998
Pittsburgh
9
3
27
24
39
7-9
1983
Pittsburgh
10
3
27
24
38
10-6
2007
Baltimore
21
1
30
29
37
4-9
1975
Cleveland
6
5
25
23
37
3-11
2005
San Francisco
16
11
31
32
36
4-12
1985
Indy
1
10
25
22
36
5-11
You might notice that most of these teams weren't very good. Only two of them have winning records, and the 1983 Steelers and 1984 Rams each lost their only playoff game. Look at more teams, and the results aren't much better. Before this season, 31 teams since 1970 had a ground power rating of 30 or higher. Those teams had a winning percentage of just .402. Only five made the postseason, and of those five, only the 2004 Falcons actually won a playoff game. Expand to teams with a ground power rating of 20 or higher, and we find 113 teams since the merger with a combined winning percentage of just .415. The 23 teams that made the playoffs have a combined postseason record of 11-21. Of course, just because a team ranks higher in run offense and defense than in pass offense and defense doesn't mean it actually does a good job of running the ball or stopping the run. The 2005 49ers don't have a high ground power rating because they actually had any power on the ground. They have a high ground power rating because they had zero effect in the air, with an abysmal passing game and the league's worst pass defense. So I took those teams with a ground power rating of 20 or higher and filtered out any team that wasn't actually ranked in the top 10 for both run offense and run defense. That left 55 teams, plus the current Vikings. These teams are a little better, but they still aren't winners overall. Their combined winning percentage is .498, and only 19 of them made the playoffs. Minnesota fans won't be happy to learn that 14 of those 19 teams were one-and-done in the postseason. The combined playoff record of these teams is 10-17, and seven of those wins are by the two teams that actually rode dominance in the running game to a Super Bowl championship: the 1988 San Francisco 49ers and the 2000 Baltimore Ravens. However, unlike the Vikings, these two teams ranked in the top 10 in one of the two pass categories, as well.
Ground power
Year
Team
Off. Yd/Run Rank
Def. Yd/Run Rank
Off. Yd/Pass Rank
Def. Yd/Pass Rank
GP
W-L
1988
San Francisco
2
4
9
25
28
10-6
2000
Baltimore
8
1
24
7
22
12-4
The Ravens are a huge exception in recent history, which simply hasn't been kind to teams that were far better in the ground game than in the passing game. The 28 teams that made it to the conference championship game since 2000 had an average ground power rating of minus-7.4. Only two of the 14 teams that made it to the Super Bowl had a positive ground power rating: the 2000 Ravens and the 2005 Seattle Seahawks (11).
There's no doubt the 2007 Vikings are a great story. Nobody expected much from this team going into the season, yet Minnesota has an excellent chance to make the playoffs. Just don't expect much from the Vikings once they get there. Adrian Peterson might be the sure rookie of the year, and Kevin Williams and Pat Williams are two outstanding defensive linemen, but teams don't really win in the playoffs by running the ball and stopping the run.
They win by passing the ball and shutting down the other team's quarterback with good pass defense.
Aaron Schatz is president of Football Outsiders Inc. and the lead author of Pro Football Prospectus 2007 and 2008.
NFL analyst for ESPN Insider
Founder of Footballoutsiders.com
EDITORS' PICKS
Shane Ray transformed himself in many ways to become a top prospect.
Merrill »

The Saints are positioned to land impact players early in the draft. Who else is in a favorable situation?
Barnwell »

Darrelle Revis is just what the Jets' D needed. Which other '15 acquisitions will pay immediate dividends?
Williamson

MOST SENT STORIES ON ESPN.COM