Commentary
Battle of the return kings: Hester vs. Cribbs
Chicago's Devin Hester is considered the NFL's best return specialist -- although Cleveland's Josh Cribbs isn't willing to concede that title, writes Mike McAllister.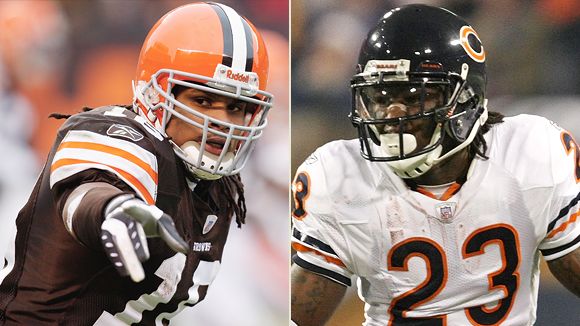 Jonathan Daniel/Getty ImagesDon't be surprised if you see lots of fireworks from Cleveland's Josh Cribbs (left) and Chicago's Devin Hester during Sunday's Pro Bowl in Hawaii.
KAPOLEI, Hawaii -- She was waiting patiently near the sidelines, but she wasn't a member of the media, wasn't from the league office, wasn't representing any particular team in an official capacity. She was simply a fan, wearing a white tube top, tight blue jean shorts and a golden tropic tan that reached from her manicured toenails to the top of her forehead, just under her long, shimmering red hair.
As the NFC players spilled out of the team bus and onto the practice field for a brief Pro Bowl workout, she preened her neck, obviously looking for one particular player. She ignored Jessica Simpson's boyfriend, ignored all the quarterbacks in fact. Ignored the running backs and wide receivers, too. Ignored anybody who lines up in a three-point stance.
She was there simply for No. 23. For Devin Hester. As he walked past, she reached out to shake his hand. That's all she wanted to do, spend five seconds with her hero.
"I love watching you play," she told him. "You're the only person I wanted to meet out here."
Moral of this story: Chicks dig the long return.
Indeed, if there is a home run hitter in football, it's Hester, the Chicago Bears' return specialist extraordinaire.
In his two NFL seasons, Hester has returned seven punts and four kickoffs for touchdowns. Factoring in his 152 return attempts, Hester scores slightly more than 7 percent of the time. That might not sound like much -- until you realize there are usually 80 yards or more between him and the end zone when he touches the ball. And this doesn't even include the NFL record-tying 108-yard return off a missed field goal against the Giants in 2006.
Opponents will go to great lengths to kick away from him, and those teams that have the nerve to challenge him often are severely punished. Ask the Denver Broncos, who saw Hester return a punt and a kickoff for a touchdown on Nov. 25 in an ill-conceived display of hubris.
Hester vs. Cribbs
Here's how the numbers stack up in the batle between Pro Bowl return specialists Devin Hester (NFC) and Josh Cribbs (AFC).
Hester
Cribbs
32

NFL games

46
63

Kickoff returns

165
23.2

Yards per return

26.6
4

TDs

4
89

Punt returns

37
14.1

Yards per return

12.5
7

TDs

1
Note: Hester also has an 108-yard return for a TD off a missed field goal attempt.
It seems inconceivable that anybody but Hester is the league's best return man. And yet, there is not 100 percent agreement on this. The other return specialist who will play in Sunday's Pro Bowl is Cleveland's Josh Cribbs, and a certain faction exists that thinks Cribbs, while not as spectacular as Hester, actually might be better.
Cribbs, for one, does. So does Cribbs' teammate, Kellen Winslow Jr.
"He's the best return guy I've ever seen," Winslow said.
Just to be sure, the question is posed again. Cribbs, who has five touchdown returns in three seasons, is better than Hester, who set an NFL record with six returns for TDs as a rookie?
"You know what -- they're different," Winslow said. "Josh is just reckless. He goes in the hole, breaks so many tackles. Yeah, I have to say he's better -- and I've seen a lot of them. I've seen Roscoe Parrish, I've seen Devin Hester, but Josh is the best."
OK, you can forgive Winslow for sticking up for his teammate. What else would he say? But even Cribbs isn't willing to concede his stature as the second-best return man in the league, and will try to prove his point in Sunday's game at Aloha Stadium.
To be sure, he'll admit that Hester is better at punt returns -- for now. That's because, as Cribbs quickly pointed out, he has only one year of experience returning punts.
[+] Enlarge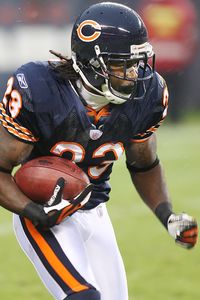 Tom Dahlin/Getty ImagesDevin Hester has become the Bears' biggest offensive weapon.
"The more punt returns I get, I'll be his rival," Cribbs said. "I'm gonna get at Hester. I'm gonna start something with him, like, 'C'mon, Hester, I'm catching you!'"
Make no mistake, though -- Cribbs has no doubts he is better at returning kickoffs than Hester. Or, as Cribbs described it: "I've pretty much got that one locked up."
One reason why is their differing styles.
The 5-foot-11, 186-pound Hester is the quick, shifty return guy, the one who can stop on a dime, find space that seemingly doesn't exist, and slip around the grasp of lunging opponents. That works best in crowded situations, such as on punt returns, when players are right on top of him as he fields the ball.
The 6-1, 215-pound Cribbs, meanwhile, is more physical and powerful. When he sees a hole, he goes full throttle and he doesn't worry about finding alternative routes. That works best on kickoffs, when he has time to scan the field and pick his spot. And if the seam starts to close, he'll gladly stick a forearm in your face if you get within sniffing distance.
They also have opposing mentalities. Hester looks to break the big one and go the distance. Cribbs is content with providing the Browns' offense with solid field position. The way he sees it, if he can reach the 40-yard line on a kickoff, then he just gave his offense two first downs.
"What offense wouldn't love to start off at the 40-yard line every single time?" Cribbs asked. "That's something to be proud of."
[+] Enlarge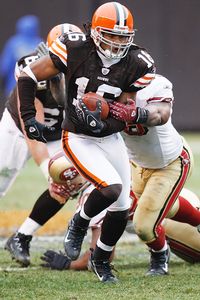 Gregory Shamus/Getty ImagesAlong with his return duties, Josh Cribbs is hoping to be more involved in the Browns' offense as a slot receiver.
Because of this approach, Cribbs said he wins an important category that can be overlooked when evaluating return specialists: consistency.
"Hester has a big-play mentality," Cribbs said. "But he's not always as consistent. He'll probably tell you that himself. He's the guy who scores lots of TDs, the playmaker, know what I'm saying? I look for more consistent productivity."
So we've heard from Cribbs. What does Hester say about this? Could it be that there is a legitimate challenger to his throne as the league's most lethal return man?
First of all, Hester would like to point out that Cribbs is more productive as a kickoff returner -- a 26.6-yard career average to Hester's 23.2 -- because teams simply don't kick off to Hester.
"Look at the film," he said. "I don't get the kicks like him. I get a lot of squibs."
He then adds: "You can't compare us. You can't compare me and the other return guys because they get more opportunities for returns. They get real kicks."
So, Hester is asked, you're clearly No. 1 and Cribbs is No. 2, right?
Hester's reply is to let the question answer itself. He clearly believes it, but he doesn't need to confirm it verbally. His look -- probably the same look he gives the last man he passes on the way to the end zone -- is enough.
Still, he respects what Cribbs is doing in Cleveland.
"Don't get me wrong -- he's a great returner," Hester said. "There's a reason for him being here. Best of the best, you know?"
But there's also a reason the girl in the white tube top, blue jean shorts and ample tan is waiting on a high school football field in Hawaii to meet him and not Cribbs. Hester hits home runs. Cribbs hits for average.
And chicks don't dig the average.
"That's OK," Cribbs shrugged. "Anytime a guy gets individual attention like that, it's good. It lets you know you've been doing a good job. But it's a team sport, and I just need to do what's best for my football team. Hey, I'm here, so I'm not doing a bad job. I won't complain at all."
Even if nobody's waiting to shake his hand before practice.
Mike McAllister is a senior editor at ESPN.com.
SPONSORED HEADLINES
MORE NFL HEADLINES
MOST SENT STORIES ON ESPN.COM
EDITORS' PICKS
Wes Welker built a stellar career on fearlessness. Does that attribute put his long-term health at risk?
Van Valkenburg »

New England has the only NFL offense that changes its game plan each week to attack opponents' flaws.
Roundtable »

Jay Cutler's contract is burdensome, but the Bears do have options. We dissect the various scenarios.
Sando