Goodell to meet with Specter Wednesday to discuss Spygate
Updated:
February 13, 2008, 12:24 PM ET
ESPN.com news services
NEW YORK -- NFL commissioner Roger Goodell and Sen. Arlen Specter are to meet Wednesday to discuss the Spygate case involving the New England Patriots.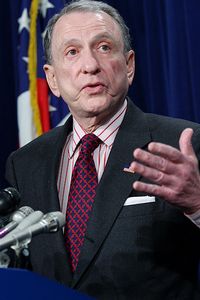 AP Photo/Lauren Victoria BurkeSen. Arlen Specter says he expects the NFL will be cooperative at Wednesday's meeting.
The meeting will take place at 3 p.m. ET in Specter's office in Washington, according to ESPN.com's Mike Fish. The Pennsylvania Republican has asked Goodell to explain his decision to destroy the tapes and notes from the case, which go back to 2002.
"I think they're [the NFL] going to want to not be uncooperative," Specter told Fish. "I expect they'll be cooperative. Once they come in, I've got a lot of questions for them. There are a lot of questions to be asked, and a lot of people we want to talk about."
Patriots coach Bill Belichick was fined $500,000 and the team was fined $250,000 for the illegal taping of the New York Jets' defensive signals in the opening week of this season. The Patriots also forfeited a first-round draft pick.
Specter's challenge to Goodell came two days before the Super Bowl, lost by the Patriots to the New York Giants on Feb. 3.
Specter refused to comment to Fish about the specific questions he wants to ask Goodell, but he previously has raised the issue of the league's destruction of tapes turned over by the Patriots.
The top-ranking Republican on the Senate Judiciary Committee has raised the possibility of congressional hearings if he wasn't satisfied with Goodell's answers.
In defending the destruction of the notes, Goodell said "there was no purpose to them at all." Specter said Goodell's response "didn't make any sense at all" and also questioned whether there might have been illegal acts by the Patriots before the 2005 Super Bowl, when they beat the Philadelphia Eagles.
The punishment went beyond the confiscated Jets tapes. The tapes and notes dated as far back as 2002 and the NFL said in October that Belichick acknowledged to Goodell that there had been spying since he became New England's coach in 2000.
Last week at the Pro Bowl, Goodell was asked why only six tapes were confiscated by the NFL's security department.
"That's what they had," he replied. "My guess is that they taped over some of those from time to time. That's what video departments do. They did it more than six times because there were notes that reflected that."
NFL officials also said the investigation didn't find any illegal taping or other spying during the playoffs or the three Super Bowls the Patriots won in 2002, 2004 and 2005.
Specter told Fish former Patriots' video assistant Matt Walsh was one of the people he wants to talk to. He said there are others, but wouldn't name them.
"We want to talk to Matt Walsh," Specter said. "We want to talk to people who have knowledge of what the Patriots organization is doing."
Walsh said last week during the Pro Bowl in Hawaii that he couldn't talk about allegations that he taped a walkthrough practice by the St. Louis Rams before the 2002 Super Bowl. New England, a two-touchdown underdog, won that game 20-17.
"We were aware of this before," Goodell said, referring to 2002 allegations. "We pursued it and weren't able to get any information that was credible. We were aware of some of the rumors and we pursued some of them and we continue that. From Day 1, I said if we feel there is new information that's inconsistent with what we've been told [by the Patriots], I reserve the right to reopen it."
Walsh would not say if he had been contacted by the league or by Specter's office.
Specter told Fish he doesn't know if Walsh has reached an indemnification agreement with the NFL, but it's a question he plans to ask Goodell on Wednesday. Specter said he wants to make sure that such a deal won't interfere with a potential Senate Judiciary Committee investigation.
Mike Fish is an investigative reporter for ESPN.com. Information from The Associated Press contributed to this story.
SPY GAMES
Former Patriots employee Matt Walsh met with NFL commissioner Roger Goodell and Sen. Arlen Specter to discuss Patriots' illegal videotaping.
Story
More News
•
Belichick says he made 'mistake'
•
Herald reporter: Sources never saw tape
•
Walsh admits he knew it was wrong
•
Senator wants inquiry
|
Read it (pdf)
•
Fish: Would Congress investigate Pats?
•
Boston Herald apologizes for false report
•
Clayton: Five things we learned from Spygate
•
Walsh sends eight tapes to NFL
•
Fish: Pats stole offensive signs
|
Timeline
•
Clayton: Spygate will expire quietly
•
Former Pats employee sends tapes to league
•
Fish: NFL faces serious questions
•
Goodell to punish Pats, depending on evidence
•
Walsh, NFL to finally talk
|
Agreement
•
Goodell growing impatient with Walsh stalemate
•
Kraft, Belichick apologize to owners
•
Walsh still working on deal for testimony
•
Rams player, fans withdraw lawsuit
•
Spygate revelations might not be imminent
•
NFL, Walsh close to deal to turn over tapes
•
Report: Specter calls on Goodell to release letters
•
Report: Goodell proposes crackdown on cheating
•
Specter says Pats 'stonewalling' Spygate probe
•
Committee lauds Goodell's handling of Spygate
•
Goodell hoping deal to talk to Walsh close to done
•
Report: Belichick denies Pats taped Rams' drills
•
Walsh's attorney: NFL indemnity offer falls short
•
Specter prepared to extend Spygate investigation
•
Goodell has no regrets about destroying tapes
•
Source: Specter wants NFL indemnity for witness
•
Goodell, Specter to discuss Spygate Wednesday
Commentary
•
Mortensen: What were Rams thinking?
•
Yasinskas: Spygate stench won't go away
•
Paolantonio: Goodell's Spygate responsibility
•
Clayton: Spygate closing with a whimper
At The Pro Bowl
News
•
Ex-Pats video assistant mum on Spygate probe
At The Super Bowl
News
•
Goodell willing to give Pats' Walsh indemnification
•
Goodell, Specter won't meet until after Pro Bowl
•
Vermeil doubts spying made difference for Pats
•&nbsp
Goodell to meet with Sen. Specter about Spygate
•&nbsp
Report: N.E. taped Rams before XXXVI
•
Fish: Ex-Ram Warner suspicious of Pats
•
Specter to Goodell: Let's talk
•
Fish: Possible 'Spygate' witness surfaces
Commentary
•
Once burned, Goodell turns fireman
•
Munson: Congressional interest is serious business
•
Pasquarelli: Specter should stick with politics
•
Clayton: Spy saga won't distract Patriots
•
Hashmarks at Goodell's news conference
Letters
•&nbsp
Specter to Goodell (.pdf)
•&nbsp
Goodell to Specter (.pdf)
From September
News
•
NFL has all materials from Pats in spying scandal
•
NFL reviews how tape leaked to Fox
•
Belichick to turn over materials in spying probe
•
Pats owner perturbed by Belichick's spy games
•
Goodell orders Pats to turn over all video
•
Sources: Patriots give Belichick extension
•
Wilson spies inconsistencies in Belichick case
•
NFL fines Belichick $500K, Pats $250K for spying
•
Bill Belichick's apology to Patriots community
•
Clayton Q&A: Patriots can survive this penalty
•
Two days later, Belichick still won't comment
•
Some Eagles question Pats' tactics in Super Bowl
•
Belichick issues apology amid accusations
•
Sources: Goodell determines Patriots broke rules
Commentary
•
Clayton: NFL penalty for Belichick, Pats too light
•
Mosley: Pats lose first-rounder? Roger that
•
Scouts Inc.: What the Pats will miss in '08 draft
•
Chadiha: Legal spying widespread in NFL
•
Sando: What's legal, what's not in spy game
•
What they're saying: Players, coaches, pundits
•
Luksa: Spy stories once had comedic value
•
Bryant: Belichick deserves two-week banishment
•
Clayton: Goodell to treat breech seriously
•
Simmons: The camera doesn't lie
•
Simmons: Cheating not necessary to win opener
Video

•
What should happen to the Pats?
•
Belichick deflects videotape-related questions
•
Former Patriot thinks team should be punished
•
Reactions from around the league
Audio

•
Mike Vrabel, Pats linebacker: Don't criticize the players

•
Chris Mortensen: Situation might motivate the Patriots

•
Keyshawn: It was 'scouting,' not cheating

•
Salisbury: Story blown out of proportion

SportsNation
•
Vote: Was New England's punishment fair?
•
Mixed reader results on NFL spying


MOST SENT STORIES ON ESPN.COM