Commentary
Favre not first NFL star to exit after great season
With Brett Favre calling it quits after one of his finest seasons, David Rose examines other great final seasons in NFL history.
Originally Published:
March 8, 2008
By
David Rose
| Special to ESPN.com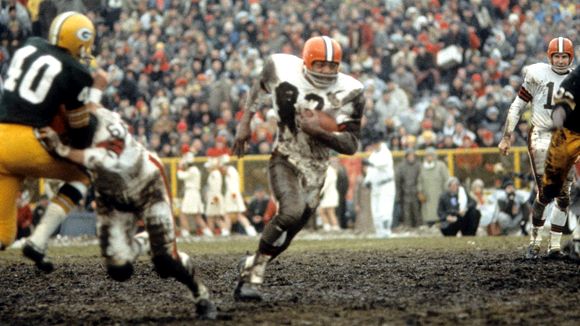 Tony Tomsic/Getty ImagesIn 1965, Cleveland's Jim Brown (32) capped his NFL career in style. He rushed for 1,544 yards rushing and 21 scores. It was the eighth time in nine years he paced the league.
It's not often an NFL athlete walks away at the top of his game. With Brett Favre retiring after one of the best statistical seasons of his career, let's take a look at a list of notable final NFL seasons.
2007 Brett Favre (Packers)
After subpar seasons in 2005 and 2006, the NFL's most prolific passer had a record-setting end to his career. Favre threw for 4,155 yards and 28 touchdowns in 2007, the most in both categories for a quarterback in his final season. In the process, he set NFL career records for wins as a starter (160), pass attempts (8,758), passing yards (61,655), touchdown passes (442) and interceptions (288). Favre led the Packers to a 13-3 record and came within one win of the Super Bowl but fell to the Giants in the NFC Championship Game.
During the 2006 season, Barber announced he would retire at year's end. In that season, which ended with the Giants going 8-8 and losing their NFC wild-card game, Barber rushed for 1,662 yards, with eight 100-yard games. In his final regular-season game, he rushed for a franchise-record 234 yards and three touchdowns against the Redskins, helping the Giants earn the final postseason spot in the NFC. Barber finished his career as one of only three players with 10,000 rushing yards and 5,000 receiving yards, joining Marshall Faulk and Marcus Allen.
Smith, the Vikings' all-time rushing leader, ended his career following the 2000 season. He led the Vikings to the NFC Championship Game, rushing for a career-high and franchise-record 1,521 yards, including eight 100-yard games. He finished with a franchise career record of 6,818 yards on the ground.
1998 John Elway (Broncos)
Quarterbacks dream about going out on top, but Elway lived it in 1998, going 10-2 as a starter, throwing 22 touchdowns, being selected to his ninth Pro Bowl and finishing with a Super Bowl victory. He threw for 336 yards and one touchdown in Super Bowl XXXIII and won MVP honors. He had also led the Broncos to the Super Bowl title the previous season.
1998 Barry Sanders (Lions)
After rushing for 2,053 yards and sharing MVP honors with Favre in 1997, Sanders rushed for 1,491 yards, including eight 100-yard games, in 1998. It was his 10th straight 1,000-yard season, an NFL record for most consecutive 1,000-yard seasons to begin a career (he shares the record with Curtis Martin). Sitting just 1,458 yards from breaking Walter Payton's then-NFL career rushing record of 16,726 yards, Sanders unexpectedly left the game after 10 seasons and 15,269 yards on the ground.
1994 Sterling Sharpe (Packers)
Sharpe, Favre's first main target, unexpectedly played his final NFL season in 1994. Sharpe, who caught 108 and 112 passes in 1992 and 1993, respectively, caught 94 passes for 1,119 yards and 18 touchdowns in his final season. His 18 touchdown receptions are tied for third most in a single season in NFL history. He also won his fifth Pro Bowl selection. However, a severe neck injury made 1994 the final season of a potential Hall of Fame career.
1979 Roger Staubach (Cowboys)
In his final season, Staubach set career highs with 267 completions, 3,586 yards and 27 touchdowns. The yardage and TD totals stood as the most by a quarterback in his final NFL season until Favre surpassed them in 2007. However, after the Cowboys were shocked by the Rams in the divisional playoffs, and having suffered numerous concussions over several seasons, Staubach called an end to his Hall of Fame career.
1965 Jim Brown (Browns)
One of the most dominant players in NFL history went out with a bang in 1965. Brown led the NFL with 1,544 yards rushing and 21 touchdowns. It was the eighth time in nine years Brown led the NFL in rushing. Brown also was named league MVP for the second time in his career as the Browns went on to lose to the Packers in the NFL championship game. Brown retired without ever playing a game in his 30s, leaving with a then-NFL record of 12,312 yards on ground.
1955 Otto Graham (Browns)
Graham thought his storied career had ended after he threw for three touchdowns and ran for three more as the Browns won the 1954 NFL championship. However, coach Paul Brown talked Graham in to one more season. Graham did not disappoint, throwing for 15 scores and running for six more. He capped off his career by throwing for two touchdowns as the Browns defeated the Rams 38-14 in the NFL championship game. Graham reached the AAFC or NFL championship game in all 10 of his pro seasons, winning four AAFC titles and three NFL titles.
BRETT FAVRE SAGA: OVER
After pushing and pushing to keep playing either in Green Bay or elsewhere, Brett Favre's storied career will continue in 2008. The unretired quarterback has been traded by the Packers to the Jets.
NFC North blog | AFC East blog
News
•
Favre on offseason saga: 'I knew I wanted to play'
•
Favre unlikely to play in Jets' preseason finale
•
Report: Pack's Favre deal included souvenirs, blog
•
On Day 5 with Jets, Favre says arm feels 'fatigued'
•
Favre finally arrives in New York, meets mayor
•
Rodgers: 'Still following Brett's legacy'
•
Jets introduce Favre in Cleveland
•
Favre era ends in Green Bay with trade to Jets
•
Favre leaves Green Bay, destination unknown
•
Favre: 'This probably isn't going to work'
•
Favre flying under radar in Green Bay
•
Favre: Reinstatement done, Green Bay flight set
•
Favre mulling offer; NFL ruling put off again
•
Favre actively weighing Packers' offer
•
Report: Packers mull dealing Favre in division
•
Team president meeting with Favre, agent
•
Source: Favre files for reinstatement
•
Rodgers takes over as starting QB
•
Favre signs reinstatement letter, waits to send
•
Favre won't report to Packers camp Sunday
•
Sources: Favre, Packers talk trade destinations
•
Favre support muted at shareholders meeting
•
Report: Favre doesn't have team-issued phone
•
Report: NFL security visits Vikings
•
Favre questions likely from shareholders
•
Packers reportedly weigh trade offers for Favre
•
Favre returns to Lambeau Field
•
Packers president supports GM, coach
•
What they're saying about Favre
•
Favre won't apply for reinstatement right away
•
Sources: Packers claim Vikings tampered
•
Favre may show up at camp
•
Favre 'clears it up' in interview with Fox
•
Few fans attend Favre rally in Milwaukee
•
Pack fans rally, calling for Favre reinstatement
•
Pack won't release Favre
•
Sources: Favre seeks unconditional release
•
Favre itching to return to field
Trade Commentary/Features
•
Clayton: History doesn't favor Favre, Jets
•
Chadiha: Packers will be fine without Favre
•
Wojciechowski: Divorce cause? Lack of trust
•
Clayton: Deal is a downer for Favre
•
Scouts Inc.: Jets now a playoff contender

•
Clayton: Questions, answers on Favre trade
•
Fantasy spin: Deal boosts value of many Jets
Other Commentary/Features
•
Clayton: 5 reasons Favre would start for Pack
•
Mosley: Favre is QB turned ringmaster
•
Wojciechowski: Favre and away the best solution
•
Clayton: Favre wins ugly duel
•
Clayton: It's a painful divorce
•
Chadiha: Rodgers unfazed by Favre circus
•
Yasinskas: Favre makes sense for Bucs
•
Wojciechowski: Packers can't win this game
•
Clayton: It's a delicate situation
•
Wright Thompson: Catching Favre's fastballs
•
Wojciechowski: What's the answer, Packers?
•
Williamson: Where could he end up?
•
Seifert: What happens after HOF QBs move on
•
Paolantonio: Favre is overhyped
•
Kiper: 2005 analysis of prospect Rodgers
•
Madden '09 cover boy Favre to stay retired
•
Thompson: Brett, we miss you already
•
Wojciechowski: Worth the price of admission
•
Price of signed Favre items to go up
•
Yasinskas: Rodgers ready to take the reins
•
FB Outsiders: Measuring Favre's greatness
•
Sando: Gunslinger mentality defined Favre
•
Yasinskas: Majkowski on Favre's legacy
•
Clayton: Questions surrounding Favre
•
Clayton: Packers will miss Favre's magic
•
Chadiha: Favre will regret decision
•
Keating: Favre just getting started
•
Hashmarks: Favre fun-loving guy
•
Burning Questions: Is Rodgers ready?
•
Experts: Is Favre the best, or among them?
•
Favre's top 10 moments
•
Forde: Favre's flair for dramatic started in college
•
Favre's rating in Mel Kiper's '91 draft guide
•
Favre's hometown quiet on day of his retirement
•
Sadness, shock envelops Green Bay
•
Wounded Army officer has last ball thrown
•
Around sports: What they're saying
•
Fantasy spin: Rodgers not top-20 QB
•
Scouts: Rodgers has talent to succeed

•
Packers local: Complete hometown coverage
Video
•
Favre traded to Jets for conditional pick
•
Jets GM on trade for Favre, imminent release of Pennington
•
Steve Young on Favre's Jets future
•
Cris Carter on what trade means to Jets?
•
Schlereth: Exciting news for Jets
•
Sal Pal on Favre's move to AFC
•
Rachel Nichols on Favre's pre-trade mindset
•
Favre interview: Part 3
|
2
|
1
SportsNation
•
How will Jets do with Favre behind center?
•
Fans react to Favre's retirement
Photo Galleries
•
Favre flashback
•
Top TD guns
•
Top TD targets
ESPN FAN SHOP