Vick at Leavenworth but isn't in prison drug program
Michael Vick's days as a minimum security inmate at a federal prison camp in Leavenworth, Kan., feature leather craft, ceramics and foosball. But, so far, they don't include the classes in a drug program that could result in his early release.
Vick is still waiting for admission into the federal prison system's Residential Drug Abuse Program (RDAP), according to a prison spokesperson. Unless he gets into that program, he will be locked up until at least June 2009. If he makes it into RDAP, he could be transferred into a halfway house (known in prison patois as a "community corrections center") as early as January. And, for Vick, that small step into a halfway house could be a giant leap back to the NFL.
[+] Enlarge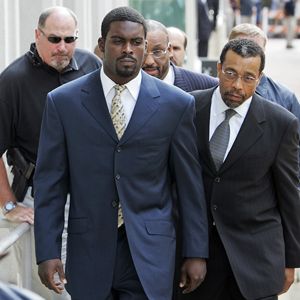 AP Photo/Steve Helber, POOLVick, shown entering court last August, is still waiting to start a drug treatment program that might help with early release from prison.
To qualify for the halfway house, Vick must be employed. If the NFL ends his indefinite suspension and an NFL team is willing to sign him, he may be able train and prepare for the 2009 season from the halfway house, according to experts of federal prison programs.
"It's entirely possible that a professional athlete could work at his job while finishing his sentence," said Ed Eckhaus, a former federal probation officer who now helps people convicted of federal crimes and their attorneys work through the complexities of the federal sentencing system. "The usual pattern is 12 in and 12 out -- 12 hours in the facility and 12 hours out of the facility each day -- and the 12 out could include working at a job approved by the prison system."
Although Vick gained a head start on his prison time by reporting to a local jail in Virginia even before he was sentenced, he continues to wait for a decision on the drug program. U.S. District Judge Henry Hudson of Richmond, Va., took the first step for Vick when he included in his Dec. 10, 2007, sentencing order a provision that Vick was eligible for "substance abuse treatment." Vick tested positive for marijuana during the weeks before his sentencing on a federal dogfighting conviction.
In addition to the recommendation from the judge, Vick must qualify at the Leavenworth prison camp.
News reports and statements from his attorney in early January indicated that Vick was being transferred from Virginia to Leavenworth to enter the drug treatment program. But he hasn't yet started it. Billy Martin, Vick's lead attorney, did not respond to phone calls and e-mails requesting comment on Vick's situation.
"He is not in drug treatment at this time," said Kevin Johnson, the institution's executive assistant and public information officer.
Asked whether a determination had been made on Vick's eligibility, Johnson said, "You'll have to talk to Dr. [Christy] Collins," who is in charge of RDAP at Leavenworth. Collins did not respond to a series of telephone messages from ESPN.com.
[+] Enlarge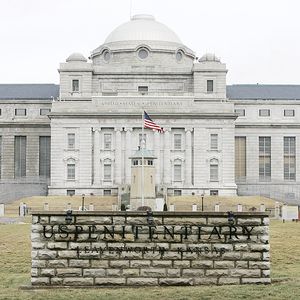 AP Photo/Orlin WagnerThe U.S. Penitentiary in Leavenworth offers foosball, but not football for Michael Vick.
It is possible that Vick is on a waiting list for RDAP, a common situation in the 60 federal prisons that offer the program. But the Leavenworth camp is now at only 80 percent of its capacity, with 390 inmates.
If Vick makes it into RDAP, he would attend 500 hours of classes, counseling and group therapy over a period of nine months, an average of 14 hours of class per week. The classes include occasional drug tests, and the program includes 12-step meetings.
After satisfying RDAP's requirements, Vick would be eligible for early release into the halfway house. If, then, he gains admission into RDAP next month, he could complete the program in January.
In the halfway house, Vick would be under strict supervision with specific travel limits and curfews.
"If there was any violation of any kind, the offender is back in the penitentiary," Eckhaus said.
"It would be a demanding process to match placement in a community center [halfway house] with a job in the NFL," said Jim Tibenski, another "mitigation specialist" who guides people through the prison and probation system. "The system does its best to place people in their normal work."
The federal prison drug program has been in effect for 10 years.
"It is based on the recognition that many offenders have drug or alcohol problems, and that treatment of these problems can greatly reduce recidivism [repeat offenses with a return to prison]," said Herb Hoelter of the National Center for Institutions and Alternatives, a think tank that focuses on incarceration and probation issues.
All three experts told ESPN.com that Vick appears to be qualified for RDAP, even though his only reported drug problem was the test he flunked in the weeks before sentencing.
"Any documented history of drug use, even marijuana, is enough if it has had an impact on the course of the offender's life," Hoelter said.
If he is not admitted into RDAP, Vick will continue with the daily life of a minimum security inmate. He can make phone calls with a debit card to as many as 30 people approved by the warden. He can spend up to $290 each month in the prison commissary. And he is allowed 24 hours of time with visitors each month.
And, of course, he has access to the leather craft, the ceramics and the foosball.
Lester Munson, a Chicago lawyer and journalist who reports on investigative and legal issues in the sports industry, is a senior writer for ESPN.com.
Legal Analyst
Senior Writer and Legal Analyst, ESPN.com
13 years as investigative reporter at Sports Illustrated
Adjunct Instructor, Northwestern's Medill School of Journalism
SPONSORED HEADLINES
MORE NFL HEADLINES
MOST SENT STORIES ON ESPN.COM
VICK SENTENCED TO 23 MONTHS

Michael Vick was sentenced to 23 months in federal prison and three years' probation for his role in a dogfighting conspiracy. The suspended Falcons quarterback is looking at a scheduled release of July 2009. Story
Update
•
GM: Falcons will attempt to trade Vick
•
Lawyer: Vick might move to halfway house
•
Former Vick estate fails to sell again
•
Vick house fails to sell at auction
•
Vick files for bankruptcy protection
•
Prosecutor: Vick's Virginia trial can wait
•
Vick ordered to repay Canadian bank $2.4 million
•
Judge denies NFL motion to reverse Vick ruling
•
Report: Vick not playing organized football in jail
•
Report: Vick passes time with prison-yard football
•
Vick's state dogfighting trial to begin June 27
•
Munson: Vick yet to enter drug treatment
The sentence
•
Vick sent to Kansas to serve rest of sentence
•
Vick asked judge for leniency before sentencing
•
Vick sentenced to 23 months
|
Document (pdf)
•
Poll: What do you think?
|
What they're saying
•
Clayton: Sentence puts career in jeopardy
•
Munson: Tough sentence by displeased judge
•
Teammates show support at Falcons game
•
Can Vick return to playing in NFL?
•
Pasquarelli: No longer top of mind in Atlanta
•
Last Vick co-defendant sentenced
•
Podcasts

:
Cossack

|
Schlereth

|
Munson/Naqi

|
Pasquarelli

•
Chat wrap: David Cornwell
Post Plea
•
NFL wants court to reverse Vick bonus ruling
•
Victory for Vick: QB can keep $20 million bonus
•
Fifth defendant in Vick case receives probation
•
Vick's house for sale for $1.1M
•
Some Falcons to visit Vick in prison
•
PETA unveils new e-card
•
Former Virginia estate fails to sell at auction
•
Out of Falcons' sight, almost out of mind
•
Judge's casework offers look at possible sentence
•
Remaining dogs placed with rescue groups
•
Source: Feds may push judge to up sentence
•
NFLPA argues Vick should not lose roster bonus
•
Vick co-defendants get 18, 21 months in prison
•
Vick agrees to put up almost $1M for dogs' care
•
Vick given April trial date on state charges
•
Vick surrenders to begin serving sentence early
•
Home at center of Vick dogfighting scandal sold
•
Vick fires one of his lawyers in dogfighting case
•
Man who sold Vick pit bull pleads guilty
•
Man connected to Vick dogfight ring pleads guilty
•
Third bank sues Vick, claims he defaulted on loan
•
Arbiter: Falcons have right to reclaim bonuses
•
PETA: Vick had class on animal cruelty
•
Evaluations show 48 of Vick's dogs placeable
•
Vick tests positive for marijuana
•
Vick supporters turn out for town meeting
•
Vick's apology notes fetch $10.2K at auction
Vick's Plea/NFL Suspension
•
Vick pleads guilty to federal dogfighting charge
•
The plea
(PDF) |
Statement of facts
(PDF)
• Vick's statement:
Watch it

|
Read it
•
Roger Cossack explains plea deal
•
Poll: Vick should be banned
•
Va. Tech, Beamer continue to support Vick
•
Vick supporters drown out protesters
•
NFL suspends Vick indefinitely
|
Goodell
(PDF)
•
Chris Mortensen on Vick's suspension
•
Vick files plea agreement admitting to dogfighting
Indictment
•
Marbury's about-face: Vick 'is 100 percent wrong'
•
National NAACP: Vick 'not a victim'
|
Audio

•
Atlanta NAACP: Vick should be allowed to return
•
Falcons come to terms with 'ex-teammate'
•
Vick timeline
|
What they're saying
•
Helyar: Even Atlanta turns against Vick
•
Goodell: Vick not overshadowing season
•
Vick co-defendant pleads guilty to charges
• Tony Taylor:
Summary of Facts
|
Plea agreement
•
Hometown residents stand by Vick
•
Falcons had planned to suspend Vick
•
Commish tells Vick to avoid camp
•
Vick indicted
|
The indictment (pdf)
|
Civil arrest warrant (pdf)
Town Hall meeting
•
Town Hall chat wrap: Chadiha
Previous columns/analysis
•
Munson: Q&A on Vick reporting to prison early
•
Munson: Looking at Judge Hudson
•
Vick's high school learning lessons
•
Bryant: Confounded by race issue
•
Munson: Q&A about local indictment
•
Munson: Next focus for Vick is length of sentence
•
Schlabach: Vick an afterthought on VT campus
•
Chadiha: Vick not running from truth
•
Hill: Coverage means bigger issues ignored
•
Wojciechowski: Pay attention to the fallen star
•
Bryant: Vick's plea deal comes with baggage
•
Bryant: In failing Vick, NFLPA fails itself
•
Munson: Vick plea means surrender
•
Forde: Vick's epic fall
•
Pasquarelli: Major blow for Falcons
•
Chadiha: Lots of lessons to be learned
•
Wojciechowski: Punishment with teeth
•
Easterbrook: Little sympathy?
•
Clayton: Vick's NFL future might be bleak
•
E-Ticket: A history of mistrust
•
Chadiha: Vick's bad choices