Third And Short: A closer look at NFL coaches
Who will be the first coach to be fired and why? Who's the best coach? Who are the coaches to keep an eye on next season? Our experts have the answers in Third And Short.
Originally Published:
March 10, 2008
ESPN.com
In the first installment of Third and Short, our experts offer insight into who will be the first coach to be fired and why, who's the best coach, and which coaches you should keep an eye on next season.
Matt Mosley: Who's the first coach fired and why?
[+] Enlarge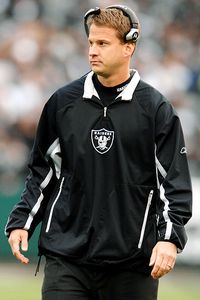 Kirby Lee/Image of Sport/US PresswireLane Kiffin was 4-12 in his first season as Raiders head coach.
The easy answer always will be the current coach of the Oakland Raiders. As long as owner Al Davis runs the Raiders, this is the most unstable job in football.
John Fox and Mike Nolan are on the hot seat with the Panthers and 49ers, but Raiders coach Lane Kiffin won't even be able to sit down. During the combine, I talked to a high-ranking official for the team who said the now-infamous postseason note that Davis reportedly sent Kiffin stripping him of power in the organization was completely overblown. Still, the official acknowledged that it was a difficult situation, which is a diplomatic way of saying, "We work for a madman."
After Jon Gruden bolted for Tampa Bay in 2002, Davis fired three coaches in the next four seasons. I'm told Kiffin developed an excellent rapport with his young players last season, but there's nothing to suggest that Davis will be patient enough to let him build a winning team.
The Kiffin-Davis relationship soured when the 32-year-old coach pulled the trigger on the Randy Moss trade to the Patriots for a fourth-round draft pick. As Moss chased and eventually broke the season touchdown record, Davis' bitterness grew. I actually think Kiffin could become an excellent head coach. It just won't happen in Oakland.
Mike Sando: Who's the best coach in the NFL and why?
[+] Enlarge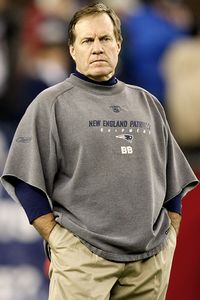 Greg M. Cooper/US PresswireBill Belichick stands alone among active coaches with his three Super Bowl victories.
New England's Bill Belichick prevails because it's tough to argue with results.
Belichick is the only current head coach who has three Super Bowl victories. He owns as many playoff victories with his current team (14) as Tony Dungy and Mike Shanahan combined. He has led the Patriots to four Super Bowl appearances in eight seasons, which is double the rate of his nearest active challengers.
Four other coaches have led their current teams to a Super Bowl victory. Of them, only the Colts' Dungy has enjoyed sustained success. Belichick and Dungy both benefit from having all-time great quarterbacks on their side.
Tennessee's Jeff Fisher deserves consideration. He has lasted longer in his current position than any other current coach (edging Shanahan by several weeks). Fisher arguably has done more with less by having his team better prepared than its opponent; he coached the Titans to 56 wins over five seasons (1999-2003).
But Belichick has those three Vince Lombardi Trophies on his side. They speak persuasively.
John Clayton: Who are the coaches to watch?
[+] Enlarge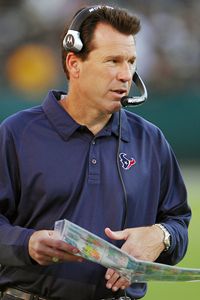 Kirby Lee/Image of Sport/US PresswireIn 2007, Gary Kubiak led the Texans to their first non-losing season in team history.
Because the NFL clearly is an offensive league, three head coaches to watch this season are Ken Whisenhunt of the Cardinals, Brad Childress of the Vikings and Gary Kubiak of the Texans. They are offensive coaches who made significant improvements on their teams last season. This year, if things go right, they could be playoff contenders.
Childress' situation in Minnesota might be the most interesting. He drafted rookie of the year Adrian Peterson last season and spent $7 million a year for the deep speed of wide receiver Bernard Berrian. The key to the season is whether Childress has surrounded quarterback Tarvaris Jackson with enough talent to get the Vikings over the top and into the playoffs. Though Jackson struggled late in the season against good teams, he was 8-4 as a starter, and the Vikings' offense improved 5.5 points a game.
Kubiak made two bold moves over the past two seasons. Last year, he acquired quarterback Matt Schaub. This offseason, he hired Alex Gibbs to coach the running game. Gibbs is a master of turning bad offensive lines into efficient running units. In Atlanta, for example, he turned the Falcons into the league's best rushing team. His success in Denver coordinating that running game was legendary.
Despite an injury-marred season for quarterback Matt Leinart, the Cardinals' offense improved by 4.1 points a game in Whisenhunt's first season as head coach, as Russ Grimm turned around an underachieving offensive line. If Whisenhunt can create some magic with Leinart, the Cardinals have a chance to challenge the Seahawks for the NFC West.
Offense is the key in the NFL. Under these three head coaches, the Cardinals, Vikings and Texans should improve to the seven- or eight-win area because their coaches will help them add points on the scoreboard. This is the season to see whether these teams -- and these coaches -- are ready to take the next step.
EDITORS' PICKS
Mastery of the salary cap's intricacies, with its spending limits and minimums, is a necessity in today's NFL.
Ashley Fox »

How much does the combine matter in draft analysis? Look at Kevin White's surge up Mel Kiper's board.
Mock 3.0

Durable, fiery and talented, Ndamukong Suh would thrive on any NFL team. We size up his leading suitors.
Dominik

MOST SENT STORIES ON ESPN.COM