Clements: Numbers don't lie for Harrison
San Francisco Pro Bowl cornerback Nate Clements takes time to rank his top 10 NFL wide receivers in the game today, writes Mike Sando.
Originally Published:
March 25, 2008
By
Mike Sando
| ESPN.com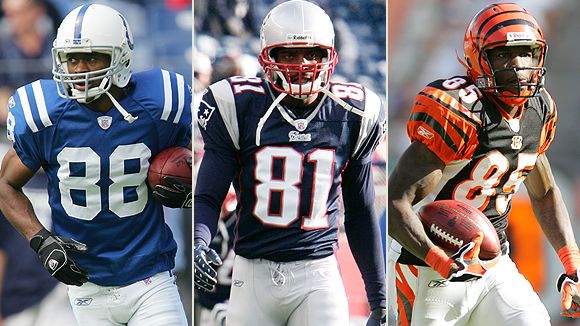 Getty Images/US Presswire/Getty ImagesFrom left, Indianapolis' Marvin Harrison (123 TD receptions), New England's Randy Moss (124 TD catches) and Cincinnati's Chad Johnson (six 1,000-yard seasons) consistently put up big numbers.
San Francisco 49ers cornerback Nate Clements ranks the NFL's 10 best receivers, based on personal experience. Clements has played in 112 consecutive games to begin his career, earning a Pro Bowl berth after the 2004 season.

Cornerback
San Francisco 49ers
2007 Season Stats

| | | | | | |
| --- | --- | --- | --- | --- | --- |
| Tot | Solo | Ast | FF | Sack | Int |
| 92 | 77 | 15 | 3 | 1 | 4 |
Clements: "I think the way he runs routes separates him, and he has excellent hands. He is a sure-handed catcher. He has the speed. The numbers don't lie."
Clements: "He's been real consistent throughout his career."
Clements: "Chad is very quick. He can catch the ball. He has good size. He runs good routes and he can go up and go get the ball."
Clements: "I like Hines Ward. He's not the biggest, he's not the fastest. Some guys are just blessed with the size and athletic ability. He just goes out there and he is just a hard-nosed receiver. Because of the style he plays, he does not get the credit as a receiver. He is totally opposite of what you think a receiver would be."
Breaking them down
Nate Clements breaks down today's receivers across four categories. Best hands: Torry Holt, Marvin Harrison and Hines Ward. Fastest: Randy Moss, Roy Williams and Andre Johnson. Best blockers: Hines Ward and Anquan Boldin. Best route runners: Harrison, Holt. Quote to note: "I've seen Marvin [Harrison] run a route I had never seen in my life. He ran a post, corner and post. Antoine Winfield stayed disciplined and stayed inside and ended up getting an interception on it." -- Clements -- Mike Sando
Clements: "People may not like his personality, but when it comes time to play, he puts up the numbers. You can't argue against that. He definitely has the size. He is a big, strong receiver."
Clements: "There are so many players in this league who get overlooked because they've been on losing teams. I feel he is definitely one of those guys. When he was in Miami, he was definitely their No. 1 receiver. We saw what he is capable of doing when he goes to a winning team. His pace doesn't stop. It picks up."
Clements: "He's a workhorse, he's a physical specimen and, unfortunately, he's been on a team that hasn't been winning too many games, so he has been one of those guys who has been overlooked as well. You put him on any other team that is winning and he'll definitely be recognized. He is definitely a stout receiver."
Clements: "When I think of him, I think of a track meet, a guy who can just run all day. He has excellent hands and runs good routes."
Clements: "He's explosive. He is a game-breaker."
Clements: "He definitely has the size and the speed, good hands. It's just that he's been on a losing team as well. He is definitely a good, quality receiver."
Mike Sando covers the NFL for ESPN.com.
NFL Insider
ESPN Insider NFL columnist and blogger
Covered the NFL since 1998
Member of Pro Football Hall of Fame selection committee
SPONSORED HEADLINES
MORE NFL HEADLINES
MOST SENT STORIES ON ESPN.COM
BEST WIDE RECEIVERS

In Part 1 of a two-part report, Scouts Inc. ranks today's wide receivers from 1 (Randy Moss) to 64 (James Jones). In Part 2, ESPN.com ranks the top 10 wide receivers of all time. In the first presentation of this occasional series, ESPN.com ranked the all-time best QBs in February. | Discuss


HOT READ PART 1: Today's best WRs
•
Scouts Inc.: Ranking top receivers 1-64

•
Debate: Randy Moss vs. T.O.

•
49ers CB Nate Clements on his top 10
•
SportsNation: Rank the top 10
•
Hashmarks blog: Mosley take on top 64
•
Scouts Inc.: Ranking wideouts in draft
•
Floyd Reese: Scouting criteria for WRs
HOT READ PART 2: All-time best WRs
•
Sando: Receivers revisited
•
Sando: Jerry Rice is No. 1, but who's next?
•
Zoom Gallery: Top 10 receivers of all time
•
Sando: Who is Don Hutson?
•
SportsNation: Wide receiver quiz
•
SportsNation: Rank the all-time best
•
Debate: Current WRs who belong in top 10

•
Green, Sando on best WRs in history

•
Luksa: Bob Hayes an overlooked great
BEST QUARTERBACKS OF ALL TIME
•
Sando: Ranking the all-time great QBs
•
ZOOM gallery: Top 10 QBs of all time
•
Chadiha: Ranking the best QBs by decade
•
Klancnik: Best QBs by jersey numbers
•
Scouts Inc.: Ranking the top 64 QBs of today

•
SportsNation: Rank the greatest QBs
|
Vote
•
SportsNation: Think you know QBs?
•
Super Bowls: Ranking every QB's performance