Patriots owner pleased with Boston Herald's apology
Updated:
May 14, 2008, 8:35 PM ET
ESPN.com news services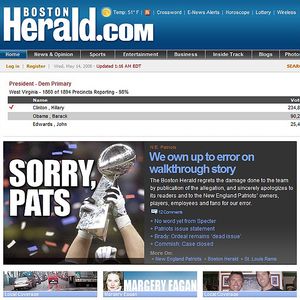 Boston Herald.comThe Boston Herald's Web site
apologizes
for its erroneous report on Patriots' videotaping.
The intensity of the Patriots' spying controversy became more acute when the Boston Herald reported that the team had taped a walk-through of the St. Louis Rams before Super Bowl XXXVI. After the commissioner acknowledged that no such tape has come forward, the newspaper issued an apology on Tuesday night.
It reads: "On Feb. 2, 2008, the Boston Herald reported that a member of the New England Patriots' video staff taped the St. Louis Rams' walk-through on the day before Super Bowl XXXVI. While the Boston Herald based its Feb. 2, 2008, report on sources that it believed to be credible, we now know that this report was false, and that no tape of the walk-through ever existed. "Prior to the publication of its Feb. 2, 2008, article, the Boston Herald neither possessed nor viewed a tape of the Rams' walk-through before Super Bowl XXXVI, nor did we speak to anyone who had. We should not have published the allegation in the absence of firmer verification.
Brady rips ESPN

Tom Brady is upset with ESPN, among others, for its coverage of the Patriots' videotaping story.

"I think it's a way to really sell newspapers, and all the ESPN stations, they've got to fill the air, too," Brady said on Boston radio station WEEI.

Brady was asked about some of ESPN's ex-NFL players who have criticized the Patriots. "It's just kind of the environment right now, though," he said on WEEI. "I think that's the way that guys make it. They just say the craziest things. That's what ESPN has become. ESPN, to me, is like MTV without the videos, ESPN is without the highlights."

-- ESPN.com news services
"The Boston Herald regrets the damage done to the team by publication of the allegation, and sincerely apologizes to its readers and to the New England Patriots' owners, players, employees and fans for our error."
The newspaper's original story cited a single source for the basis of the report.
In an interview with The Associated Press on Wednesday, Patriots owner Robert Kraft complimented the Herald for apologizing but said he was "very disappointed" that the newspaper "wrote a story that was completely false and unsubstantiated."
Kraft also said he doesn't know why former Patriots video assistant Matt Walsh didn't refute the story soon after it came out the day before the Patriots lost Super Bowl XLII to the New York Giants, ruining their quest for an unbeaten season.
"He could have said that a long time ago and defused it within 24 hours of the story coming out," Kraft said. "If you read the blogs or read people or talk to people, everyone assumed he was the source or was one step removed from the source. … You'll have to decide why he waited."
Walsh told Goodell he did not tape the walk-through and had no knowledge that any other Patriots employees did so, Goodell said. The commissioner also indicated he considered the investigation over after meeting with Walsh.
"The erroneous story really led to a second round of inquisitions after September, and it really was a distraction. The sad part [is] that it took away from an 18-0 Super Bowl season," Kraft said.
"We said back in September that we had disclosed all of our actions as an organization to the league. You can see this is true."
The apology came a day after a meeting between NFL commissioner Roger Goodell and Walsh produced no major revelations about the team's taping procedures.
"I think I speak for all Patriot fans," Kraft said. "We're relieved that this is over and you see that this is nonsense and we were unfairly accused and we're moving on."
Later Wednesday, Sen. Arlen Specter issued a long statement detailing numerous instances of New England videotaping opponents, questioning the NFL probe and saying "an objective, thorough, transparent investigation is necessary."
Unless the league begins an independent investigation similar to the one that produced the Mitchell report on performance-enhancing drugs in baseball, "it will be up to Congress to get the facts and take corrective action," Specter's statement said.
Patriots spokesman Stacey James said the team had no comment on the remarks from the Republican from Pennsylvania.
The Patriots released a statement Tuesday afternoon that dealt strictly with the accusation of taping the Rams' walk-through.
"For the past three-and-a-half months, we have been defending ourselves against assumptions made based on an unsubstantiated report rather than on facts or evidence," the statement read. "Despite our adamant denials, the report ran on February 2, 2008, the day before Super Bowl XLII. That game was the second-most watched program in television history and it is unfortunate that today's news will not also reach an audience of that size.
"We hope that with Matt Walsh's disclosures, everyone will finally believe what we have been saying all along and emphatically stated on the day of the initial report: 'The suggestion that the New England Patriots recorded the St. Louis Rams' walk-through on the day before Super Bowl XXXVI in 2002 is absolutely false. Any suggestion to the contrary is untrue.'"
Kraft said he didn't think the report and NFL investigation would leave a lasting stain on his team's reputation. He did express concern how the public far from New England might perceive the Patriots, especially after the most-watched Super Bowl in history.
"All the people watching hear this allegation," he said. "So people in South Dakota or Idaho who we don't reach a lot, [we] had our brand damaged."
But might the team receive some sympathy now that the Herald said it was wrong and the NFL investigation found no walk-through tape?
"Our fans, I think, they will be in our corner," Kraft said. "For people who we either beat their teams or have some ax to grind, I don't know. They may not like us but they respect what we're about as an organization and how we handle adversity."
Information from The Associated Press was used in this report.
SPONSORED HEADLINES
MORE NFL HEADLINES
MOST SENT STORIES ON ESPN.COM
SPY GAMES
Former Patriots employee Matt Walsh met with NFL commissioner Roger Goodell and Sen. Arlen Specter to discuss Patriots' illegal videotaping.
Story
More News
•
Belichick says he made 'mistake'
•
Herald reporter: Sources never saw tape
•
Walsh admits he knew it was wrong
•
Senator wants inquiry
|
Read it (pdf)
•
Fish: Would Congress investigate Pats?
•
Boston Herald apologizes for false report
•
Clayton: Five things we learned from Spygate
•
Walsh sends eight tapes to NFL
•
Fish: Pats stole offensive signs
|
Timeline
•
Clayton: Spygate will expire quietly
•
Former Pats employee sends tapes to league
•
Fish: NFL faces serious questions
•
Goodell to punish Pats, depending on evidence
•
Walsh, NFL to finally talk
|
Agreement
•
Goodell growing impatient with Walsh stalemate
•
Kraft, Belichick apologize to owners
•
Walsh still working on deal for testimony
•
Rams player, fans withdraw lawsuit
•
Spygate revelations might not be imminent
•
NFL, Walsh close to deal to turn over tapes
•
Report: Specter calls on Goodell to release letters
•
Report: Goodell proposes crackdown on cheating
•
Specter says Pats 'stonewalling' Spygate probe
•
Committee lauds Goodell's handling of Spygate
•
Goodell hoping deal to talk to Walsh close to done
•
Report: Belichick denies Pats taped Rams' drills
•
Walsh's attorney: NFL indemnity offer falls short
•
Specter prepared to extend Spygate investigation
•
Goodell has no regrets about destroying tapes
•
Source: Specter wants NFL indemnity for witness
•
Goodell, Specter to discuss Spygate Wednesday
Commentary
•
Mortensen: What were Rams thinking?
•
Yasinskas: Spygate stench won't go away
•
Paolantonio: Goodell's Spygate responsibility
•
Clayton: Spygate closing with a whimper
At The Pro Bowl
News
•
Ex-Pats video assistant mum on Spygate probe
At The Super Bowl
News
•
Goodell willing to give Pats' Walsh indemnification
•
Goodell, Specter won't meet until after Pro Bowl
•
Vermeil doubts spying made difference for Pats
•&nbsp
Goodell to meet with Sen. Specter about Spygate
•&nbsp
Report: N.E. taped Rams before XXXVI
•
Fish: Ex-Ram Warner suspicious of Pats
•
Specter to Goodell: Let's talk
•
Fish: Possible 'Spygate' witness surfaces
Commentary
•
Once burned, Goodell turns fireman
•
Munson: Congressional interest is serious business
•
Pasquarelli: Specter should stick with politics
•
Clayton: Spy saga won't distract Patriots
•
Hashmarks at Goodell's news conference
Letters
•&nbsp
Specter to Goodell (.pdf)
•&nbsp
Goodell to Specter (.pdf)
From September
News
•
NFL has all materials from Pats in spying scandal
•
NFL reviews how tape leaked to Fox
•
Belichick to turn over materials in spying probe
•
Pats owner perturbed by Belichick's spy games
•
Goodell orders Pats to turn over all video
•
Sources: Patriots give Belichick extension
•
Wilson spies inconsistencies in Belichick case
•
NFL fines Belichick $500K, Pats $250K for spying
•
Bill Belichick's apology to Patriots community
•
Clayton Q&A: Patriots can survive this penalty
•
Two days later, Belichick still won't comment
•
Some Eagles question Pats' tactics in Super Bowl
•
Belichick issues apology amid accusations
•
Sources: Goodell determines Patriots broke rules
Commentary
•
Clayton: NFL penalty for Belichick, Pats too light
•
Mosley: Pats lose first-rounder? Roger that
•
Scouts Inc.: What the Pats will miss in '08 draft
•
Chadiha: Legal spying widespread in NFL
•
Sando: What's legal, what's not in spy game
•
What they're saying: Players, coaches, pundits
•
Luksa: Spy stories once had comedic value
•
Bryant: Belichick deserves two-week banishment
•
Clayton: Goodell to treat breech seriously
•
Simmons: The camera doesn't lie
•
Simmons: Cheating not necessary to win opener
Video

•
What should happen to the Pats?
•
Belichick deflects videotape-related questions
•
Former Patriot thinks team should be punished
•
Reactions from around the league
Audio

•
Mike Vrabel, Pats linebacker: Don't criticize the players

•
Chris Mortensen: Situation might motivate the Patriots

•
Keyshawn: It was 'scouting,' not cheating

•
Salisbury: Story blown out of proportion

SportsNation
•
Vote: Was New England's punishment fair?
•
Mixed reader results on NFL spying
ESPN FAN SHOP