BUFFALO, N.Y. -- Bills chief operating officer Russ Brandon was served with a subpoena to appear before a grand jury looking into a hit-and-run accident involving an SUV registered to running back Marshawn Lynch.
A law enforcement official familiar with the case told The Associated Press on Friday that Brandon was served the subpoena late Thursday night. The official spoke on condition of anonymity because the person is not authorized to release that information.
Brandon is the latest member of the team to be subpoenaed to testify before the grand jury that will meet June 20 to consider the May 31 accident when Lynch's 2008 Porsche Cayenne sped off after hitting and injuring a female pedestrian.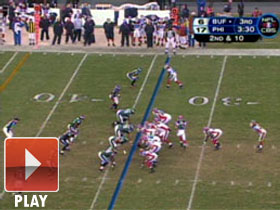 NFL.com Video
2007 Highlight: Marshawn Lynch runs 56 yards against the Eagles.
Three Bills players, rookie receivers James Hardy and Steve Johnson and second-year offensive lineman Christian Gaddis, were subpoenaed earlier Thursday, along with a person police referred to as "a high-ranking member of the Bills security staff."
The Bills were not immediately available for comment on Friday, but have previously said they have cooperated with investigators.
Convening a grand jury is the latest attempt by investigators to get answers into what began as a routine investigation into a minor hit-and-run accident and, two weeks later, has dominated headlines and left authorities frustrated and puzzled.
What troubles investigators is why this case wasn't wrapped up earlier based on a crime that's considered a Class A misdemeanor because the pedestrian sustained only minor injuries. Instead, investigators have been left to complain about the lack of cooperation they say has come from Lynch and the team.
Erie County District Attorney Frank Clark declined comment on Friday except to release a statement saying he would not subpoena Bills owner Ralph Wilson, whom investigators tried to speak to at the team's facility on Thursday.
Clark previously referred to convening a grand jury as "a last resort," and also suggested this case should have been closed earlier and with far less publicity.
"It's a misdemeanor. What are we going to do? Fine him $500," Clark told the AP last week, when he said he thought Lynch was inside the SUV, and presumably was driving it. "If you're making $4 million, a $500 fine isn't really going to hold you. Are you going to get heart palpitations over that? I think not."
Clark also said that if the case goes to trial, the NFL might take disciplinary action under its personal conduct policy even if the player is found innocent.
Suddenly, Clark said, a $500 fine would be nothing compared to being suspended for a game or more without pay for a player whose base salary will be $375,000 this season.
"Well, you start to think, `What should I do here?" Clark said, referring to Lynch's options.
Under the NFL's personal conduct policy, players are held to "a higher standard" and can be disciplined for "conduct that undermines or puts at risk the integrity and reputation of the NFL, NFL clubs or NFL players."
Lynch, following the advice of his lawyer, has declined comment, both publicly and to investigators. His lawyer, Michael Caffery has twice met with prosecutors but declined to exchange information when his request for a precondition was denied.
Caffery has said he's still open to having the case resolved. So is Clark, though he warned he'll be less open to a plea deal the longer the process continues.
In the meantime, there are questions whether Lynch's reputation is taking a hit after he was welcomed by Bills fans for his desire to live in Buffalo year-round, and after providing a spark to the team's poor running attack last season.
Caffery, this past week, sidestepped a question regarding the possibility of public opinion turning against Lynch.
"I'm his attorney," he said. "I'm here to protect his rights like I would do for any client."
Clark said Lynch's reputation is being affected.
"Well, he's taking it right now," Clark said. "Every day that passes, he's taking it."
Clark and police have been criticized from both sides: They're either grandstanding or providing Lynch special treatment.
Clark said neither is the case, while noting the investigation wouldn't have gained such attention if it didn't involve a professional athlete.
"We have thousands of cases in this office now which are much more serious violations of our statutes," Clark said. "I think [this case's] importance is in direct relationship to its media coverage."