Third and Short: Bear with these bad news Bears
In this installment of Third and Short, our experts weigh in on the Chicago Bears. Who's going to replace Cedric Benson? Is Brian Urlacher still unhappy? What's next?
Originally Published:
June 16, 2008
ESPN.com
In this edition of Third and Short, our experts consider the Chicago Bears. NFC champions two seasons ago, the Bears seem to be in a steady state of decline ever since. Where's the running game? How will they keep their superstars happy? And, of course, quarterback is in a state of flux. What's next for the Bears, whose soap opera off the field never seems to end?
Bill Williamson: Now that the Bears have released Cedric Benson, what will happen to the team's running game?
[+] Enlarge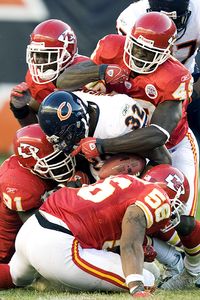 Todd Rosenberg/US PresswireLike many of his rushes, Cedric Benson's career has been put to a premature halt.
Let's get this straight: Losing Benson isn't a major hit. It's not like the Bears just cut
LaDainian Tomlinson
because of off-field issues. Benson, cut after two alcohol-related arrests in five weeks, was a disappointment on the field as well as being a problem off it. The No. 4 overall draft pick in 2005 was penciled in as the starter because the Bears didn't have many options. Yes, now they have fewer options. But replacing Benson shouldn't be overly difficult. The first option appears to be second-round pick
Matt Forte
. The Tulane product was impressive in the minicamp season and might have beaten out Benson in training camp anyway. Of course, the Bears, whose other current tailback is the small
Garrett Wolfe
, do need another running back even if Forte is the eventual answer. The team has a tainted pool of veterans at its disposal. The available tailbacks include
Shaun Alexander
,
Kevin Jones
,
Travis Henry
,
Ron Dayne
and perhaps LaMont Jordan, if Oakland cuts him. None of these options is perfect, and each comes with warning signs. The best bet might be Jones, who is coming off a knee injury. He is likely the best fit for the Bears. If the team wants to go with Forte, maybe the big, bruising Dayne could help in a reserve role. The options aren't great -- but neither was the option of keeping Benson.
Jeffri Chadiha: Brian Urlacher remains unhappy with his contract, but showed up for the team's minicamp. Is his future still in question?
No.
[+] Enlarge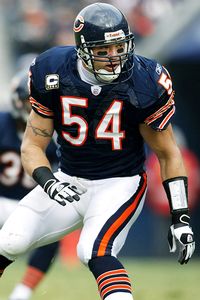 Icon SMIBrian Urlacher's appearance at Bears' minicamp was a good sign that his contract issues will be resolved.
Urlacher is the face of the Bears' franchise, and that means his contract situation eventually will be resolved. The mere fact that he appeared at the team's recent minicamp and a voluntary OTA workout last week is proof that both sides are making progress. So this isn't a matter of whether Urlacher will remain miffed about his current deal heading into training camp. It's more a question of how much the Bears need to do to ensure that he finishes his career in that town. Initially, it was hard to see Chicago caving to Urlacher's demands for a fat extension. If there's one position in the NFL where productivity can decline rapidly, it's the spot that Urlacher has occupied for the past eight seasons with that team. The wear and tear of that job can make many middle linebackers hit the wall a year or two after they've produced impressive seasons. In fact, all it takes is one significant injury and you've got the next
Al Wilson
or
Zach Thomas
on your hands. The 30-year-old Urlacher already has shown signs of waning health -- he admitted last season that he had an arthritic back and he also underwent neck surgery in February -- but he has some leverage here. He's been the Bears' leader since he entered the league in 2000 and he's a vital component to that team's Cover 2 defensive scheme. It's still rare to find a 6-foot-4, 260-pound middle linebacker with the quickness and strength to attack the run and cover tight ends 30 yards downfield. At best, there might be two or three guys in the entire league who can perform that role at Urlacher's level. There's also the matter of the Bears' current roster. After all, it's not like this team is flush with stars. The offense is in shambles -- especially with an uncertain quarterback situation and the recent release of running back
Cedric Benson
-- and the defense desperately needs to regain the form it displayed in 2005 and 2006. A happy Brian Urlacher would be essential to restoring optimism around that franchise this fall. As proof, just look at how excited the Bears were to have him on the field this past week. What the Bears must recognize is that Urlacher doesn't want to play deep into his 30s. They also must know that his style of play -- one that relies heavily on his speed -- means he only has a finite amount of time left to maximize his earning power. So this is all about simple business. Urlacher is only trying to make as much money as he can while his marketability remains high. Of course, he's not the first star player to go this route.
Ray Lewis
has made plenty of similar demands in recent years in Baltimore. And like Lewis, Urlacher loves playing the game and being around his teammates. That's one key reason why Urlacher was unwilling to spend an entire offseason away from his team in order to spur negotiations. So while it's hard to know how much Urlacher will earn from his recent complaints, it's not difficult to envision how this will play out on the field. It's a safe bet Urlacher will be a Bear for the remainder of his career. The team surely wants to make that happen. And from all indications, he's thinking along the same lines as well.
Mike Sando: With all the on-field concerns and off-field distractions, what can we expect from the Bears this season?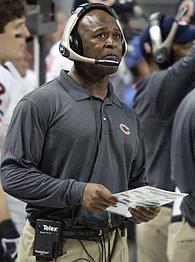 AP Photo/Tom GannamBears coach Lovie Smith was in the Super Bowl in 2007. Now, he's struggling to establish an identity for his team.
The off-field stuff shouldn't matter so much once the Bears start playing games. They have enough mentally tough players to carry them through and maintain an adequate level of professionalism. On the field, expect the Bears to be as consistent as their quarterbacks.
Rex Grossman
has started more than seven games in a season once. He was hot and cold then -- the Bears made it to Super Bowl XLI -- and it's tough to envision sustained excellence from him now that
Bernard Berrian
and
Muhsin Muhammad
are catching passes elsewhere. The Bears' history with Grossman suggests we'll see
Kyle Orton
this season as well. Orton posted 5.1 yards per passing attempt in 2005, his lone season as a full-time starter. The Bears will need much better than that to become a playoff team with a legitimate shot at advancing. Unable to upgrade at quarterback in recent seasons, the Bears also have watched the running back situation deteriorate. They might not miss the recently released Benson, but the decision to trade
Thomas Jones
a year ago still seems like a mistake. When the Bears were at their recent best in 2006, Jones was the player opposing defenses had to worry about. His departure exposed Benson and, to a degree, the quarterbacks. The Bears focused on upgrading their offensive line this offseason. That made sense, but a quick look at their skill-position players offers little encouragement. Some of the team's most productive players over the years -- Jones, Berrian, even
Bobby Engram
-- are enjoying prominent roles elsewhere. Their rushing and receiving leaders in 2007, 2006, 2005 and 2004 are free agents or playing elsewhere. The Bears brought back
Marty Booker
, who led them in receptions from 2001 to 2003, but he hasn't approached 1,000 yards in a season since leaving the Bears.
SPONSORED HEADLINES
MORE NFL HEADLINES
MOST SENT STORIES ON ESPN.COM