Favre to Fox News: Packers should let me play elsewhere
Updated:
July 15, 2008, 1:18 PM ET
ESPN.com news services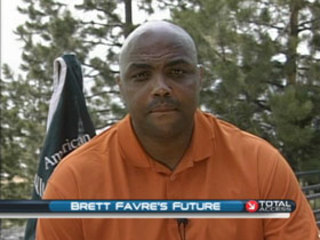 Barkley On Favre
NBA legend Charles Barkley weighs in on Brett Favre's request to be released by the Packers.
Barkley On Favre
MILWAUKEE -- Brett Favre finally is speaking for himself: He wants to play but doesn't feel welcome in Green Bay, so he's asking to be released.
The quarterback's first substantial comments about his latest retirement decision reversal came in a Monday interview with Fox News on "On the Record with Greta Van Susteren."
"OK, you guys have a different path, fine," Favre said, recalling a June 20 conversation with Packers coach Mike McCarthy. "What does that mean for me? So that means either you give me my helmet, welcome [me] back, or release me, or attempt to trade me. We all know that's a possibility, but way-out-there possibility.
"And he says, 'Well, playing here is not an option, but we can't envision you playing with another team, you know, either.' And I thought, so basically, I'm not playing for anyone if I choose to come back."
According to Van Susteren, who spoke to the AP by telephone Monday afternoon, Favre said he was "never fully committed" to retiring and felt pressured by the Packers to make a decision, a notion Packers general manager Ted Thompson and coach Mike McCarthy tried to dispel in an interview with the AP on Saturday.
"Ted always wanted Brett back," McCarthy said. "We always wanted Brett back."
The team had no immediate reaction to Favre's interview Monday.
"We currently have nothing to add on this matter," a team spokesman said.
Favre Transcript

In an interview with Fox News on "On the Record with Greta Van Susteren," Brett Favre speaks about his situation with the Packers. Read the complete transcript. Blog
Favre told Fox he understands that the Packers want to move on -- but if they're doing so, they should let him go.
"Them moving on does not bother me," Favre said. "It doesn't. I totally understand that. By me retiring March 3, I knew that could possibly happen. All I was saying is, you know, I'm thinking about playing again."
Favre said he has thought about the ramifications of playing for another team, moving to another city and angering some Packers fans.
"You know, the bottom line is, I may not play anywhere," Favre said. "But we have thought of all those things. We have thought about it."
Van Susteren -- who is from Appleton, Wis., is a Packers shareholder and previously had interviewed Favre and his wife, Deanna -- said Favre made it clear he would not return to the Packers if he wasn't the starter. And while Favre said the Packers asked him for a list of teams to which he would accept a trade, he wants to be released to make sure he ends up on a competitive club.
Thompson said the team wasn't going to release Favre, but he could come back in a "different role than he was" because the team is committed to going forward with Aaron Rodgers.
"You're telling me playing there is not an option, but playing elsewhere, we just can't -- we're trying to protect your legacy," Favre said. "Well, thank you. I appreciate that. But apparently now, they're trying to protect my legacy by bringing me back and having me be a backup. Boy, that is really good."
Thompson and McCarthy wouldn't discuss the possibility of trading Favre and said they hadn't received any trade inquiries as of Saturday. The Milwaukee Journal-Sentinel received a complete transcript of the interview, including segments that were not aired. Favre outlined other instances that created this rift with the Packers. Favre told Van Susteren that "I worked my butt off two years ago to try to get them to sign
Randy Moss
." Favre added that he offered to give up salary to sign the receiver who ultimately landed with the
New England Patriots
. Favre said that Thompson publicly denied that the quarterback had lobbied for Moss. Favre also said that he tried to convince Thompson to re-sign linemen
Marco Rivera
and
Mike Wahle
, but the two key contributors signed elsewhere. In a final instance that riled the quarterback, Favre said he told Thompson that he should interview Steve Mariucci, an old friend, for the head coaching job after Mike Sherman left. Mike McCarthy was hired instead. "And none of those had anything to do with me retiring once again but, you know, it's hard for me to trust, you know, this guy when I -- either I'm told one thing and everyone else is told another, or he's telling the public one thing and telling me another," Favre said, according to the newspaper. "And so -- and that's part of the reason for [requesting] the release. Not only was I told that playing here was not an option, we're moving on -- it's kind of in their company line, moving on. That's OK." Thompson and McCarthy gave AP a detailed description of their dealings with Favre throughout the offseason, including an episode a few weeks after Favre's retirement when the two were prepared to fly to Mississippi to seal the deal on a Favre comeback -- only to have the quarterback change his mind again.
A portion of Favre's interview aired Monday. A second segment is scheduled to air Tuesday.
"If you move on, you tell me one thing, don't come back and tell the public ... just say it, 'You know, we've moved on and we'll work with Brett on whatever it is,'" Favre said. "Don't make up a lot of stuff or give half of the truth."
McCarthy and Thompson also expressed concern Saturday that Favre spent most of the offseason questioning whether he still had the commitment to play football. But Favre told Fox News it wasn't going to be an issue.
"If I'm going to play, it's going to be 100 percent commitment," Favre said.
Favre's interview -- which was receiving top billing over an interview with presidential candidate John McCain in promos for Van Susteren's show that aired during the day Monday -- is the latest development in what is looking more and more like an irreparable schism between one of the NFL's most storied franchises and perhaps its most beloved quarterback.
Thompson called the situation "gut-wrenching" Saturday.
"I mean, it hurts," he said. "I'm not talking about physically hurting, but the sensitivity. We understand where the fans are coming from. This is a hot-button issue that surpasses anything I've ever gone through."
Information from The Associated Press was used in this report.
BRETT FAVRE SAGA: OVER
After pushing and pushing to keep playing either in Green Bay or elsewhere, Brett Favre's storied career will continue in 2008. The unretired quarterback has been traded by the Packers to the Jets.
NFC North blog | AFC East blog
News
•
Favre on offseason saga: 'I knew I wanted to play'
•
Favre unlikely to play in Jets' preseason finale
•
Report: Pack's Favre deal included souvenirs, blog
•
On Day 5 with Jets, Favre says arm feels 'fatigued'
•
Favre finally arrives in New York, meets mayor
•
Rodgers: 'Still following Brett's legacy'
•
Jets introduce Favre in Cleveland
•
Favre era ends in Green Bay with trade to Jets
•
Favre leaves Green Bay, destination unknown
•
Favre: 'This probably isn't going to work'
•
Favre flying under radar in Green Bay
•
Favre: Reinstatement done, Green Bay flight set
•
Favre mulling offer; NFL ruling put off again
•
Favre actively weighing Packers' offer
•
Report: Packers mull dealing Favre in division
•
Team president meeting with Favre, agent
•
Source: Favre files for reinstatement
•
Rodgers takes over as starting QB
•
Favre signs reinstatement letter, waits to send
•
Favre won't report to Packers camp Sunday
•
Sources: Favre, Packers talk trade destinations
•
Favre support muted at shareholders meeting
•
Report: Favre doesn't have team-issued phone
•
Report: NFL security visits Vikings
•
Favre questions likely from shareholders
•
Packers reportedly weigh trade offers for Favre
•
Favre returns to Lambeau Field
•
Packers president supports GM, coach
•
What they're saying about Favre
•
Favre won't apply for reinstatement right away
•
Sources: Packers claim Vikings tampered
•
Favre may show up at camp
•
Favre 'clears it up' in interview with Fox
•
Few fans attend Favre rally in Milwaukee
•
Pack fans rally, calling for Favre reinstatement
•
Pack won't release Favre
•
Sources: Favre seeks unconditional release
•
Favre itching to return to field
Trade Commentary/Features
•
Clayton: History doesn't favor Favre, Jets
•
Chadiha: Packers will be fine without Favre
•
Wojciechowski: Divorce cause? Lack of trust
•
Clayton: Deal is a downer for Favre
•
Scouts Inc.: Jets now a playoff contender

•
Clayton: Questions, answers on Favre trade
•
Fantasy spin: Deal boosts value of many Jets
Other Commentary/Features
•
Clayton: 5 reasons Favre would start for Pack
•
Mosley: Favre is QB turned ringmaster
•
Wojciechowski: Favre and away the best solution
•
Clayton: Favre wins ugly duel
•
Clayton: It's a painful divorce
•
Chadiha: Rodgers unfazed by Favre circus
•
Yasinskas: Favre makes sense for Bucs
•
Wojciechowski: Packers can't win this game
•
Clayton: It's a delicate situation
•
Wright Thompson: Catching Favre's fastballs
•
Wojciechowski: What's the answer, Packers?
•
Williamson: Where could he end up?
•
Seifert: What happens after HOF QBs move on
•
Paolantonio: Favre is overhyped
•
Kiper: 2005 analysis of prospect Rodgers
•
Madden '09 cover boy Favre to stay retired
•
Thompson: Brett, we miss you already
•
Wojciechowski: Worth the price of admission
•
Price of signed Favre items to go up
•
Yasinskas: Rodgers ready to take the reins
•
FB Outsiders: Measuring Favre's greatness
•
Sando: Gunslinger mentality defined Favre
•
Yasinskas: Majkowski on Favre's legacy
•
Clayton: Questions surrounding Favre
•
Clayton: Packers will miss Favre's magic
•
Chadiha: Favre will regret decision
•
Keating: Favre just getting started
•
Hashmarks: Favre fun-loving guy
•
Burning Questions: Is Rodgers ready?
•
Experts: Is Favre the best, or among them?
•
Favre's top 10 moments
•
Forde: Favre's flair for dramatic started in college
•
Favre's rating in Mel Kiper's '91 draft guide
•
Favre's hometown quiet on day of his retirement
•
Sadness, shock envelops Green Bay
•
Wounded Army officer has last ball thrown
•
Around sports: What they're saying
•
Fantasy spin: Rodgers not top-20 QB
•
Scouts: Rodgers has talent to succeed

•
Packers local: Complete hometown coverage
Video
•
Favre traded to Jets for conditional pick
•
Jets GM on trade for Favre, imminent release of Pennington
•
Steve Young on Favre's Jets future
•
Cris Carter on what trade means to Jets?
•
Schlereth: Exciting news for Jets
•
Sal Pal on Favre's move to AFC
•
Rachel Nichols on Favre's pre-trade mindset
•
Favre interview: Part 3
|
2
|
1
SportsNation
•
How will Jets do with Favre behind center?
•
Fans react to Favre's retirement
Photo Galleries
•
Favre flashback
•
Top TD guns
•
Top TD targets

MOST SENT STORIES ON ESPN.COM