Third and Short: Plenty to talk about as training camp begins
Will the Colts' offense regress during Peyton Manning's rehabilitation from knee surgery? Our experts deliberate in Third and Short.
Originally Published:
July 21, 2008
ESPN.com
Training camp is here, and as usual, there is no shortage of story lines. The Brett Favre saga is in full swing, Peyton Manning is sidelined because of knee surgery, and several high-profile rookies remain unsigned.
In this installment of Third And Short, our experts examine the essence of training camp and take a closer look at some of the biggest subplots.
Pat Yasinskas: With Peyton Manning recovering from knee surgery, should the Colts be seriously concerned about their offense's timing and chemistry?

It's a natural concern when it looks like any quarterback will miss most -- or all -- of training camp. If there's one quarterback who can afford to do that, though, it's Manning. He's been in the system forever and you get the feeling he can stroll in just before the regular-season opener and not miss a beat.
But you have to wonder how Manning's absence will impact the rest of the offense. He'll miss a bunch of practices, and backup Jim Sorgi will get tons of work in training camp. Sorgi is not Manning by any means, but he's spent years as his shadow and knows the offense almost as well as Manning.
Sorgi's familiarity should keep things as close to normal as possible. But the Colts, who likely will have several other key players (including Marvin Harrison) miss at least part of camp with injuries, are going to have an unusual camp and preseason. Don't expect to see much of the starters in preseason games.
That could be enough to throw off a lot of other offenses when they get to the regular season. But Manning, Harrison and the rest of the offense have been together long enough that the impact should be minimal.
James Walker: Is training camp really necessary for established veterans, or is the risk (in terms of injury) greater than the reward?
Any time a sport as physically demanding as football is played and it doesn't count in the standings, the risk is greater than the reward. At this point, training camp is more for coaches and younger players. With the excess of minicamps, offseason workout programs and organized team activities, training camps can afford to be shortened without hurting teams.
There are two well-known examples of established veterans missing action in the summer and not missing a beat in the regular season. San Diego Chargers running back LaDainian Tomlinson has rarely played in the preseason the past several years, yet he has turned out just fine. And former New York Giants defensive end Michael Strahan missed all of training camp and four preseason games in 2007 during a contract dispute but had a great season (57 tackles, nine sacks) and won a Super Bowl.
There were discussions at this year's owners meetings to add a 17th regular-season game in the near future. If that is implemented, it likely will come at the expense of a shortened training camp and preseason, which most veterans will agree is always a good thing.
Jeffri Chadiha: Last year, No. 1 pick JaMarcus Russell staged a lengthy holdout and never was a factor during the season. Which rookie is most likely to fill that role in 2008?
Kansas City defensive tackle Glenn Dorsey. This one is a no-brainer for two reasons. One is that Dorsey was arguably the best prospect in this year's draft -- a player capable of going No. 1 overall -- until he slipped to the Chiefs at pick No. 5. The other factor is Chiefs president/general manager Carl Peterson. He is known for being a hard-line negotiator and I doubt that will change in the next few weeks.
[+] Enlarge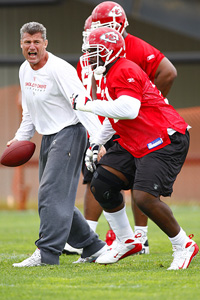 G. Newman Lowrance/Getty ImagesGlenn Dorsey, right, will likely have to endure an arduous negotiating process with the Chiefs.
The first thing you have to realize about Dorsey is that he's going to be a cornerstone for this organization. The Chiefs want him to be the foundation of their Cover 2 defense and a future leader in the locker room. Those things don't come cheap, and Dorsey's agent, Joel Segal, is well aware of that. There's also the fact that Atlanta gave No. 3 overall pick Matt Ryan such a ridiculously fat deal (six years, $72 million) that Dorsey may be thinking he can find similar riches in Kansas City.
The next thing you have to understand is that negotiations involving Peterson too often result in holdouts. Just look at last year: Chiefs wide receiver Dwayne Bowe missed the first 10 days of training camp because he hadn't reached a deal with the Chiefs and he played college football with Dorsey at LSU. You can't tell me Bowe hasn't warned Dorsey about the value of patience in this. In fact, I'd bet Bowe has already told Dorsey to prepare for a late arrival to camp.
By the way, Bowe's battles with Peterson over money were nothing compared to those of other Chiefs first-round picks. Former Chiefs defensive tackle Ryan Sims -- who turned out to be a colossal bust -- missed all of training camp while his deal was getting done in 2002. Former Chiefs offensive tackle John Tait also held out after Peterson couldn't satisfy his demands in 1999. And I don't even have to mention the way Peterson has wrestled over major loot in the past with star veterans like Larry Johnson and Jared Allen.
If all this isn't enough evidence, just think about this: Only five of this year's first-round picks have agreed to terms so far, although the top four are now under contract, with No. 2 pick Chris Long recently signing with St. Louis. Those numbers tell me Dorsey and the Chiefs have even more reason to wait and see how the market plays out. So Kansas City fans should take a deep breath. They've seen Peterson and highly touted rookies squabble before … and they're about to see it happen again.
TRAINING CAMP 2008
The regular season approaches. What teams will complete the journey to Tampa for Super Bowl XLIII? Training camp index | Dates


Commentary/features

Warner proves he has future
The Cardinals gave Kurt Warner the chance to compete with Matt Leinart for the starting spot, and the 37-year-old quarterback made the most of the opportunity.
John Clayton
---

Pennington's learning curve
It seemed the Jets could not help Chad Pennington pack his bags fast enough. Now the most experienced QB on the Dolphins, he's relishing the chance to excel again.
Jeffri Chadiha
---
•
Kreidler: Future still promising for 49ers' Smith
•
Clayton: Injuries impact preseason
•
Seifert: A new approach in Detroit
•
Smith: Favre drama a reality check for McNabb
•
Kuharsky: Titans focused on defense
•
Sando: Running key for Holmgren's swan song
•
Mosley: Giants hope history teaches well
•
Garber: Coughlin distances from SB win
•
Williamson: Chiefs engergized by youth
•
Chadiha: O-line might hold real keys for Jets
•
Wickersham: Three tips for Favre
•
Mosley: Giants done with celebrating
•
Naylor: Canadian divide on NFL invasion
•
Graham: Sleeper Bills
|
Blog: Yo, Canada
•
Seifert: For a change, no distractions for Vikes
•
Mosley: McNabb confident Eagles among elite
•
Kuharsky: Garrard taking control
•
Mosley: Eagles poised to return to prominence
•
Clayton: Young on his way to elite status
•
Kuharsky: Garrard ready to lead Jags
•
Chadiha: Delhomme determined to seize moment
•
Yasinskas: Smith's approach suits Falcons
•
Mosley: Zorn's coaching desire finally fulfilled
•
Williamson: Young Raiders share Kiffin's hunger
•
Graham: Jets wiping slate clean
•
Chadiha: Turner ready to lead Falcons
•
Clayton: Vikings firmly in Jackson's corner
•
Walker: Tough schedule awaits Steelers in 2008
•
Mosley: Favre is QB turned ringmaster
•
Clayton: 5 reasons Favre would start for Pack
•
Graham: Patriots not dwelling on past
•
Sando: Rams optimistic despite questions
•
Williamson: Shanahan points to playoffs
•
Walker: Bengals look to move past chaos
•
Yasinskas: Delhomme, Peppers must step up
NFL blog network
•
NFL Nation blog
•
AFC
:
North
|
South
|
East
|
West
•
NFC:
North
|
South
|
East
|
West
•
Contact our bloggers
Camp Confidential training camp tour
A breakdown of our annual camp tour:
• Saturday, July 26: Ravens, Saints
• Sunday, July 27: Colts, Bears
• Monday, July 28: Dolphins, Cardinals
• Tuesday, July 29: Packers

---
•
Wednesday, July 30:
Chargers
,
Cowboys
•
Thursday, July 31:
Texans
,
49ers
•
Friday, Aug. 1:
Patriots
•
Saturday, Aug. 2:
Bengals
,
Panthers
---
•
Sunday, Aug. 3:
Broncos
•
Monday, Aug. 4:
Rams
•
Tuesday, Aug. 5:
Steelers
•
Wednesday, Aug. 6:
Jets
---
•
Thursday, Aug. 7:
Raiders
|
Redskins
•
Friday, Aug. 8:
Falcons
•
Saturday, Aug. 9:
Jaguars
---
•
Tuesday, Aug. 12:
Eagles
|
Vikings
•
Wednesday, Aug. 13:
Bills
•
Thursday, Aug. 14:
Chiefs
---
•
Friday, Aug. 15:
Giants
|
Seahawks
•
Saturday, Aug. 16:
Bucs
|
Lions
•
Sunday, Aug. 17:
Browns
•
Monday, Aug. 18:
Titans
Video
•
NFL Insiders on Bills, Broncos, more
•
Rachel Nichols on Favre, Jets
•
NFL Live dissects ESPN.com power rankings
Audio
•
Podcast: Biggest questions
Scouts Inc.
•
Camp outlook: AFC Q&A on X's and O's

•
Camp outlook: NFC Q&A on X's and O's

•
Notable quarterback battles

MOST SENT STORIES ON ESPN.COM