Packers president Murphy backs GM, coach in Favre dealings
Updated:
July 19, 2008, 3:11 PM ET
ESPN.com news services
MILWAUKEE -- Green Bay Packers president Mark Murphy has restated his support for general manager Ted Thompson and coach Mike McCarthy in their dealings with Brett Favre.
Murphy spoke Friday after a meeting of the team's executive committee. He was not available for comment, but a team spokesman said the club president has "full confidence" in how Thompson and McCarthy are handling this matter.
Murphy's 83-year-old father died on Thursday morning in Florida, and a memorial service was scheduled for Monday in Clearwater, Fla.
[+] Enlarge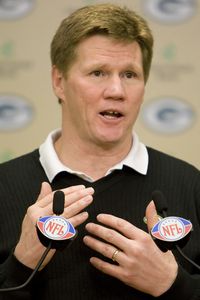 AP Photo/Mike RoemerPackers president Mark Murphy met with the team's executive committee Friday before flying to Florida to be with family. His father died Thursday at 83.
Murphy was set to be in Florida this weekend and wouldn't attend the Packers Hall of Fame banquet set for Saturday.
Favre and his wife, Deanna, were expected to attend the event at the Lambeau Field Atrium.
Favre was to induct Frank Winters, a center who played for the Packers from 1992 to 2002.
The Packers have refused to release Favre. The three-time MVP said in March he was retiring but has since changed his mind.
Speaking on the Packers' statewide tour with fans last week, Murphy expressed support for Thompson and McCarthy regarding Favre.
"I've worked closely with Ted Thompson and Mike McCarthy on this, and they have my full support," Murphy said, according to the Green Bay Press-Gazette.
Although the Packers are publicly owned, the team's seven-member executive committee meets in private and doesn't publicize its agenda. The meetings generally cover all aspects of the team's operation and typically include a football report.
The team's annual shareholders meeting is planned for July 24 at Lambeau Field.
In an interview with The Associated Press this week, Pro Football Hall of Famer Willie Davis -- an emeritus member of the Packers' board of directors -- said Favre was bound to come up in any meeting involving high-level team executives.
"Obviously, right now, this is going to be a heavy discussion," Davis said.
A movement to summon fan support for Favre has fizzled so far. A rally in Green Bay drew fewer than 200 fans Sunday, and Monday's rally in the Milwaukee suburbs drew only 30 despite widespread local media attention. But shareholders supporting Favre still could call attention to the issue.
Shareholders, who elect the team's board of directors but don't directly control the team's day-to-day decision-making, aren't given the chance to ask questions during the meeting. But Murphy and Thompson will be there to mingle afterward.
Murphy, a former All-Pro safety for the Washington Redskins, got his law degree from Georgetown and worked as an assistant executive director of the NFL Players Association after his playing days. He took over for longtime Packers top executive Bob Harlan in January. Before joining the Packers, Murphy was the athletic director at Northwestern.
Unless he is released or traded, Favre's rights belong to the Packers until his current contract expires after the 2010 season.
Information from The Associated Press was used in this report.
SPONSORED HEADLINES
MORE NFL HEADLINES
MOST SENT STORIES ON ESPN.COM
BRETT FAVRE SAGA: OVER
After pushing and pushing to keep playing either in Green Bay or elsewhere, Brett Favre's storied career will continue in 2008. The unretired quarterback has been traded by the Packers to the Jets.
NFC North blog | AFC East blog
News
•
Favre on offseason saga: 'I knew I wanted to play'
•
Favre unlikely to play in Jets' preseason finale
•
Report: Pack's Favre deal included souvenirs, blog
•
On Day 5 with Jets, Favre says arm feels 'fatigued'
•
Favre finally arrives in New York, meets mayor
•
Rodgers: 'Still following Brett's legacy'
•
Jets introduce Favre in Cleveland
•
Favre era ends in Green Bay with trade to Jets
•
Favre leaves Green Bay, destination unknown
•
Favre: 'This probably isn't going to work'
•
Favre flying under radar in Green Bay
•
Favre: Reinstatement done, Green Bay flight set
•
Favre mulling offer; NFL ruling put off again
•
Favre actively weighing Packers' offer
•
Report: Packers mull dealing Favre in division
•
Team president meeting with Favre, agent
•
Source: Favre files for reinstatement
•
Rodgers takes over as starting QB
•
Favre signs reinstatement letter, waits to send
•
Favre won't report to Packers camp Sunday
•
Sources: Favre, Packers talk trade destinations
•
Favre support muted at shareholders meeting
•
Report: Favre doesn't have team-issued phone
•
Report: NFL security visits Vikings
•
Favre questions likely from shareholders
•
Packers reportedly weigh trade offers for Favre
•
Favre returns to Lambeau Field
•
Packers president supports GM, coach
•
What they're saying about Favre
•
Favre won't apply for reinstatement right away
•
Sources: Packers claim Vikings tampered
•
Favre may show up at camp
•
Favre 'clears it up' in interview with Fox
•
Few fans attend Favre rally in Milwaukee
•
Pack fans rally, calling for Favre reinstatement
•
Pack won't release Favre
•
Sources: Favre seeks unconditional release
•
Favre itching to return to field
Trade Commentary/Features
•
Clayton: History doesn't favor Favre, Jets
•
Chadiha: Packers will be fine without Favre
•
Wojciechowski: Divorce cause? Lack of trust
•
Clayton: Deal is a downer for Favre
•
Scouts Inc.: Jets now a playoff contender

•
Clayton: Questions, answers on Favre trade
•
Fantasy spin: Deal boosts value of many Jets
Other Commentary/Features
•
Clayton: 5 reasons Favre would start for Pack
•
Mosley: Favre is QB turned ringmaster
•
Wojciechowski: Favre and away the best solution
•
Clayton: Favre wins ugly duel
•
Clayton: It's a painful divorce
•
Chadiha: Rodgers unfazed by Favre circus
•
Yasinskas: Favre makes sense for Bucs
•
Wojciechowski: Packers can't win this game
•
Clayton: It's a delicate situation
•
Wright Thompson: Catching Favre's fastballs
•
Wojciechowski: What's the answer, Packers?
•
Williamson: Where could he end up?
•
Seifert: What happens after HOF QBs move on
•
Paolantonio: Favre is overhyped
•
Kiper: 2005 analysis of prospect Rodgers
•
Madden '09 cover boy Favre to stay retired
•
Thompson: Brett, we miss you already
•
Wojciechowski: Worth the price of admission
•
Price of signed Favre items to go up
•
Yasinskas: Rodgers ready to take the reins
•
FB Outsiders: Measuring Favre's greatness
•
Sando: Gunslinger mentality defined Favre
•
Yasinskas: Majkowski on Favre's legacy
•
Clayton: Questions surrounding Favre
•
Clayton: Packers will miss Favre's magic
•
Chadiha: Favre will regret decision
•
Keating: Favre just getting started
•
Hashmarks: Favre fun-loving guy
•
Burning Questions: Is Rodgers ready?
•
Experts: Is Favre the best, or among them?
•
Favre's top 10 moments
•
Forde: Favre's flair for dramatic started in college
•
Favre's rating in Mel Kiper's '91 draft guide
•
Favre's hometown quiet on day of his retirement
•
Sadness, shock envelops Green Bay
•
Wounded Army officer has last ball thrown
•
Around sports: What they're saying
•
Fantasy spin: Rodgers not top-20 QB
•
Scouts: Rodgers has talent to succeed

•
Packers local: Complete hometown coverage
Video
•
Favre traded to Jets for conditional pick
•
Jets GM on trade for Favre, imminent release of Pennington
•
Steve Young on Favre's Jets future
•
Cris Carter on what trade means to Jets?
•
Schlereth: Exciting news for Jets
•
Sal Pal on Favre's move to AFC
•
Rachel Nichols on Favre's pre-trade mindset
•
Favre interview: Part 3
|
2
|
1
SportsNation
•
How will Jets do with Favre behind center?
•
Fans react to Favre's retirement
Photo Galleries
•
Favre flashback
•
Top TD guns
•
Top TD targets