Hall of Fame induction ceremony filled with Redskins pride
Updated:
August 3, 2008, 10:11 AM ET
Associated Press
CANTON, Ohio -- The Hall of Fame induction ceremony turned Hog wild Saturday.
Darrell Green and Art Monk walked across the stage waving their arms and urged thousands of Washington Redskins fans to give them one more salute. Emmitt Thomas, the former Chiefs player and Redskins coach, simply waved back.
[+] Enlarge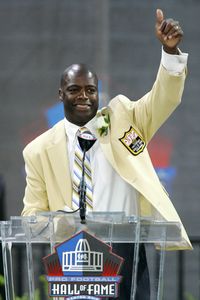 AP Photo/Mark DuncanDarrell Green was one of the Redskins inducted into the Hall of Fame Saturday.
And they applauded the three other inductees without Washington ties -- Fred Dean, Andre Tippett and Gary Zimmerman -- knowing they would have fit in with the Redskins' blue-collar reputation.
"Standing up here on this platform is much different than I imagined," Monk said. "The reality of getting into the Pro Football Hall of Fame didn't really hit me till a few days ago. And then to see the magnitude of all of this, and all of you, it's been something amazing."
Almost as shocking was the partisan crowd that turned Canton, Ohio, into a temporary home for the Redskins.
From the burgundy-and-yellow clad crowd to the pig's snouts to the responses whenever the Dallas Cowboys were mentioned, the ceremony looked more like a team induction than a league-wide enshrinement.
Fans cheered louder each time Thomas mentioned a Redskins player or coach. They chanted "Dar-rell, Dar-rell" when Green stepped to the microphone, and the continual cheers forced Monk to start speaking while they were still applauding.
Yes, it had everything but the band playing "Hail To The Redskins."
The inductions were also marked by poignancy.
Dean, Tippett and Zimmerman all chose team owners as their introductory speakers. Green, Monk and Thomas each gave the honor to their sons, and Derek Thomas delivered the most moving of those speeches after watching his father endure a decades-long wait before finally earning his spot in the Hall.
The younger Thomas, a college basketball coach, suggested it was time for his father to finally let everyone know how good a player he was, then broke down as he wrapped up.
"My dad provided my sister and me with a lot of great advice throughout the years," he said. "Like most kids, we don't always follow that advice. A piece of advice he gave me once was never make athletes your heroes because they are humans and they make mistakes, too. I guess I didn't listen to that advice very well. I'd like to introduce you to my hero, my mentor, my father, Emmitt Thomas."
Others recounted tales oft tragedy and hardship in their lives.
Green, the oldest cornerback in league history (42) when he retired in 2002, spoke of the deaths of two close friends from his childhood days and the deaths last year of two former teammates -- Kevin Mitchell and Sean Taylor.
As usual, Green, did his own thing, though. The only player in the '08 class selected in his first year of eligibility was also the only one to cry, and he was proud of it.
"Deacon Jones said I was gonna cry. You bet I'm gonna cry," he said after his son, Jared, introduced him. "You bet your life I'm gonna cry. You bet your life I will. That's my boy, that's my boy right there."
Thomas, who still holds the Chiefs record with 58 interceptions, took another tack.
He spoke of the difficulties he had growing up, following the death of his mother when he was 8 years old.
As a tribute to his grandfather, Thomas asked the Hall of Fame to let him go into the Hall with the name of Emmitt Earl Fyles Dean. His grandfather's name was Lewis Fyles Jr.
"My late grandfather is still my hero. I remember those long, hot summer nights sitting on the porch listening to a game or a prize fight or other sporting events," he said. "He taught me about honor, commitment, love, religion, hard work and respect."
There was also funny moments.
Dean, the first pass-rush specialist in league history, spoke so deliberately and emphatically, it sounded like a church sermon. In the middle of the speech, however, Dean told the crowd he had forgotten his glasses and couldn't reach the speech. Another Hall of Famer responded by quickly handing them to Dean.
"I think that's gonna work, dog," Dean said, drawing laughter.
Zimmerman, who protected John Elway's blindside for five years in Denver and was one of the era's best tackles, spoke about his own learning curve after leaving Minnesota.
It was with Denver that Zimmerman won his only Super Bowl ring -- and that he learned about The Curse.
"It happens when you're protecting someone like John and what happens is the night before the game you get little or no sleep," he said. "Because if you didn't do your job, you'll forever be known as the guy who lost our franchise. ... I would also like to thank John, it was worth every sleepless night."
Tippett, a fearsome pass rusher with New England who was cut out of the same mold as Lawrence Taylor, reflected on the things he did that helped him embark on a Hall of Fame career.
"In my youth, I watched every game I could. I studied all the great players -- [Jack] Lambert, [Jack] Ham, Bobby Bell and many others," he said. "Some kids play cops and robbers. I emulated you."
The largest ovation was for Monk, who retired in 1995 as the NFL's career receptions leader with 940 catches -- apparently not enough to make it into the Hall of Fame on his first seven chances.
"It's been hard to sit back and think about the significance of what all this really means," Monk said. "By now, I realize that it's more than a bust and wearing a gold jacket. It's about history and the game and those who made the game what it is today, and it's a privilege to be included in that group."

Copyright 2008 by The Associated Press
SPONSORED HEADLINES
MORE NFL HEADLINES
MOST SENT STORIES ON ESPN.COM
2008 HALL OF FAME CLASS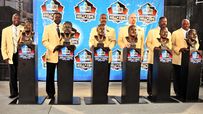 Fred Dean, Darrell Green, Art Monk, Emmitt Thomas, Andre Tippett and Gary Zimmerman were inducted into the Pro Football Hall of Fame on Saturday night.
Gallery: Induction day
|
Index
Pasquarelli honor overdue
...
'Humbled'
FRED DEAN
In the words of ...
|
Watch: Dean's Career
Hall of Fame speech

Position:
Defensive end
Team:
Chargers/49ers
Years:
1975 to '85
Seasons:
11
Honors and achievements:
• Second-round choice in 1975
• Had career-best 17.5 sacks in 1983
• Selected to four Pro Bowls
DARRELL GREEN
In the words of ...
|
Hall of Fame speech

Position:
Cornerback
Teams:
Washington Redskins
Years:
1983 to 2002
Seasons:
20
Honors and achievements:
• First-round pick in 1983 draft
• Had at least one INT in 19 straight seasons
• Selected to seven Pro Bowls
ART MONK
In the words of ...
|
Watch: Monk's Career
Hall of Fame speech

Position:
Wide receiver
Teams:
Redskins/Jets/Eagles
Years:
1980 to '95
Seasons:
16
Honors and achievements:
• First-round pick in 1980 draft
• Had at least one catch in 164 straight games
• Had five 1,000-yard receiving seasons
EMMITT THOMAS
In the words of ...
|
Watch: Thomas' Career
Hall of Fame speech
|
The 'Hall's' monitor

Position:
Cornerback
Teams:
Kansas City Chiefs
Years:
1966 to '78
Seasons:
13
Honors and achievements:
• Ranks ninth all-time in INTs with 58
• Led NFL with team-record 12 INTs in 1974
• Selected to five Pro Bowls
ANDRE TIPPETT
In the words of ...
|
Hall of Fame speech

Position:
Linebacker
Teams:
New England Patriots
Years:
1982 to '93
Seasons:
11
Honors and achievements:
• Second-round pick in 1982 draft
• Had 18.5 sacks in 1984
• Selected to five Pro Bowls
•
Graham: LT learned from Tippett
GARY ZIMMERMAN
In the words of ...
|
Watch: Zimmerman
Hall of Fame speech

Position:
Offensive tackle
Teams:
Vikings/Broncos
Years:
1986 to '97
Seasons:
12
Honors and achievements:
• Member of two all-decade teams (1980s, '90s)
• Made 169 consecutive starts
• Selected to seven Pro Bowls
•
Zoom gallery: Hall of Fame inductees
ESPN FAN SHOP