Mangini names Favre as Jets' starter against Washington
Updated:
August 10, 2008, 8:41 PM ET
Associated Press
HEMPSTEAD, N.Y. -- Brett Favre stood in front of yet another throng of reporters, a towel draping his shoulders and a bead of sweat dripping from his gray-speckled hair.
The New York Jets' newest quarterback was a bit weary after his first practice Saturday.
"There were times at practice today," he said, measuring his words, "I was wondering if I made the right move."
Don't worry, Jets fans. He was joking -- sort of.
"It's been difficult," the 38-year-old Favre said. "It's a pretty difficult offense to learn and I'm sure the one I've been in the last 16 years has been difficult, too. It'll take some time, but I think we'll be fine."
Favre tearfully retired -- "That seems like so long ago, it seems like a dream" -- then came out of retirement and, after a messy divorce with Green Bay, was acquired by the Jets late Wednesday night. Leaving no doubt as to Favre's standing with his new team, coach Eric Mangini announced that he'd start next Saturday at home against Washington.
"I'm not going to sit here and tell you that I've got this offense down, that I know every guy in the locker room or they know me," Favre said. "It's a routine and I'm just kind of following them. That's different for me."
After 16 years with the Packers, the last few days have been a whirlwind for the iconic quarterback. Favre flew to Cleveland to be on the sideline for New York's preseason opener Thursday, had a meeting with the mayor at City Hall on Friday and then had to cram for his first test back on the field with his new teammates Saturday.
"I was really surprised that today I was as effective as I was, and I'm not saying that that was good," he said. "I'm just saying I was able to take a snap, call a play, we were able to break a huddle and I was able to complete passes in some sort of rhythm."
Judging by the velocity on some of his passes, the Jets expect Favre to get up to speed fairly quickly.
"Hey, he can zip it now," said wide receiver Jerricho Cotchery, who did extra hand strengthening exercises before practice. "All the rumors about him throwing hard, yeah, they're true."
Favre worked mostly with the first-team offense, and his every completion was cheered by the estimated crowd of 10,500 delirious fans -- over 8,000 more than the Jets usually draw to practice at Hofstra University.
"As soon as we stepped out here, the stands are filled and it creates a new energy for the team," Cotchery said. "Practice went by so fast today."
[+] Enlarge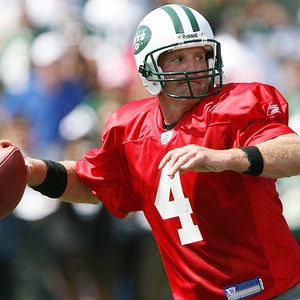 Al Pereira/Getty ImagesBrett Favre's first practice with the Jets drew 10,500 fans, nearly 10 times the usual turnout.
The fans, hundreds decked out in green and white No. 4 jerseys, crammed into the metal bleachers and some stood about 10 deep behind the fence that borders the practice fields. A number of them wore cheesehead hats, a reminder of Favre's Packers past, and a half-dozen even caught a glimpse from the roof of the university's swim center a few yards from the practice facility.
"I came here as a kid and there were always a few people here and there, but nothing like this," said Scott Myers, 28, of nearby East Meadow. "It's an event right now."
His buddy, 27-year-old Brett Rudin, also of East Meadow, came to practice wearing his new Favre jersey.
"Anytime you have a chance to get a guy like Brett Favre, you've got to go get him," Rudin said. "Now, with him, they're going to go at least 10-6."
Sounds good, but Favre has resisted the urge to make any guarantees since becoming the biggest superstar to play for the Jets since Joe Namath. He wasn't tricked when he was asked how this chapter of his life would end if it were a movie.
"Of course, I and this team would come out being victorious," he said. "I hope at the end of this season, I really do, that I feel like I made the right decision. I hope the Jets fans and the people throughout the NFL world feel like I made the right decision. At this point, I think it was the right decision. I'd love to win the Super Bowl; I would've loved to have gone and won it last year. As I said yesterday and the day before, my intentions are to help this team win."
AFC East blog

ESPN.com has the Patriots, Jets, Dolphins and Bills covered in the AFC East division blog.
Favre received a standing ovation as he jogged on the field and waved to the overflow crowd. The fans remained on their feet while he took practice snaps from center Nick Mangold. When asked if he and Favre had to make any adjustments to each other on snap exchanges, Mangold smiled.
"How do you tell Brett Favre to adapt to you?" he asked.
You probably don't, but with someone with his experience, you probably don't need to worry much.
"It's all brand new," Mangini said. "He's trying to learn everybody's name, trying to figure out where the cafeteria is and the dorm rooms and all that other stuff."
The fans cheered each of Favre's completions, including a pretty 40-yard pass to Cotchery that drew the biggest oohs and ahhs. Favre wasn't perfect, though, as evidenced by a that was intercepted by Matt Chatham.
"There's nothing for me to do than try to get this offense down," Favre said, "get acclimated with the guys, the system and that will take awhile and that'll be tough."
Favre reminded everyone that it was the first time he had put pads on since losing to the New York Giants in the NFC Championship Game, and at times he might have been overly excited.
"I'm two weeks behind as far as practice and I'm also 38 years old, so I'm a little bit behind there, too," he said. "My arm feels fine. It'll be tired tomorrow and it'll be sore because there's no substitute for getting into game-type situations and putting the pads on.
"I didn't want to look too bad, so I tried to put as much into it as I could, and I'll pay for it tomorrow. But, I'll be OK."

Copyright 2008 by The Associated Press
SPONSORED HEADLINES
MORE NFL HEADLINES
MOST SENT STORIES ON ESPN.COM
BRETT FAVRE SAGA: OVER
After pushing and pushing to keep playing either in Green Bay or elsewhere, Brett Favre's storied career will continue in 2008. The unretired quarterback has been traded by the Packers to the Jets.
NFC North blog | AFC East blog
News
•
Favre on offseason saga: 'I knew I wanted to play'
•
Favre unlikely to play in Jets' preseason finale
•
Report: Pack's Favre deal included souvenirs, blog
•
On Day 5 with Jets, Favre says arm feels 'fatigued'
•
Favre finally arrives in New York, meets mayor
•
Rodgers: 'Still following Brett's legacy'
•
Jets introduce Favre in Cleveland
•
Favre era ends in Green Bay with trade to Jets
•
Favre leaves Green Bay, destination unknown
•
Favre: 'This probably isn't going to work'
•
Favre flying under radar in Green Bay
•
Favre: Reinstatement done, Green Bay flight set
•
Favre mulling offer; NFL ruling put off again
•
Favre actively weighing Packers' offer
•
Report: Packers mull dealing Favre in division
•
Team president meeting with Favre, agent
•
Source: Favre files for reinstatement
•
Rodgers takes over as starting QB
•
Favre signs reinstatement letter, waits to send
•
Favre won't report to Packers camp Sunday
•
Sources: Favre, Packers talk trade destinations
•
Favre support muted at shareholders meeting
•
Report: Favre doesn't have team-issued phone
•
Report: NFL security visits Vikings
•
Favre questions likely from shareholders
•
Packers reportedly weigh trade offers for Favre
•
Favre returns to Lambeau Field
•
Packers president supports GM, coach
•
What they're saying about Favre
•
Favre won't apply for reinstatement right away
•
Sources: Packers claim Vikings tampered
•
Favre may show up at camp
•
Favre 'clears it up' in interview with Fox
•
Few fans attend Favre rally in Milwaukee
•
Pack fans rally, calling for Favre reinstatement
•
Pack won't release Favre
•
Sources: Favre seeks unconditional release
•
Favre itching to return to field
Trade Commentary/Features
•
Clayton: History doesn't favor Favre, Jets
•
Chadiha: Packers will be fine without Favre
•
Wojciechowski: Divorce cause? Lack of trust
•
Clayton: Deal is a downer for Favre
•
Scouts Inc.: Jets now a playoff contender

•
Clayton: Questions, answers on Favre trade
•
Fantasy spin: Deal boosts value of many Jets
Other Commentary/Features
•
Clayton: 5 reasons Favre would start for Pack
•
Mosley: Favre is QB turned ringmaster
•
Wojciechowski: Favre and away the best solution
•
Clayton: Favre wins ugly duel
•
Clayton: It's a painful divorce
•
Chadiha: Rodgers unfazed by Favre circus
•
Yasinskas: Favre makes sense for Bucs
•
Wojciechowski: Packers can't win this game
•
Clayton: It's a delicate situation
•
Wright Thompson: Catching Favre's fastballs
•
Wojciechowski: What's the answer, Packers?
•
Williamson: Where could he end up?
•
Seifert: What happens after HOF QBs move on
•
Paolantonio: Favre is overhyped
•
Kiper: 2005 analysis of prospect Rodgers
•
Madden '09 cover boy Favre to stay retired
•
Thompson: Brett, we miss you already
•
Wojciechowski: Worth the price of admission
•
Price of signed Favre items to go up
•
Yasinskas: Rodgers ready to take the reins
•
FB Outsiders: Measuring Favre's greatness
•
Sando: Gunslinger mentality defined Favre
•
Yasinskas: Majkowski on Favre's legacy
•
Clayton: Questions surrounding Favre
•
Clayton: Packers will miss Favre's magic
•
Chadiha: Favre will regret decision
•
Keating: Favre just getting started
•
Hashmarks: Favre fun-loving guy
•
Burning Questions: Is Rodgers ready?
•
Experts: Is Favre the best, or among them?
•
Favre's top 10 moments
•
Forde: Favre's flair for dramatic started in college
•
Favre's rating in Mel Kiper's '91 draft guide
•
Favre's hometown quiet on day of his retirement
•
Sadness, shock envelops Green Bay
•
Wounded Army officer has last ball thrown
•
Around sports: What they're saying
•
Fantasy spin: Rodgers not top-20 QB
•
Scouts: Rodgers has talent to succeed

•
Packers local: Complete hometown coverage
Video
•
Favre traded to Jets for conditional pick
•
Jets GM on trade for Favre, imminent release of Pennington
•
Steve Young on Favre's Jets future
•
Cris Carter on what trade means to Jets?
•
Schlereth: Exciting news for Jets
•
Sal Pal on Favre's move to AFC
•
Rachel Nichols on Favre's pre-trade mindset
•
Favre interview: Part 3
|
2
|
1
SportsNation
•
How will Jets do with Favre behind center?
•
Fans react to Favre's retirement
Photo Galleries
•
Favre flashback
•
Top TD guns
•
Top TD targets
Nike Women's New York Jets Rewind Rally Green Funnel Neck Hoodie Shop »