Giants brush off Strahan's affinity for Dallas as Super Bowl XLIII champs
Updated:
September 8, 2008, 6:25 PM ET
Associated Press
EAST RUTHERFORD, N.J. -- Even in retirement, Michael Strahan is motivating the New York Giants.
[+] Enlarge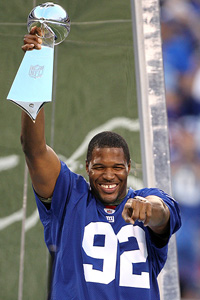 AP Photo/Seth WenigMichael Strahan says the Cowboys will be the ones with their mitts on the Vince Lombardi trophy in February.
The gap-toothed, seven-time Pro Bowler raised eyebrows in his former locker room Monday for his prediction the Dallas Cowboys would end the Giants' reign as Super Bowl champions.
It marks the second straight year a former Giants star moved from retirement to a nationally televised football show and took a shot at the team. Last year, Giants all-time leading rusher Tiki Barber created a bigger stir when he characterized quarterback Eli Manning's attempts to become a team leader as "comical."
Strahan got noticed by picking the Giants to win the NFC East during the Fox Sports pregame show Sunday, and then choosing the Cowboys to win it all.
"I have to be realistic and I have to be objective here," Strahan said in justifying his pick. "The Dallas Cowboys are the best team in the league."
Teammates smiled a lot when asked for comment on the prediction.
"I haven't talked to him, but as soon as I do I am going to give him some grief," said receiver and longtime Strahan teammate Amani Toomer after the Giants finished a brief workout Monday. "One year, it's Tiki. The next year, it's Strahan. I don't know. We'll see."
Justin Tuck, who replaced Strahan at left end, said he suspects Strahan was trying to motivate his former teammates, who are considered a long shot to repeat.
"Do I really think he thinks that Dallas is going to win the Super Bowl?" Tuck asked. "No, and even if he did think that, if he really thought it, I don't think he would say it on national TV. He is a Giant at heart and he hates the Cowboys just as much as anybody else in this locker room, so for him to say that I think it has some underlying motives."
The key pieces missing this year are Strahan and Pro Bowl defensive end Osi Umenyiora, who was lost in the preseason with a knee injury.
Middle linebacker Antonio Pierce said No. 92 was just being entertaining as the new analyst on the pregame show.
"That's why they hired him, to do things that are outrageous and out of the norm," Pierce said. "Mike did a good job. Hey, if I was an analyst, I would have picked the Cowboys, too."
Still, Pierce acknowledged sending Strahan a text message or two over his prediction.
Plaxico Burress, who caught the winning touchdown that allowed Strahan to end his 15-year career with a Super Bowl ring, said he would not have expected anything less from him.
"He kind of has that about him; he says things that kind of get you fired up a little bit," said Burress, who had 10 catches in the Giants' season-opening 16-7 win over the Washington Redskins on Thursday. "But he knows as well as we know that he is a New York Giant forever. Everybody has a job to do. If he feels that way, I don't have a problem with it."
Manning had a hard time not grinning as he spoke about Strahan.
"He is media now, so you know what happens, you go to the dark side," Manning said.
David Tyree, whose remarkable catch on the final drive also helped Strahan earn his "10-table ring," said Strahan didn't rip a teammate like Barber did.
"You have to be careful, you don't want to lose the city like Tiki," Tyree said.
Offensive tackle David Diehl said Strahan has a right to his opinion.
"He is loyal," Diehl said. "He is a New York Giant for the rest of his life, but he has to say what he thinks. You can't cut him for what he thinks. It doesn't affect us. It doesn't affect anything we're trying to do."

Copyright 2008 by The Associated Press
EDITORS' PICKS
Nick Foles showed the kind of toughness under pressure that could define his future.
Sheridan »

Russell Wilson led the Seahawks' winning drive in OT, outdoing Peyton Manning.
Blount »

The 49ers imploded in the second half again as the Cards rallied to stay unbeaten.
Gutierrez »