Texans might play at Rice Stadium if Reliant isn't ready
Updated:
September 16, 2008, 8:20 PM ET
Associated Press
HOUSTON -- Houston Texans owner Bob McNair has discussed the possibility of his team playing at Rice Stadium if repairs to Reliant Stadium from Hurricane Ike can't be made in time for the Texans' first home game on Oct. 5.
[+] Enlarge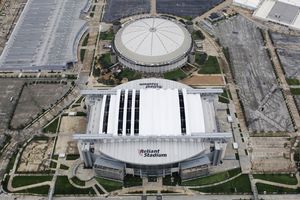 AP Photo/David J. Phillip, PoolTexans owner Bob McNair said he's optimistic that the damage to Reliant Stadium, pictured in this aerial view Saturday, is confined to its roof.
The stadium's retractable roof lost five pieces in the storm, and officials said large pieces of debris had fallen into the stadium.
Though he has discussed playing at Rice, which is four miles from Reliant, McNair is "optimistic" that repairs can be made in time for Houston to play at home against the Indianapolis Colts on Oct. 5.
"We would have to talk to them at Rice, but certainly it's a large enough stadium that it is a possibility," McNair said Tuesday.
Rice Stadium holds 47,000 in its current configuration, but the tarps could be moved off the end zone seating to expand the capacity to 70,000. It was opened in 1950 and hosted the Super Bowl in 1974.
McNair said engineers are going over Reliant, which seats 69,500, this week to look for possible structural damage, but had not found any by Tuesday.
"I am optimistic that we are not going to find any structural damage, the damage is just going to be to the roof and that's something we're going to be able to deal with," he said.
McNair said there is a possibility the Texans could play their home games without a roof, but that officials are worried about possible drainage issues if there is any significant rainfall while it is uncovered.
"If we had weather like this it could be fine," McNair said on a cool, sunny day. "But if we had a tropical deluge the drainage is something that is a concern."
He's waiting for updates on how long it will take to get the roof panels made and installed at the stadium. He'll wait to make any decisions until he finds out how long that will take.

Copyright 2008 by The Associated Press
IKE PUMMELS TEXAS

Hurricane Ike made landfall early Saturday morning as a Category 2 storm, flooding Galveston, causing substantial wind-related damage in Houston, and leaving millions of people without power. For the latest, check ABCnews.com. Coverage
Sports world reacts
Message to ESPN's Fantasy Players
With the NFL's decision to reschedule the Houston/Baltimore game for November 9, ESPN Fantasy will treat Week 2 as the bye week for all Texans and Ravens. All game pages are being updated to reflect this.
Sept. 21
•
Texans start fundraising drive
Sept. 20
•
MLB to donate $500K to victims
Sept. 18
•
Rockets buy supplies for hurricane victims
Sept. 16
•
Texans eyeing Rice Stadium if Reliant isn't ready
•
Texans deal with damaged homes, start practice
•
Astros look to re-start offense after Ike's damage
Sept. 15
•
Texans set to resume practicing
Sept. 14
•
Cooper bothered by 'neutral' game against Cubs
Sept. 13
•
Cubs-Astros games moved to Milwaukee
•
Texans-Ravens rescheduled for Nov. 9
•
Astros say ballpark is playable
•
Houston Cougars lose in Dallas
Sept. 12
•
Weather wreaks havoc with baseball schedule
•
Ike forces college football schedule changes
•
Ravens-Texans moved to Monday night
•
Ravens-Texans moved to Monday night
Sept. 11
•
WNBA's Comets postpone game against Monarchs
Nike Men's Alternate Limited Jersey Houston Texans Arian Foster #23 Shop »

MOST SENT STORIES ON ESPN.COM