Commentary
Haynesworth wanna-bes and McNabb shoulda-couldas
Hard to believe another big man holds a candle to Titans DT Albert Haynesworth, but this week Scouts Inc.'s roundtable sings the praises of Jets NT Kris Jenkins -- and calls out Andy Reid.
Updated:
November 26, 2008, 12:20 PM ET
By
Scouts Inc.
The NFL's best big man not named Albert Haynesworth? Reactions to Donovan McNabb's benching? After watching all the film, Scouts Inc.'s pro scouts answer these questions and debate the hot topics heading into Week 13.
1. After Titans DT Albert Haynesworth, who is the next-best big man in the NFL right now?
[+] Enlarge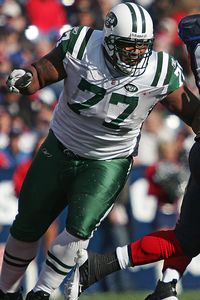 Jerome Davis/Icon SMIWhether drawing double-teams or pushing the pocket, NT Kris Jenkins has been the difference-maker in New York's 3-4 defense.
Jeremy Green:
Last week's Jets-Titans game makes this an easy choice. Why? Because even though I think Haynesworth is the NFL's best big today, he wasn't the best player in that game. Instead, it was Jets NT
Kris Jenkins
, maybe the best offseason acquisition by any team. One of the biggest weaknesses of coach Eric Mangini's 3-4 scheme in New York had been the absence of a big nose tackle to build around. Jenkins, who never had played in an odd front, was something of a risk. But he has done a great job of gobbling up double-teams, and the Jets have rewarded him by allowing him to freelance and play on the edges at times. Jenkins has been the difference-maker in a resurgent Jets defense.
Gary Horton: Panthers DE Julius Peppers is having a great year and may be the NFL's most versatile defensive linemen. His move from left end to the right side has really paid off. Peppers faces more single-blocking and better matchups in the run game, which keeps him from wearing down as easily. A speed rusher who doesn't use a lot of moves, he attacks inside or outside with excellent leverage and separation with his long arms. He is the league's best linemen at stripping quarterbacks of the ball. Unlike most pass rushers who seek the big hit, Peppers is constantly trying to get his right arm inside to knock the ball loose. Carolina's coaches will move him around to either edge and inside in order to create mismatches, and sometimes even drop him into coverage.
Keith Kidd: I'm going with Jenkins, who is having a monster year playing nose tackle in the 3-4 defense. He is a very powerful player with excellent functional play strength, and has almost singlehandedly lifted New York's run defense into the NFL's elite. Jenkins has good hand use and reactions, with the power to shed when playing the run. He plays with natural leverage and pad level. He can stack, shed and get off blocks with the in-line quickness to extend inside the tackle box. As a pass-rusher, he shows surprising quickness upfield.
Doug Kretz: Jenkins has dominated the middle in the Jets' defense and appears to be the piece that had been missing since the team converted from a 4-3 scheme to an odd front. He is extremely difficult to move off the line and does a great job of forcing opponents to double- and even triple-team him, freeing up the linebackers to run and make plays. Jenkins also has enough quickness and agility to help pressure the pocket and get to opposing quarterbacks.
Ken Moll: Browns NT Shaun Rogers (among others) is a strong possibility here, but I'm going with Vikings DT Kevin Williams. Minnesota's defense has been excellent against the run in recent years and has improved against the pass. Playing a big role in that success has been Williams, a dominant, disruptive interior lineman who rarely gets blocked by a single lineman. He has an excellent combination of size, strength, quickness and toughness. He uses his hands well, feels pad pressure, understands leverage, holds the point of attack against the run and pushes the pocket on the pass rush. He clearly is having his best season of his six-year career.
Tag Ribary: It has to be Jenkins. He has been dominant in the 3-4 scheme -- a perfect fit for the Jets. He can control the line of scrimmage against the run and he's extremely quick and powerful as a pass-rusher. He is a difference-maker up front, a defender opponents must account for on every snap.
Matt Williamson: Among blockers, I'd take Browns LT Joe Thomas, but the top offensive linemen pale in comparison to defensive big men right now. There are too many to list, but I'm partial to defensive tackles over ends -- and one in particular: Jenkins. Though his play in Carolina was a bit unsteady, he was tremendous at times playing inside in a 4-3 upfield scheme. Since arriving in New York and the 3-4, he has been even better. To put it mildly, Jenkins is more than any center can handle and rates as the best player on the AFC's best team.
[+] Enlarge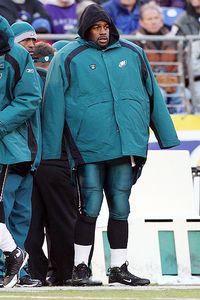 Jim McIsaac/Getty ImagesNo turning back: Last week's benching of QB Donovan McNabb may come back to haunt Andy Reid and the Eagles.
2. How would you handle the Eagles' quarterback situation?
Green:
I think QB Donovan McNabb's halftime benching in last week's game will go down as one of the worst moves by a veteran NFL coach in a long time. Andy Reid basically looked like a guy on training wheels coaching his first career game. McNabb hadn't played well a week earlier and turned in a bad first half against the Ravens, but it was tough to watch an experienced coach panic the way Reid did. Plain and simple, he threw McNabb under the bus. A first-team All-Pro quarterback benched in the middle of a 10-7 game? Unheard of. Even backup QB
Kevin Kolb
appeared shocked, and he clearly hadn't worked with the first unit in practice last week. I would never have benched McNabb in that situation. In any case, I think he had earned the right to hear about it from the head coach himself.
Horton: The timing of McNabb's benching made no sense. The Eagles still are in a playoff race, and after Sunday's game they face a short week, which wouldn't give the inexperienced Kolb nearly enough time to prepare. If you want to play your young guy, do it after you're out of the playoff picture -- or at least after Thanksgiving, when he has 10 days to get ready. Beyond that, the way it was handled also was questionable. Coach Andy Reid and McNabb have shared a lot of history, so why put it on the quarterbacks coach to drop the bomb? McNabb is a franchise quarterback who deserves better. Should QB Tom Brady or QB Peyton Manning ever be benched? Reid has risked ruining the psyche of his club.
Kidd: I would stick with McNabb. He still is a very solid front-line NFL starter. Yes, he has struggled and it's possible that this could be his (and Reid's) last season in Philadelphia. But is Kolb the answer? From what I've seen, and considering RB Brian Westbrook's poor health, not right now. The Eagles' real problems stem from Westbrook's durability and an ineffective running game. Look around the league and see how difficult it is to find a true franchise quarterback. You can bet the house that plenty of other teams will line up for McNabb's services if the Eagles decide to part ways.
Kretz: The way McNabb found out about his benching wasn't right. You don't send an assistant coach to tell the starting quarterback to sit down. Going forward, McNabb should play at least until the Eagles are mathematically eliminated from the postseason or a particular game is well in hand. (There's nothing wrong with protecting your starting quarterback from injury or familiarizing a young passer to live action under those circumstances.) McNabb's days obviously are numbered in Philadelphia, and the team eventually needs to find out what it has in Kolb. But in the short term, McNabb gives the Eagles their best shot to stay in the playoff picture.
Moll: I wouldn't have benched McNabb in the first place, but now that he has been, things get more complicated. Making a change at quarterback in the NFL (especially one involving a high-profile veteran) can send the wrong message to that player -- and an entire team. It's an admission of shaken confidence that suggests the season may be lost. At this point, I'd address the team to let the players know that McNabb still is the starter, but that Kolb would be used on a limited basis (in specific packages) with an eye toward the future. If McNabb is benched for the remainder of the season, it's likely he won't take another snap for the Eagles. What a terrible way that would be to end his outstanding run in Philadelphia.
Ribary: I would continue to play McNabb until the team is mathematically eliminated from the playoffs. He gives the Eagles their best opportunity to win right now. The benching will serve as a wake-up call, even though some disagree with the timing or delivery of it. I would get Kolb his experience at the end of games, after the outcome was decided.
Williamson: Kiss and make up with McNabb immediately, well before Thursday's game against the Cardinals. The Eagles' defense is quite good, but the Cards are going to score points in bunches and Kolb isn't yet equipped to provide the necessary points -- especially in a short week -- to keep pace. If Philadelphia loses this week, it may be time to move on and give Kolb a long week to prepare as the new starter. Pulling McNabb at halftime of a 10-7 game was a major mistake that could have serious long-term ramifications. But the Eagles are equipped for a quick rebuilding effort, having traded out of the first round last year to acquire more picks (including another first-rounder) in the 2009 draft.
[+] Enlarge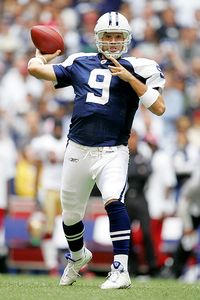 Paul Jasienski/Getty ImagesWith the Seahawks touching down in Texas Stadium on Turkey Day, QB Tony Romo and his mates should be plenty thankful.
3. Who will have a big game on Thanksgiving Day?
Green:
I'll stay with the hot hand: WR
Terrell Owens
, who cracked the 200-yard mark last week. The Seahawks' defense is ranked near the bottom of the league in sack rate, yards per pass attempt and overall passing defense. Owens always saves his best for the grand stage, and Thanksgiving will give all his peers around the NFL a chance to tune in. QB
Tony Romo
did an excellent job of staying alive in the pocket last week and going vertical, and Owens should be able to get over the top again this week. Seattle's secondary also is a marginal group of tacklers, so the powerful Owens will be a threat to take even short passes or intermediate crossing routes all the way.
Horton: I think Romo will have a big day against an underachieving Seahawks defense. Though Dallas might appear to be back at full force, the offensive line's pass-protection problems and the blitz pickup issues still exist. Still, Romo is so mobile that he can escape pressure and extend plays with his feet. Last week against the 49ers, he maneuvered his way out of pressure several times in the pocket with just a step up or a lateral slide. When defensive backs see a quarterback pressured, they tend to relax. Several of Romo's big plays to Owens were the direct result of a DB getting caught sleeping. Seattle has only one true cover corner (CB Marcus Trufant), and Dallas has all kinds of options in the passing game. Expect Romo to make some big throws off broken plays and for his receivers to use double-moves to get open.
Kidd: Without a doubt, the Titans' running game will steamroll a Lions defense allowing 166.7 rushing yards per game (worst in the league). Tennessee's offensive line is one of the NFL's best, and that unit will be playing angry after getting embarrassed by the Jets last week. Expect the combination of RBs Chris Johnson and LenDale White to attack downhill behind a massive, feisty group of blockers to wear down Detroit's front seven. This could get ugly.
Kretz: I'm going with Romo and the Cowboys' passing game. The Seahawks' pass defense has struggled to slow opposing quarterbacks (259.2 yards allowed per game, second-worst in the NFL) and create turnovers (just five interceptions). Dallas' offensive line should have no problem giving Romo time to go through his progressions, and the Cowboys have no shortage of weapons -- Owens, TE Jason Witten, WR Patrick Crayton and RB Marion Barber -- for him to distribute the ball among evenly.
Moll: Cardinals QB Kurt Warner facing an inconsistent Eagles defense and Romo and Barber against a poor Seahawks bunch are tempting matchups. But I'll go with the Titans' Johnson against the league's worst rush defense. His speed and quickness will be even more evident on the indoor surface at Ford Field, and the Titans will likely force-feed the ground attack in an effort to get back to what they do best. The Lions are banged up and playing uninspired football.
Ribary: I'll say Romo against Seattle's defense. Romo does a great job of extending plays in the pocket with his footwork, and he has the weapons to attack all areas of the field in the passing game. He has made a noticeable difference in Dallas' offense since his return to the lineup, and he should have more success on Thanksgiving Day.
Williamson: Owens will destroy the Seahawks' pint-size cornerbacks in Big D on Turkey Day. His quarterback is back in the fold, and he blew up last week (213 receiving yards against San Francisco) to prove he is still firing on all cylinders. The vertical element finally has returned to the Cowboys' passing game. Dallas would be wise to run its offense through Barber this week, but that will only further free up Owens to exploit insufficient coverage. Popcorn, anyone?
Scouts Inc. watches games, breaks down film and studies football from all angles for ESPN.com.
EDITORS' PICKS
Marcus Mariota still doesn't trump Jameis Winston, but he makes a lot of sense for Tennessee at No. 2.
McShay

Mailbag: John Clayton explains why expanded playoffs are on hold and discusses overtime rules and extra points.
Story »

The Falcons should feel grateful that their punishments for piping in crowd noise weren't a lot more severe.
McClure »

MOST SENT STORIES ON ESPN.COM