Commentary
Jags' Collier works to rebuild strength, spirit
JACKSONVILLE, Fla. -- Bloodshot-eyed and trapped in a tiny waiting room for three days straight, Shirley Robinson couldn't look at the sheet of paper. She needed one more day. Maybe her son's fever would go down, dead muscles would come back, blood clots would dissolve. A life or a leg. Twenty-six years, and Big Rich had just begun to stand on his own with those massive trunks. He had signed a $4.5 million contract with the Jacksonville Jaguars, and, three years into the NFL, would still on occasion let out a hearty chuckle that he, a former produce stocker at Wal-Mart, got to play on the same field as Peyton Manning.
A life or a leg. In those terms, it seemed simple. Of course her son would want to live. She squeezed his hand and stared at him in that bed, unconscious and tubes meandering out of his swollen 350-pound body. Could he just tell her it was OK?
"We've got to do it," his sister Rendi said.
They cried when Shirley signed the consent form. Then the Colliers were overcome by a sense of peace.
Watch Collier interview
Despite the end of Richard Collier's time as a Jaguars player, the team has kept his locker intact and his memory alive. Kelly Naqi reports on Collier's life after the tragedy. Watch "Outside the Lines," Sunday at 9 a.m. ET on ESPN.
It's been three months since Richard Collier was gunned down in his SUV, suffering bullet wounds in 14 places, and Collier sits in his wheelchair outside the Brooks Rehabilitation Hospital in Jacksonville staring at a pond. When he grows tired of watching home-decorating shows and hours of Judge Judy, he comes out here to think.
Eleven months ago, Collier soaked in the massive scene at Gillette Stadium when the Jaguars played the Patriots in an AFC divisional playoff game. Now his view consists of a KFC, a furniture store and cars whizzing by during rush hour. He watches people going up and down the street, into the Starbucks or on an errand.
[+] Enlarge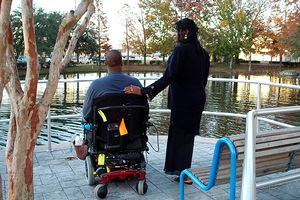 Elizabeth Merril/ESPN.comRichard Collier, with mother Shirley Robinson, often sits outside the rehab center in Jacksonville to watch passers-by.
He wonders whether they ever think about walking.
He seems so much smaller now. His pinchable chubby cheeks have given way to a lean and determined face. His left leg is gone from just above his knee; the right leg is scrawny and doesn't move. He is paralyzed from the waist down, and doctors say he'll never walk again.
Collier has lost roughly 80 pounds since Sept. 2. He says he doesn't need the weight anymore. When Jaguars linebacker Clint Ingram visits, he asks whether Collier would like him to make a fast-food run. Many days, Collier says no. He wants to be lighter, he says, to make it easier when -- not if -- he walks again.
"I'm not gonna let it defeat me," he says.
"I'd never say die. I'm too strong-willed. That's one thing I remember when I got shot: 'You're not gonna die, you've got too much to live for.' I remember thinking about my nephews. 'I can't die, I gotta [be] Superman to them.' So I keep pushing on."
---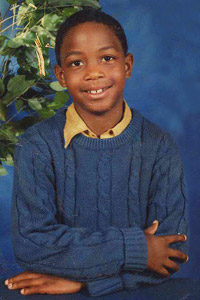 Courtesy of the Collier FamilyCollier grew up in Shreveport, La., one of seven children.
Before Collier lay in an ambulance and heard the paramedics counting bullet holes, before reporters staked out a hospital parking lot to hear whether he'd live or die, the Richard Collier story was compelling enough to make the motivational speaking circuit. It was just never told. Offensive linemen -- especially undrafted offensive linemen -- aren't headline grabbers.
Collier grew up in Shreveport, La., the son of a church musician, with six siblings. He didn't always get good grades. He wasn't always motivated. And after a short stint at junior college, Collier found himself stocking produce for $7 an hour. His sister Rendi hated the job, and got on his case frequently. She'd seen what an education could do. An unexpected mom at 17, Rendi went to college, studied to be a nurse and became the first in her family to get a degree.
"Why are you always pickin'?" Collier would say to Rendi when she nagged.
Around the family, he went by his middle name, "Bernard." To the bargain-shopping people of Shreveport, he was an oversized kid who smiled and giggled a lot. There are conflicting stories on what ended Collier's two-year run at the store. Richard says a friend stopped by one day and told him he should check out this junior college in Texas. Rendi says her brother came home laughing because Wal-Mart had laid him off.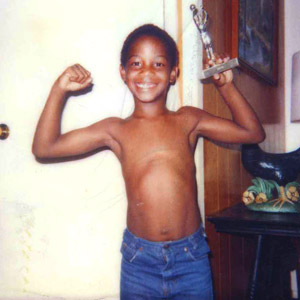 Courtesy of the Collier FamilyEven when he was little, Richard was known as the jokester of the family. He was often a handful for his older sister Rendi. "Everything I told him to do, he'd do the opposite," Rendi says. "If I'd tell him not to walk across the street, he'd run."
"I think it was God answering my prayers," Rendi says, "not because Wal-Mart is a bad place … this guy just needed to go to college."
He went to Tyler Junior College in Texas, content to just concentrate on schoolwork, but a counselor steered him toward the football office. He'd play any position. He bumped into the offensive line coach, who stared up at his 6-foot-7, 300-plus body and salivated. "You are a lineman," he said. "An offensive lineman."
Collier eventually transferred to Division II Valdosta State in Georgia and won a national championship. His name was never called in the 2006 draft, and sometime that Sunday night, the Jaguars became the only team to invite him to camp. That, in itself, was strange.
In high school, a teacher had given out an assignment asking him to map out his career on a piece of paper.
[+] Enlarge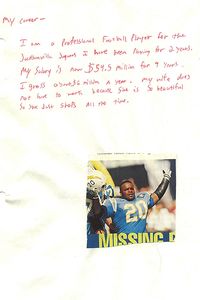 Collier FamilyA portion of Collier's childhood scrapbook includes an entry in which he writes of his hopes: "I am a professional football player for the Jacksonville Jaguars. … My salary is $54.5 million for 9 years."
"I am a professional football player for the Jacksonville Jaguars," the teenager scribbled in red ink. "I gross about $6 million a year. My wife does not have to work because she is so beautiful. So she just shops all the time."
---
The last time Collier played football, he was angry at himself. Preseason finale at Washington, and the third-year left tackle had given up a sack. All the way home, Collier obsessed about it, how his mistake played out in front of the TV cameras, how for a couple of seconds he didn't do his job. The next day, he decided to let it go. He had to start focusing on the Sept. 7 season opener at Tennessee.
On the outside, he was a wise-cracking lug, wide-eyed and grateful to survive every final cut. Inside, Collier never doubted he could play in the NFL. At the start of this past summer, Jaguars fans were handicapping the training camp battle between Khalif Barnes and Collier. Barnes was the favorite; he was a second-round draft pick in 2005.
Although Collier lost out on the starting job, many observers saw him as the team's future. He was blessed with an unusual agility for his large frame, and Jacksonville had locked him up in the spring with a three-year contract extension.
[+] Enlarge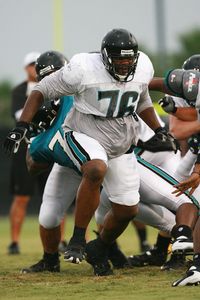 Doug Benc/Getty ImagesCollier, seen during 2007 training camp in Jacksonville, Fla., was signed by the Jags in 2006 as an undrafted free agent. He made the team and, this past May, signed a contract extension.
On Sept. 1, Labor Day, Collier was relieved that another training camp was over and excited for the season to finally start. He played "Guitar Hero" in his new house in Jacksonville, which he had just redecorated. He had plans to go out with Kenny Pettway, a friend who used to live in his old apartment complex. Pettway had just been cut, and that night, it seemed one career was ending in Jacksonville and another was just beginning.
"It was like the last hurrah for me and him to hang out," Collier says. "Because we hung out a lot.
"So we go out, we're just hanging out, and we get ready to go and it's just … everything happened."
They'd gone to a club called Square One and left with two women. Just before 3 a.m., Collier and Pettway were parked outside an apartment, waiting in Collier's Cadillac Escalade while the women made a quick trip inside. At 2:50 a.m., police say, Tyrone Romaro Hartsfield approached Collier from behind -- he was seated on the passenger side -- and shot him multiple times.
Collier slumped down, thinking he hadn't been hit. He wasn't in pain; he thought he was fine. He called out to Pettway but didn't hear him answer. He wondered whether Pettway was dead. When Collier was placed in the ambulance, he asked about his friend; Collier was told he was the only one being taken to the hospital.
Collier wouldn't know until nearly three weeks later, when he awoke from sedation, that Pettway was unharmed.
Collier's injuries
More than 70 percent of patients with injuries comparable to Richard Collier's would not have survived, according to the database analysis done by the trauma unit at Shands Jacksonville Medical Center.
Dr. Joseph Tepas, a University of Florida professor of surgery, was on call the night of Sept. 2 when Collier was taken to Shands. Tepas says the first imperative was to try to get Collier's profuse bleeding under control. But, Tepas says, another immediately apparent condition was beyond control.
"Sadly, when he first rolled in the door and we examined him and we realized that he had a neurologic deficit from here [his waist] on down, we knew with no other information that a bullet had injured his spine," Tepas says. "That is a permanent injury, so there was never any question that he was going to have his career ended, that he had sustained an injury to the nerves that essentially are responsible for your ability to walk."
Tepas performed emergency surgery. In the intensive care unit, Collier developed a clot in his left leg, requiring additional surgery. He then developed more life-threatening clots in the leg, necessitating amputation above the knee, says Dr. Andy Kerwin, UF associate professor of surgery. Collier struggled through kidney failure, pneumonia and infections and was on a ventilator 17 days. Heavily sedated, he drifted in and out of consciousness and was unable to communicate.
"He then developed a bad infection in his right buttock from where three bullets made holes," Kerwin says. "Once we took care of that problem, cut away some dead and infected muscle, that's when he started to turn the corner -- that was probably about two weeks into his stay before all that happened. For those first two weeks, it really wasn't clear that he was going to be able to survive."
Collier's professional football background, Kerwin says, was crucial in placing him in the category of the less than 30 percent who survive the injuries he endured.
"I think the fact that he was a young and healthy professional athlete helped him immensely, because the stress that's put on the body to survive such a severe injury is immense. The body needs a lot of reserve to fight the injuries and the illnesses and the infections that go along with it."
-- William Weinbaum is a producer with ESPN's Enterprise Unit.
Police say Hartsfield, 32, was seeking revenge after an April fight at another bar. Hartsfield filed a police report alleging he was assaulted by a man witnesses referred to as "Collier."
Hartsfield has pleaded not guilty to charges of attempted murder and possession of a firearm by a convicted felon. He is being held without bond in the Duval County Jail and has a hearing scheduled for Thursday.
Collier acknowledges that there was some kind of confrontation between Hartsfield and him in April, but has declined to talk about it any more, citing the pending criminal case. He says if he could change anything, he wouldn't have gone out to the bars as much. Six months ago, he pleaded no contest to DUI charges and received 50 hours of community service and $650 in fines and court costs. His license was suspended six months.
"I'm not perfect at all," Collier says. "I've made mistakes in the past that I really regret. But for this to happen to me, I didn't deserve it. I'm not gonna pity myself. I'll deal with it. But I feel like I've done nothing to contribute to this."
---
He had bullets in his bladder and spine. He had wounds from a bullet that went from the back of his shoulder to the front. People close to Collier can talk freely about the pneumonia, the renal failures and an infection in his buttock, but one word is taboo. Paralysis.
It was not uttered outside the walls of the hospital for weeks, in large part because the family didn't want anyone to know until Richard knew himself. When the Jaguars visited Collier in the days after Sept. 2, his family covered the lower part of his body so they couldn't see the amputation. It wasn't until late September, after a drug-induced sleep, that Rendi told Collier about his legs. He thought he could get up and walk around the bed. Rendi started crying.
Big Rich asked everyone to leave the room. Then he cried, too.
"That was my most vulnerable point," Collier says. "I was kind of blindsided by everything. It was like … 'What am I going to do?'
"I'm the type of person, I've cried before. I don't cry a lot. That's the most I've cried my whole life. Every day. Anything would just, like, trigger tears. Watching football on TV, anything. That was my lowest point."
Back at the Jaguars' facility, coach Jack Del Rio was finally able to huddle his players together and tell them what was really going on with Collier. That he lost a leg in a life-saving operation; that he isn't expected to walk again. Giant linemen and hardened football veterans left the meeting with tears running down their faces.
---
Collier wheels into a therapy room, says hello and asks how everybody is doing. When he is wrapped into a Hoyer lift, which carries him from his chair to a table, he jokes that he feels like a baby being delivered by a stork.
[+] Enlarge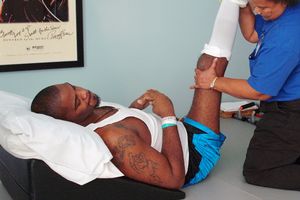 Elizabeth Merrill/ESPN.comCollier has lost about 80 pounds since the shooting. Still, he works hard and enjoys the company of the therapists who help him build his strength.
Laughter, he says, is therapeutic. The people at Brooks enjoy him because he works hard and generally comes armed with a few one-liners. He does two 90-minute therapy sessions a day, trying to build his arm strength. He winces as he bench-presses 170 pounds. It's a fraction of what he could lift three months ago.
"I think he's been a little bit frustrated with wanting to get better quicker," says Dr. Jeffery Johns, who is in charge of Collier's rehab. "I think I'd be the same way. … Especially when you're dealing with an elite, high-level professional athlete who's used to striving beyond expectations."
He has so much to do. About a year ago, Collier took in three of his nephews who range in age from 9 to 17. For a while, the boys provided companionship to a bachelor who loves kids. Now he wonders whether they're a reason he somehow was spared. He calls them from the hospital and says they have to look out for each other, listen to their grandma and be strong until he makes it home.
Doctors won't say when that will be. They want to make sure he's strong enough to be in a safe and functional home setting. Collier just wants some remnants of his former life. His hospital room is filled with get-well cards, wilting flowers and a few discarded soda cups.
There are few hints that he is a professional football player. On one wall is a banner that says, "Rich, be strong. Come home soon." Above his bed is a typewritten note from the hospital.
"You have the choice to keep fighting!! You are not alone in this."
---
The Jaguars are gathering for another late-fall practice in a 4-8 season, and players walk by Collier's locker and briskly get dressed. The locker is intact from September, with his helmet, No. 76 jerseys and trainer's tape.
The black chair that sits in front of his stall is pushed the opposite way so the lineman who isn't here can receive today's team memos -- an invitation for a holiday party and an itinerary for this week's Bears game.
"He's just a guy everybody liked," says Jags communications manager Ryan Robinson.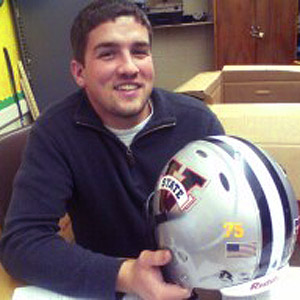 Elizabeth Merrill/ESPN.comValdosta State wore No. 75 stickers this season in honor of Collier. Equipment manager Frank Dykes says Collier was always appreciative of everything he was given.
It's been like that everywhere Collier has gone. At Valdosta State, he befriended the equipment manager, a freshman some people picked on and others hassled for extra T-shirts or shoes. Small schools such as Valdosta, Frank Dykes says, can't give players much outside of their standard uniforms and an occasional T-shirt. But Collier was always appreciative.
"I just always have a picture in my head of him with a big smile." Dykes says. "He came in and he could've just taken the attitude that, 'I'm a big ol' guy, and I'm going to play in the NFL.' But he didn't. He just became one of us."
Back in Jacksonville, Ingram has rarely left his teammate's side since the shooting. He was one of the first people to know about Collier's amputation and paralysis, but he kept the secret for weeks, until his friend could hear the news himself and deal with it on his own terms.
Ingram takes Collier's helmet with him for road games and hangs it in his locker. He visits him at the hospital on the way to the airport. Before every game, he calls Collier and always says one thing.
"Man, I love you."
Collier starts to well up when he thinks about it, the friends he has, the life ahead of him. He looks at a photo. He's standing on a football field, looking big and powerful and immovable.
"Good memories, man," he says.
And now he has time to make more. Maybe he'll work with kids. Maybe he'll be a motivational speaker.
"I've lived a dream. It was short-lived, but I lived it," he says. "It's kind of gratifying for me to know that I made it, I survived. And I would have survived many years, I know that. It's something that I have my memories and I'll always have them. I have my friends, they're always there."
Elizabeth Merrill is a senior writer for ESPN.com. She can be reached at merrill2323@hotmail.com.
Senior writer for ESPN.com
Formerly at "The Kansas City Star" and "The Omaha World-Herald"
SPONSORED HEADLINES
MORE NFL HEADLINES
MOST SENT STORIES ON ESPN.COM
EDITORS' PICKS
The Seahawks' offense caught fire as they wrested control of the NFC West from the Cardinals.
Blount »

New replay standards upheld a pivotal Jimmy Graham fumble. Here's a closer look.
Seifert »

In what was a historic game by Tony Romo, the Cowboys routed the Colts and claimed the NFC East title.
Archer »