Moon walked all over Chiefs
Hall of Famer's 527-yard passing performance second to none in regular-season history
Originally Published:
July 16, 2010
ESPN.com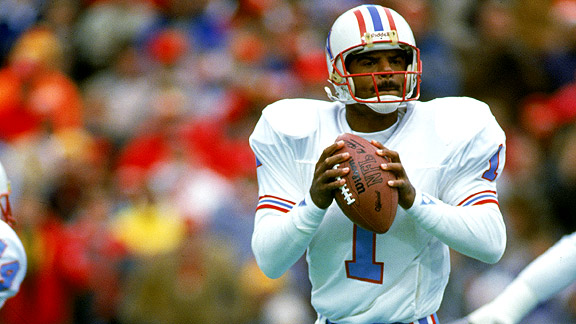 Ron Vesely/Getty ImagesThe Chiefs' vaunted defense was no match for Warren Moon on Dec. 16, 1990.
From Warren Moon's 527-yard assault on the Kansas City Chiefs in 1990 to Y.A. Tittle's seven-touchdown gem against the Washington Redskins in 1962, the list of memorable passing performances in regular-season history is extensive. But which ones are truly the most significant?
After extensive research and analysis, we came up with a top-5 list (not an easy task). We rated each performance on a 10-point scale in four categories: importance of game, quality of opponent, impact of performance and miscellaneous factors.
For a detailed explanation of our criteria, click HERE.
Below are the top 5 passing performances in regular-season history.
No. 1: WARREN MOON, Houston Oilers | 527 yards passing
Dec. 16, 1990, vs. Kansas City Chiefs
| | | | | | |
| --- | --- | --- | --- | --- | --- |
| Franchise | Game importance | Opponent quality | Level of impact | Miscellaneous | Total score |
| | 6 | 7 | 9 | 6 | 28 |
In the thick of a heated 1990 AFC playoff race, Warren Moon delivered a performance for the ages. Against one of the league's best defenses, Moon threw for 527 yards -- the second-highest game total in NFL history -- and three touchdowns to lead the Houston Oilers to a 27-10 road victory over the Kansas City Chiefs.
The victory improved Houston's record to 8-6 and loomed large in playoff tiebreaking scenarios at the end of the regular season. (The Oilers were one of four AFC teams that finished 9-7.)
Moon's performance is obviously impressive on many levels, but what separates it from the others on this list? The opponent and setting, above anything else. The Chiefs' defense ranked fifth in the NFL that season and boasted three Pro Bowlers (Derrick Thomas, Albert Lewis and Kevin Ross). Even though Moon was in the midst of what was arguably his finest season (he led the league with 4,689 yards and 33 TD passes), his prodigious output was as unlikely as it was impressive. Kansas City allowed only one other 300-yard passer (John Elway) all season.
As a whole, the Chiefs were also in the midst of a very solid season. The Chiefs entered their game against Houston at 9-4; they went on to finish 11-5 and advance to the wild-card playoffs, where they lost a 17-16 heartbreaker to Miami. The Chiefs' loss to Moon's Oilers was their only hiccup in a 6-1 run to close the regular season.
Then there's the Arrowhead factor. In the early 1990s, Arrowhead Stadium was one of the toughest places to play for visiting teams. The Chiefs' only other home loss that season was a one-point setback (17-16) to the Seahawks. From 1990 to '93, the Chiefs were 26-6 at home.
When you add it all up using our criteria, Moon's performance tops our list. But it was certainly close -- a lot closer than the Chiefs came to stopping Moon 21 years ago.
Quote/unquote: "I really don't know what happened. I've never seen a game like that. You know [Moon] is capable of having that kind of day. But against us?" -- former Chiefs cornerback Albert Lewis
No. 2: RICH GANNON, Oakland Raiders | 34-for-38, 352 yards
Nov. 11, 2002, vs. Denver Broncos

| | | | | | |
| --- | --- | --- | --- | --- | --- |
| Franchise | Game importance | Opponent quality | Level of impact | Miscellaneous | Total score |
| | 7 | 5 | 8 | 6 | 26 |
It's hard to imagine a quarterback playing better than Gannon did in this pivotal Monday night game against the rival Denver Broncos.
The Raiders represented the AFC in the Super Bowl that season. But on this November night, they were reeling. Losers of four straight, the Raiders came out firing in Denver, and Gannon was a near-perfect triggerman.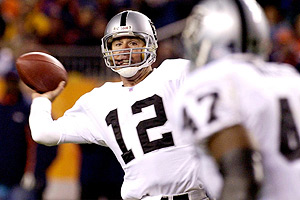 Mark Leffingwell/AFP/Getty ImagesRich Gannon's crisp passing on Nov. 11, 2002 changed the course of the Raiders' season.
The veteran signal-caller completed 29 of his first 30 passes and finished 34-of-38 for 352 yards and three TDs in Oakland's 34-10 victory. In one memorable stretch, Gannon completed 21 straight passes, a single-game record at the time. On a 96-yard scoring drive in the third quarter, Gannon was 9-for-9 for 94 yards. Talk about an efficiency expert.
Gannon's performance looks even more impressive when you consider the opponent. Not only had the Raiders lost seven straight in Denver, but the Broncos also entered the game at 6-2 and in first place in the AFC West. (They also finished the season with the sixth-ranked defense.)
The Raiders used their convincing victory as a springboard. It sparked a six-game winning streak as Oakland went on to capture the division title and a first-round bye in the playoffs. Gannon was also able to carry the momentum. He ended up leading the league with 4,689 passing yards and was rewarded with league MVP honors.
Postseason victories over the Jets and Titans put Oakland in the Super Bowl for the first time since 1983. But without Gannon's superlative effort in Denver, the Raiders' memorable season could have easily fallen apart before it ever really got on track.
Quote/unquote: "They came into our backyard and kind of kicked us all over the field." -- former Broncos head coach Mike Shanahan
No. 3: Y.A. TITTLE, New York Giants | 505 yards, 7 TDs
Oct. 28, 1962, vs. Washington Redskins
| | | | | | |
| --- | --- | --- | --- | --- | --- |
| Franchise | Game importance | Opponent quality | Level of impact | Miscellaneous | Total score |
| | 4 | 6 | 10 | 5 | 25 |
In 1962, the Giants ultimately emerged as the team to beat in the NFL's East Division. But on Oct. 28 (Week 7), New York was the underdog. The Redskins came into Yankee Stadium (yes, Yankee Stadium) riding a six-game unbeaten streak (4-0-2) and looking as though they, not the Giants, were the biggest threats to Vince Lombardi's Packers for leaguewide supremacy.
Giants QB Y.A. Tittle wasn't impressed or intimidated.
[+] Enlarge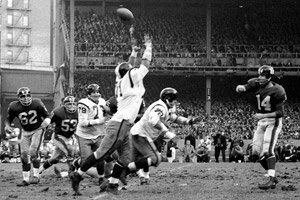 Kidwiler Collection/Diamond Images/Getty ImagesY.A. Tittle led the underdog Giants past the Redskins on Oct. 28, 1962, altering the fate of both teams.
The 35-year-old Tittle completed 27 of 39 passes for 505 yards and a record-tying seven touchdown passes against Washington. (Sid Luckman was the first player to throw seven TDs in one game in 1943. Five quarterbacks have accomplished the feat.) The Giants' 49-34 victory was the second leg in what was a nine-game winning streak. In fact, the Giants didn't lose again until the NFL title game, where they fell to Green Bay, 16-7.
The game had the opposite effect on the Redskins. Washington won only one more game all season, and its defense, perhaps demoralized by the ease with which the Giants moved up and down the field, suffered irreparable damage. The Skins allowed more than 300 yards passing five more times that season and ended up having the 12th-ranked defense (out of 14 teams). Yes, it's safe to say the Skins never recovered from Tittle's astonishing assault.
So not only was Tittle's performance a statistical masterpiece, but it also altered the fate of both teams involved. It also proved Tittle was far from finished. Perhaps buoyed by his great performance against the Skins, Tittle went on to play the best football of his career. He had 33 TD passes in 1962 and followed that up with a career-best 33 TD passes in 1963, his second-to-last season.
Quote/unquote: "It was just one of those games where I couldn't do anything wrong. It just seemed that every time I put the football up in the air towards the end zone, somebody from the Giants was there to catch it. I really didn't want to go out and throw the record-tying touchdown. But [coach] Allie [Sherman] put me back in there, and we tied the record." -- Tittle
No. 4: TOM BRADY, New England Patriots | 32-for-42, 356 yards
Dec. 29, 2007, vs. New York Giants
| | | | | | |
| --- | --- | --- | --- | --- | --- |
| Franchise | Game importance | Opponent quality | Level of impact | Miscellaneous | Total score |
| | 3 | 8 | 8 | 5 | 24 |
It's not always about raw numbers. Sometimes, historical impact can transcend a performance, and this is a perfect example.
On the surface, Tom Brady's stat line in Week 17 of the 2007 season (32-of-42, 356 yards, 2 TDs) is impressive, but certainly not eye-popping. In fact, it wasn't even Brady's most productive game of 2007. But when you consider the circumstances (the opponent, what was at stake, and what was ultimately achieved), Brady's performance in New England's 38-35 victory gains significance.
[+] Enlarge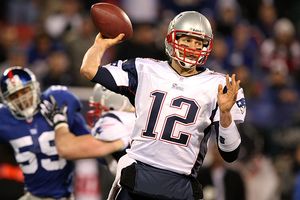 Al Bello/Getty ImagesTom Brady's clutch play on Dec. 29, 2007, gave the Patriots a special place in history.
The Patriots entered the regular-season finale at Giants Stadium on the precipice of the first perfect regular season since 1972 and the first 16-0 regular season ever. Brady came into the game needing one touchdown pass to tie Peyton Manning's season record and two to break it.
As the game unfolded, it didn't look as though either was going to happen. The Giants, who, as it turned out, were gearing up for an improbable Super Bowl run, took a 28-16 lead midway through the third quarter. That's when Brady took command. After Eli Manning's fourth TD pass of the game, Brady orchestrated an eight-play, 73-yard drive, culminating in Laurence Maroney's 6-yard scoring run, to make the score 28-23.
Brady gave the Pats the lead for good when he hit Randy Moss on a 65-yarrd TD pass with 11:06 left in the fourth quarter. The pass was historic on many levels. It was Brady's second TD pass of the night, giving him the record, and it essentially secured the Pats' perfect season. It was also Moss' 22nd TD catch, a season record.
Have there been more prolific regular-season performances by a quarterback? Yes. Have there been more important games in terms of playoff implications? Sure. But there really hasn't been anything quite like this Week 17 thriller -- and Brady was the man directly responsible.
Quote/unquote: "What I'm most proud of is playing a playoff team on the road that was playing extremely hard. We found a way to come back and win. We did the same thing at Dallas [Week 6]. We did the same thing at Indy [Week 9]. We've been in some tough games. Everyone is going to enjoy this one. It happens once every 35 years." -- Brady
No. 5: NORM VAN BROCKLIN, Los Angeles Rams | 554 yards
Sept. 28, 1951, vs. New York Yanks
| | | | | | |
| --- | --- | --- | --- | --- | --- |
| Franchise | Game importance | Opponent quality | Level of impact | Miscellaneous | Total score |
| | 4 | 2 | 10 | 6 | 22 |
Norm Van Brocklin wasn't even supposed to play a prominent role in what became the signature game of his legendary career.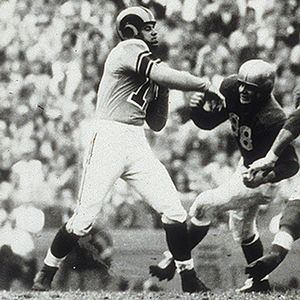 Vic Stein/NFL Photos/Getty ImagesNorm Van Brocklin entered uncharted waters on Sept. 28, 1951, becoming the first quarterback to pass for more than 500 yards.
Even though Van Brocklin was the league's leading passer in 1950 (his second NFL season), Bob Waterfield beat him out for the Rams' starting job before the 1951 season. But with Waterfield unable to play in this season opener because of injuries, Van Brocklin got the nod -- and the "Dutchman" made the absolute most of his opportunity.
Van Brocklin became the first quarterback to surpass 500 passing yards in a game, throwing for a still-standing record 554 yards. In addition to his astounding yardage total, Van Brocklin tossed five touchdown passes -- four of which went to Elroy "Crazylegs" Hirsch -- in a 54-14 victory over the New York Yanks.
So why is Van Brocklin's landmark performance only fifth on our list? Van Brocklin threw two interceptions; the game was early in the regular season, meaning it was too early to consider playoff implications; and it came against an extremely weak opponent. The Yanks won only one game in 1951 (they went 1-9-2) and allowed a league-high 381 points.
As for Van Brocklin, he started only one other game in 1951 but saw plenty of action in relief of Waterfield, passing for 1,725 yards and 13 TDs. Van Brocklin also helped secure the league championship for the Rams with a 73-yard TD pass late in the 1951 title game.
A great moment for sure -- overshadowed only by how Van Brocklin started the season.
Honorable mention
[+] Enlarge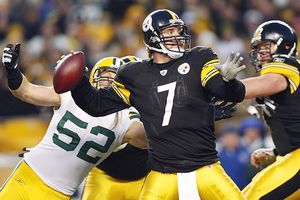 Jerry Lai/US PresswireBen Roethlisberger's last-second TD pass capped a huge game against the Packers in 2009.
•
Joe Kapp, Minnesota Vikings (Sept. 28, 1969):
He passed for 449 yards (28-of-43) and seven TDs versus Baltimore.
• Brett Favre, Green Bay Packers (Dec. 22, 2003): He passed for 399 yards and four TDs versus Oakland, one day after his father's death.
• Tom Brady, New England Patriots (Oct. 14, 2007): He completed 31 of 46 passes for 388 yards and five TDs with no interceptions versus Dallas, which was 5-0 and went on to win the NFC East. The victory for the Patriots served as a springboard to an undefeated regular season.
• Drew Brees, New Orleans Saints (Nov. 30, 2009): He completed 18 of 23 passes for 371 yards and five TDs versus New England. Compiled a perfect 158.3 passer rating as the Saints improved to 11-0.
• Ben Roethlisberger, Pittsburgh Steelers (Dec. 20, 2009): He passed for 503 yards (29-of-46) and three TDs with no INTs in a last-second 37-36 victory over the Green Bay Packers.
---
Criteria
Importance of game in which performance took place: Did it have playoff implications? Did it break a losing streak or spark a winning streak for the player's team? Was it in prime time? Was it against a rival? Divisional opponent?
Quality of opponent: What was the opponent's win-loss record? Was it on a winning streak? Did it make the playoffs or make/win the Super Bowl that season? Did the player in question have a tough or weak individual matchup?
Impact of performance: Was it the main reason the player's team won the game? Did it have a high statistical value and/or historical significance? Did it occur in a comeback or dramatic victory?
Miscellaneous factors: Was the player an extreme underdog? Was he coming off an injury? Was he playing in pain? Did the performance come in the context of a special season for the player's team? Did the performance take place in adverse conditions (hostile environment, inclement weather, etc.)? Was there a high "wow" factor?
EDITORS' PICKS
Led by Ndamukong Suh, the 2015 FA class has star power. Our expert grades the best available talent.
Polian

Can Chicago thrive with Jay Cutler under center? Many former Bears coaches firmly say the answer is no.
Wright »

Denver used the franchise tag on Demaryius Thomas, but there's still urgency to complete a long-term deal.
Legwold »

MOST SENT STORIES ON ESPN.COM