Favre tells Jets he's retiring
Without the tearful public ceremony that accompanied his retirement announcement from the Green Bay Packers just 11 months ago, quarterback Brett Favre has told the New York Jets he is retiring. Favre had instructed his agent, James "Bus" Cook, to inform the Jets on Wednesday that he is retiring. Favre and the Jets both confirmed the retirement in separate conference calls. "There are several things that went into decision but most importantly, the most important thing, was that physically, you know with my shoulder the last half of the year it hampered the way I played," Favre said. "I'm 39, I had several options [to have surgery] and to let it heal. How that would affect me in terms of playing I had no idea and it wasn't something I was going to risk." Jets owner Woody Johnson said it was Favre's decision to step aside. "We had an all-encompassing conversation," Johnson said. "He told me at that point that he had made his decision to retire and thanked everybody and talked about what a great experience he had with the New York Jets." "I have great admiration for him as a player and a person. I wish him only the best in his life after football," Jets coach Rex Ryan said. In an e-mail to ESPN's Ed Werder, Favre indicated he had no regrets about finishing his career with the Jets rather than with the Packers franchise he represented for his previous 16 NFL seasons. He specifically praised Jets GM Mike Tannenbaum, team owner Woody Johnson and fired coach Eric Mangini -- and even mentioned Thomas Jones and Kerry Rhodes, both of whom were publicly critical of Favre after the team's collapse in the final month of the season prevented the Jets from making the playoffs. "Mike and Woody, as well as the entire organization, have been nothing short of outstanding," Favre said in the e-mail. "My teammates -- Thomas and Kerry included -- were a pleasure to play with. Eric [Mangini] could not have been any better. I enjoyed playing for him. My time with the Jets was short, but I'm honored to be given that chance."
"

My time with the Jets was short, but I'm honored to be given that chance.

" -- Brett Favre
"Brett Favre is a Hall of Fame player, but he is also a Hall of Fame person. Brett, [his wife] Deanna and his family will always be a part of the Jets family," Johnson said.
"When we acquired Brett, we knew we would get everything he had. He took the time to mentor younger players and his competitiveness and enthusiasm at practice and during games was contagious," Tannenbaum said. "I spoke with him this morning and told him that he will be a friend of the Jets for years to come and it was an honor to work with him." Jets teammate
Leon Washington
also felt honored to have played with Favre.
Kellen Clemens
, a former second-rounder, is capable of being Favre's replacement. There also appears to be a conviction to seek a quarterback with significant arm strength to play through the challenges of the windy, cold-weather climate that often is a factor in Jets games. "We've got three quarterbacks on the roster, and I think we feel pretty good that in a competition among those guys, we'll end up with a pretty good quarterback," Johnson said.
FAVRE IN THE RECORD BOOKS

Brett Favre's record-setting NFL career includes all-time leads in TDs, yards -- and even interceptions.
More: NFL Nation blog
Most Wins (Starting QBs)
1. Brett Favre
169
2. John Elway
148
3. Dan Marino
147
Most Consecutive Starts (QB)
1. Brett Favre
269
2. Peyton Manning
176
3. Ron Jaworski
116
Most Career Passing Yards
1. Brett Favre
65,127
2. Dan Marino
61,361
3. John Elway
51,475
Most Career TD Passes
1. Brett Favre
464
2. Dan Marino
420
3. Fran Tarkenton
342
Most Career Completions
1. Brett Favre
5,720
2. Dan Marino
4,967
3. John Elway
4,123
Most Career Interceptions
1. Brett Favre
310
2. George Blanda
277
3. John Hadl
268
Favre told ESPN that he never requested that the Jets provide his unconditional release and said the decision to retire was strictly related to his ability to perform on the field. "It's about me not being able to play at the level I'm accustomed to," he said in an e-mail. The New York Jets have placed Favre on the reserve/retired list, Tannenbaum said. "He did not ask to be released," Tannenbaum said. "Everything he said was, he is done playing football. We have our plan according to that, and we're going to move forward." Earlier, sources told ESPN that Cook informally discussed the option of releasing Favre with the Jets. The Jets respectfully declined that option, a source said. Favre's retirement will save the Jets his $13 million salary in salary-cap space. The Jets are in one of the worst salary-cap situations in the NFL. The retirement decision should not have surprised the Jets even though the team had publicly encouraged Favre to play another season. Favre informed Tannenbaum before the Super Bowl that he was leaning toward retirement. At some point within the past week, Favre told Cook to inform the Jets that he wanted to retire without fanfare and that the team could make the decision public at its convenience. "With Brett, there was always the possibility that he wouldn't play the second year," Johnson said. "We were hoping to get one good year out of Brett Favre. We picked him based on, in our opinion, his giving us the best chance to win last season. We were disappointed not to have made the Super Bowl, but we did some very good things with Brett." The Packers, in a prepared statement, wished Favre the best. "Congratulations to Brett on a remarkable career. The Packers organization wishes him and his family well," the team said. "Brett always will hold a special place in Green Bay Packers history, and we remain committed to retiring his number at an appropriate time in the future." In what appears to be his final NFL season, Favre threw 22 touchdown passes and an NFL-high 22 interceptions while leading the Jets to a 9-7 record -- a five-game improvement over their previous season without him. A week after the Jets' season ended without a playoff berth, Favre hinted to ESPN during a telephone interview that he would probably retire because he lacked the motivation necessary to continue playing and felt prepared for life after football. "I have the ability to turn it off just like that," he said. "I don't feel I have anything else to prove. Do I have to redeem myself for the last five games? No. I could be trying to do that until I'm 60 years old. There is nothing left out there for me from that standpoint. I'm disappointed with the last five games, sure, but I know I did everything I could have. "I didn't play as well down the stretch. It was probably a little bit of everything. It's hard for me, but I have to say I gave out down the stretch." In that same conversation, Favre conceded that he had an abundance of motivation to play for the Jets at the beginning of last season, most of it inspired by the spite he maintained for Packers GM Ted Thompson for trading him from Green Bay to New York. Favre felt Thompson had taken Favre's team from him, believed it had become personal, described the Packers as dishonest and concluded that the most accomplished quarterback in history had been exiled to the Jets precisely because it was something of a football purgatory, where no championships had been won in the four decades since Joe Namath.
[+] Enlarge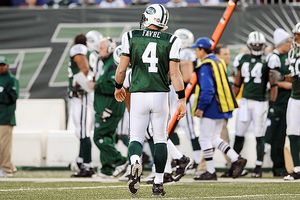 Evan Pinkus/Getty ImagesBrett Favre walked off the field Dec. 28 in what appears to be his last NFL game -- a 24-17 loss to the Dolphins.
"They sent me to New York because they didn't play the Jets, they were 4-12, so they didn't have to play me, they knew we had very little chance of making the playoffs and they knew it was not likely that we'd have a better year than they did," Favre told ESPN. "I was aware of all of that and more than up to the challenge because they felt they were shipping me off to Siberia and they'd never hear from me again. So was I coming back to play because I loved the game or to prove them wrong? Probably a little bit of both. "Maybe initially I came back for the wrong reasons," Favre says now. "It was like, 'OK, they don't want me to play, then I'll play somewhere else and show them I can still play.'" He knew there would be comparisons between his statistics and those of the quarterback who replaced him in Green Bay,
Aaron Rodgers
, the very first player Thompson drafted when he took over the Packers' front office. Favre admits that his family and friends were consumed with keeping him informed about how his numbers measured against those of Rodgers and constantly urged him to throw more touchdown passes than his replacement. Favre admits to virtually no interest in that kind of intramural competition. But he was devout in doing whatever he could to ensure that the Jets accomplished more than the Packers.
Arizona Cardinals
. The next week, the Jets took over sole possession of first place from the defending AFC champion
New England Patriots
as Favre orchestrated an unimaginable 34-31 triumph. He led consecutive scoring drives on the last possession of regulation and the first of overtime. He admitted afterward that nobody in the building was more nervous and says these were the moments that brought him out of retirement. The next week would prove just as monumental. There was Favre throwing touchdown passes and celebrating joyously as he and the Jets completed a 34-13 road upset of the
Tennessee Titans
, the final undefeated team in the league. "There's not many games left for old Brett Favre, so I'm glad this one turned out the way it did,'' he said moments later. When asked how winning a handful of big games for the Jets compared with doing the same for 16 years with the Packers, his answer hinted at the animosity that may never leave him. "It feels great -- as good, if not better. My career in Green Bay was great. It was awesome, maybe better than awesome. Will I have a 16-year career in New York? I doubt it. But I'm going to try and lump 16 into one and see what happens." It doesn't get better than this, Favre thought. And, sadly, he was right. It would not get better than that moment. "At that point, it was, 'Go get your Super Bowl tickets,'" Favre says. "That's what was so disappointing -- how quickly we rose, and then fell." After the victories in New England and Tennessee, the Jets were considered potentially the best team in the AFC and a legitimate Super Bowl contender. But the Jets failed badly in December, losing four of their final five games, and Favre's performance with an ailing right shoulder was a primary reason. In the final five games, Favre threw nine interceptions and only two touchdown passes. When the season was finished, Favre revealed he had a torn biceps tendon and that doctors had urged him to have surgery if he intended to play in 2009. He decided against both. "It sucks getting old," he said. "At 40 years old, your mind tells you that you can do all the things you could in your younger years but the body doesn't cooperate. As I look back on it, I had my moments where people said, 'It was the same Brett Favre, just a different uniform.'" Immediately after his first Jets season, Favre had decided that if it was also his final NFL season. There would be no news conference as there had been 11 months ago in Green Bay. "I'm an emotional guy, and I'm sure people are tired of seeing me get emotional," he explained. "People would probably say, 'Oh, here he goes again.' I think it would just be better for me to just thank the Jets, and I sincerely mean that. It was well worth what I invested. But I'm going to just quietly step away if that's what happens." That is exactly what has just happened.
Ed Werder is an NFL reporter for ESPN. Chris Mortensen is a senior NFL analyst for ESPN. Information from The Associated Press was used in this report.
Covers NFL for ESPN shows, including Sunday NFL Countdown, Monday Night Countdown, NFL Live and SportsCenter
Covers the Dallas Cowboys for ESPNDallas.com
NFL reporter
ESPN Senior NFL Analyst
Joined ESPN in 1991
George Polk Award winner; Twice nominated for Pulitzer Prize
BRETT FAVRE RETIRES
Less than a year after retiring from the Green Bay Packers, Brett Favre stepped away from the NFL again Wednesday, telling the New York Jets that he will not return as their QB in 2009. Story | AFC East blog | NFC North blog


COVERAGE
FEATURES
PHOTO GALLERIES
VIDEO
PODCASTS

MOST SENT STORIES ON ESPN.COM