Haynesworth's choice: Redskins
Updated:
February 27, 2009, 6:51 PM ET
By
John Clayton
| ESPN.com
Albert Haynesworth hit the free-agent jackpot Friday morning by reaching agreement on a seven-year, $100 million deal with the Washington Redskins that could end up maxing out at $115 million based on his performance, according to sources.
The deal, which was reached early Friday morning, includes an NFL-record $41 million in guarantees. During the first 13 months of the contract, Haynesworth will earn approximately $32 million.
A news conference is scheduled for 5 p.m. ET at Redskins Park.
Haynesworth was bombarded with opportunities when free agency started a minute after midnight ET Friday. More teams contacted him than expected. During the first hour, Haynesworth had at least six teams willing to give him more than $30 million in guarantees.
He and his agent, Chad Speck, spent several hours reviewing the opportunities before making a decision. The final choices came down to the Tampa Bay Buccaneers, the team that had the most cap room in free agency, and the Redskins, the team that was the most aggressive.
The Tennessee Titans, the team Haynesworth played for in his first seven NFL seasons, never came close to signing him. A franchise player whose trip to the Pro Bowl prohibited the Titans from renewing the franchise tag in 2009, Haynesworth had hoped the Titans would offer him a deal that would have kept him off the free-agent market. That offer never materialized, even though the team kept talking to him until the start of free agency.
Haynesworth's deal with the Redskins is one of the richest in the history of the league.
Haynesworth led the Titans with a career-high 8½ sacks last season, more than one-third of Washington's team total. He also had 75 tackles, 22 quarterback pressures, seven tackles for a loss and forced a team-high four fumbles.
But the 6-foot-6, 320-pounder also hasn't played a full season since his rookie year because of various injuries. He has been known to take plays off, and he will always have hanging over his head the five-game suspension for swiping his cleated foot over Dallas Cowboys center Andre Gurode's face in 2006.
The suspension is the NFL's longest for an on-field act, and Haynesworth also was required to attend anger management sessions. Now, having joined an NFC East team, Haynesworth will face Gurode twice a year.
Haynesworth's deal came shortly after another Redskins blockbuster: a six-year, $54 million agreement to re-sign cornerback DeAngelo Hall.
Hall's deal includes $22.5 million in guaranteed money, giving the 25-year-old cornerback his second big payday in as many years. He was guaranteed around $24 million in a seven-year, $70 million contract he signed a year ago with Oakland, but he struggled to adjust to the Raiders' man-to-man defense and was waived after eight games.
Haynesworth to DC
AccuScore wonders: is the new Redskins defensive lineman worth that kind of money? Is Haynes-"worth" it?

Hall's five interceptions for the season -- three with Oakland, two with Washington -- were three more than any other cornerback on the Redskins' roster. He was a model citizen during his short time in the nation's capital, avoiding the kinds of outbursts that prompted the Atlanta Falcons to trade him to Oakland in 2008.
The team also released expensive and oft-injured cornerback Shawn Springs, who becomes an unrestricted free agent. The move saves the Redskins $6 million in salary cap space.
"They did what's best for the team, and I'm happy for them," Springs said in a telephone conversation with the Washington Post. "I'm going to miss my friends there, but as long as it makes the team better, I understand. I'm a true fan of the sport."
John Clayton covers the NFL for ESPN.com. The Associated Press contributed to this story.
NFL senior writer
Senior NFL writer and commentator
Joined ESPN in 1995
Member of the writers' wing of the Pro Football Hall of Fame in Canton, Ohio
SPONSORED HEADLINES
MORE NFL HEADLINES
MOST SENT STORIES ON ESPN.COM
2009 FREE AGENCY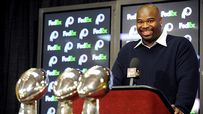 Free agency started with a bang when defensive tackle Albert Haynesworth signed a seven-year deal with Washington and the Redskins re-signed their own free agent, cornerback DeAngelo Hall.
Free-agency blog »
FA tracker »
COLUMNS/FEATURES/BLOG POSTS
FANTASY SPINS
SCOUTS INC. BREAKDOWN
SALARY CRUNCH