Sources: Cowboys cut T.O.
Updated:
March 5, 2009, 3:02 PM ET
ESPN.com news services
The Dallas Cowboys have released controversial wide receiver Terrell Owens, sources told ESPN's Michael Smith late Wednesday.
Mosley: T.O. cut

Cowboys receiver Sam Hurd said Owens sent him a text message late Wednesday, saying he had been cut by the team.
"He didn't give me an explanation. He just said, 'Wow,'" Hurd said Thursday. "I really didn't believe that he seen that coming."
Hurd said Owens' reaction was "more shock than anger."
"He said it's tough, but it's a business," Hurd said.
In late February, Cowboys owner Jerry Jones did not deny the team was discussing the possible release of Owens. Owens' future was brought up again in meetings at Valley Ranch on Wednesday, but Jones had not made a final decision by the time most people had left the building, a source told ESPN.com's Matt Mosley.
Jones and his son Stephen told Owens and his agent, Drew Rosenhaus, in person Wednesday in Florida to inform him of his release, sources told ESPN's Ed Werder.
"There are several decisions on our roster we have to look at," Jones said in February. "This is the time of year we do that. I'm not trying to be trite, but as you all know we're evaluating players in college, we're evaluating free agents and we're evaluating our own roster. This is an ongoing thing, not any different than this time last year."
The team did not immediately have comment. A spokesman for Owens said he hadn't heard the news, and that the receiver was traveling and could not immediately be reached, The Associated Press reported.
The Cowboys paid Owens a $12 million signing bonus just last year, which was included as part of a new four-year, $34 million deal. Dallas will take a roughly $9 million salary-cap hit with the release of Owens.
There has been talk since the end of the Cowboys' 9-7 season, in which they missed the playoffs, that they would consider cutting Owens to improve locker-room morale.
T.O. Ranks

Terrell Owens is in the top 10 in most career receiving categories, trailing only former teammate Jerry Rice in touchdown catches.
| | Owens | All-time |
| --- | --- | --- |
| Receptions | 951 | T-6th |
| Yards | 14,122 | 5th |
| Touchdowns | 139 | 2nd |
| Yards/Game | 74.7 | 10th |
Werder reported that according to a Cowboys source directly involved in the decision, Jerry Jones was "following the advice of many, many people" in jettisoning Owens.
Not only did Owens have relationship issues with quarterback Tony Romo and tight end Jason Witten, but the receiver consistently criticized offensive coordinator Jason Garrett's play calling and his offensive schemes to the point that sources have said Garrett did not believe he and Owens could coexist.
Although the Cowboys were trying to downplay a possible rift between Owens and Witten during the season, the two reportedly came close to blows in mid-December.
An incident occurred at the Cowboys' training facility when Witten tried to engage Owens in a conversation about a pass route. Owens told Witten to stay away from him and called him a name. The two exchanged words before being separated.
The confrontation came a day after a source told ESPN that Owens believed Romo and Witten -- close friends and road roommates -- hold private meetings and create plays without including Owens.
Replacing T.O.

With Terrell Owens' ouster, Roy Williams will be the Cowboys' No. 1 wide receiver. A look at Owens' averages during his Dallas career vs. Williams' only 1,000-yard season shows Williams will have to be excellent to match Owens' consistency.
| | Owens (Dal Avg.) | Williams (2006) |
| --- | --- | --- |
| Rec | 78.3 | 82 |
| Rec TD | 12.7 | 7 |
| Rec Yds | 1,195.7 | 1,310 |
| Yds/Rec | 15.3 | 16.0 |
Although Romo will be without the recipient of most of his touchdown passes, he also will no longer have to make sure T.O. gets enough passes to make him happy. Whether that was perception or reality will no longer matter, either.
The Cowboys went 31-17 in Owens' three seasons, but 0-2 in the playoffs.
Jones essentially forced Owens on then-coach Bill Parcells, a relationship underscored by Parcells referring to Owens as "the player." Owens drew attention to himself during training camp by dressing up as a pro cyclist while riding a stationary bike, then had an accidental overdose early that season.
"You've gotta realize that Bill bought into Terrell joining our team and don't think Terrell didn't come to this team without Bill's blessing," Jones said last week. "He wanted to win and use the talents of Terrell as much as anyone in this organization ... the entire time Bill was coach they never spoke."
Yet when Parcells turned to unproven Romo midway through that season, Owens sparkled. They kept it up the next season, leading the Cowboys to all sorts of club records on their way to a 13-3 season and a division title. The Cowboys lost their first playoff game, days after Romo and others went on a trip to Mexico during the break, and Owens tearfully defended Romo, saying: "That's my quarterback."
Four Equals 81?

The remaining Dallas wide receivers have some major holes to fill. In 2008, Cowboy WRs -- combined -- had a difficult time matching Owens' numbers.
| | Owens | Dallas WRs |
| --- | --- | --- |
| Rec. | 69 | 73 |
| Rec. yds. | 1,052* | 1,050 |
| Yds./rec. | 15.2 | 14.4 |
| Rec TD | 10* | 8 |
Owens told The Dallas Morning News in May 2008 he "definitely" wanted to finish his career with the Cowboys.
Where might he end up next?
He's not likely to return to San Francisco or Philadelphia, the other places where he wore out his welcome. Then again, it had seemed unlikely he would go to Dallas after offending Cowboys fans by celebrating on the team's star logo during a game while playing for the 49ers.
Don't expect him in Miami -- not as long as Parcells is in charge of football operations. And perhaps also count out Kansas City, because new coach Todd Haley and Owens hardly got along when Haley was Dallas' offensive coordinator.
The Cowboys still should have a potent passing game, at least if receiver Roy Williams can live up to his big contract and the two draft picks Dallas gave up to get him from Detroit. Romo also still has his favorite target in Witten.
In his three years with the Cowboys, Owens caught 235 passes for 3,587 yards and 38 touchdowns in 47 games. He led the NFL with 13 touchdowns receiving in 2006, his first season in Dallas.
In his 13-year career, he's a five-time All-Pro and ranks second in career touchdowns, fifth in career yards receiving and sixth in career receptions. He turned 35 in December, but remains a physical specimen.
The Associated Press contributed to this report.
SPONSORED HEADLINES
MORE NFL HEADLINES
MOST SENT STORIES ON ESPN.COM
T.O. TO BUFFALO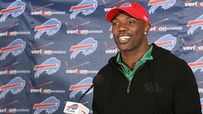 Terrell Owens, released by the Dallas Cowboys, signed a 1-year, $6.5 million with the Buffalo Bills on March 7.
NEWS AND FEATURES
ANALYSIS: BILLS SIGNING
PAGE 2
VIDEO: BUFFALO SIGNING
ANALYSIS: COWBOYS RELEASE
VIDEO: DALLAS RELEASE
AUDIO
Nike Youth Away Limited Jersey Dallas Cowboys Jason Witten #82 Shop »