Clemens appreciated Sanchez gesture
Updated:
May 8, 2009, 9:15 AM ET
Associated Press
FLORHAM PARK, N.J. -- Kellen Clemens' cell phone rang a few hours after the NFL draft, and the New York Jets quarterback didn't recognize the number.
He answered the call anyway and was surprised by who was on the other end. It was Mark Sanchez, the fifth overall pick who'll compete with Clemens for the starting job.
[+] Enlarge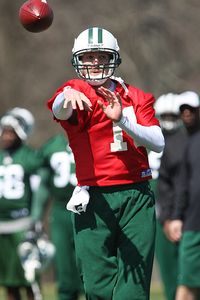 Al Pereira/Getty ImagesKellen Clemens, the Jets' second-round pick in 2006, is entering the final year of his four-year deal.
"It meant a lot," Clemens recalled during team workouts Thursday. "That's a really classy thing for that kid to do. We had a 5- or 10-minute conversation. That's our only correspondence so far, but talk about getting a competitive relationship off on the right foot, that was a neat thing that he did."
Clemens was considered the favorite to be the starting quarterback until the team traded up from No. 17 to No. 5 and took a player they believe is the future of the franchise. Although that may indeed be the case, after backing up Brett Favre last season and Chad Pennington before that, Clemens believes his own future is now.
"I'm going out this year and my expectations haven't changed since the draft," he said. "I fully expect to be under center opening day when we go down to Houston."
For that to happen, Clemens will likely have to completely outplay Sanchez in camp.
"That's everything you can ask for, to have a chance to come in and be competing for a starting spot on a team that, when you look around, is not a team that's rebuilding," Clemens said. "I mean, we've got some talent. This is a great opportunity, regardless of who I'm competing against."
If the competition between Clemens and Sanchez is close, coach Rex Ryan has already made it clear he would have no problems sending out a rookie to start the season. Ryan saw it work last year when he was in Baltimore and Joe Flacco led the Ravens to the AFC championship.
"There's some weight that goes along with being the No. 5 overall pick. Everybody knows that," Clemens said. "I go back to what Coach has said, and I think he has said it publicly, that it's an open competition and the best player's going to play, regardless of all the other business sides of things. That's all I'm hoping for and that's all I've ever asked for."
Clemens was a second-round pick in 2006 and sat behind Pennington as a rookie. He got his chance the following season when Pennington was ineffective, but he also struggled behind a patchwork offensive line, throwing 10 interceptions and five touchdowns.
"

For me, it comes down to a simple choice: I can either get mad or get frustrated or whatever, or I can better. I'm choosing to get better.

"

-- Jets quarterback Kellen Clemens
He entered last summer in an open competition with Pennington -- and then Favre came to town. Clemens threw five passes the entire season, and now enters a situation that some believe he has no chance of winning.
"For me, it comes down to a simple choice: I can either get mad or get frustrated or whatever, or I can better," he said. "I'm choosing to get better."
Entering the final year of his four-year deal, Clemens has leaned on his faith to help him get through the trying times.
"That's been the best thing for me, just from a faith standpoint, this whole thing has probably boosted my life from that standpoint," he said, "just because if I didn't, it would probably drive me crazy."
"I think it'll be a good working relationship between both he and I," Clemens said. "I'm going to try to be as helpful to him as Chad was to me. It'll be good."
The two quarterbacks had met previously because they share the same agent, David Dunn. That could be a potentially sticky situation when Dunn is negotiating Sanchez's contract, playing one client against the other.
"I feel very comfortable with him, and obviously Mark does as well," Clemens said. "They're going to handle their business between those two and Dave and I will handle the business between he and I. I'm confident there won't be any conflicts in interest for us."

Copyright 2009 by The Associated Press
SPONSORED HEADLINES
MORE NFL HEADLINES
MOST SENT STORIES ON ESPN.COM
EDITORS' PICKS
He never worked as a referee, but Dean Blandino has been the right man to be the NFL's officiating czar.
Merrill »

Who's more crucial to the Patriots' vast success - Brady or Belichick? We tap myriad experts for the answer.
Garber »

The NFL picked SB XLIX as the time to evaluate its efforts on domestic violence. Has progress been made?
McManus »