Sources: Marshall interest at issue
Updated:
September 2, 2009, 7:02 PM ET
By
Ed Werder
| ESPN
The Denver Broncos are carefully monitoring any public comments made by the New York Jets that might indicate the team is tampering with suspended receiver Brandon Marshall, sources said Wednesday.
Mike and Mike in the Morning
ESPN senior NFL analyst Chris Mortensen says the Jets have been looking at getting Brandon Marshall for a while. Coach Rex Ryan would support it. Plus, Mort says Matthew Stafford is winning the QB competition in Detroit.
Broncos coach Josh McDaniels has consistently stated the team intends for Marshall, who wants either a new contract or a trade, to play for Denver this season, and reiterated those feelings at practice Wednesday. Denver last week suspended Marshall through Sept. 5 for "detrimental" conduct.
"There is no discussions whatsoever taking place between the Denver Broncos and any team in the National Football League regarding Brandon Marshall," McDaniels said, according to the Denver Post. "We're looking forward to having Brandon back on the 6th of September and starting our [season-opening] preparation with him."
The Broncos want Marshall to accept playing for them as the only outcome so that he will conform his behavior. The concern for the Broncos is those attempts could be undermined if the brooding Pro Bowl player becomes convinced a trade is possible.
Citing a source, Newsday reported on Wednesday that the Jets are "seriously considering" making a play for Marshall soon.
There has been no contact between the Broncos and the Jets as of Wednesday morning, sources said.
McDaniels has not singled out a specific episode, but said Marshall's suspension resulted from a series of incidents. At a recent practice, Marshall went out during pre-practice warm-ups and walked while the rest of the team ran. He punted a ball away instead of handing it to a ball boy, and swatted a pass thrown to him. His actions were caught on video and broadcast by KMGH-TV.
Ed Werder covers the NFL for ESPN. Information from The Associated Press was used in this report.
SPONSORED HEADLINES
MORE NFL HEADLINES
MOST SENT STORIES ON ESPN.COM
PRESEASON NFL COVERAGE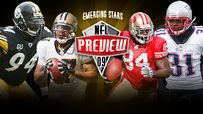 BLOGS
EMERGING STARS
AFC CAMP CONFIDENTIAL
NFC CAMP CONFIDENTIAL
FOOTBALL OUTSIDERS
COLUMNS/FEATURES