Commentary
Rookie Watch: Week 1
Originally Published:
September 15, 2009
By
Jeremy Green
| Scouts Inc.
The impressive debut of New York Jets quarterback Mark Sanchez in a 24-7 victory over the Texans helped him jump to the top of the rookie rankings after Week 1.
Preseason | Week 1
Rookie Watch
Ranking
Player, Position (Draft position)
Team
Last Week

1.

Mark Sanchez, QB (First round, No. 5)
He moves all the way to the top spot based on a solid road win in Houston. He did a nice job of using the underneath passing game early to set up play-action and some nice vertical throws.
12

2.

Aaron Curry, OLB (First, No. 4)
Drops only because of an outstanding game from Sanchez. He had just four tackles because the Seahawks didn't ask him to do a lot. As they need him to do more, they will give him more, but overall he got off to a solid start.
1

3.

Percy Harvin, WR/RB (First, No. 22)
Had five touches for 58 yards and one TD. More important, they used him often in different formations and motion, which drew attention and opened it up for Adrian Peterson on the ground and receivers in the passing game.
2

4.

James Laurinaitis, LB (Second, No. 3)
He led all rookie defensive players and took the early lead for Defensive Rookie of the Year with 14 tackles. He made a lot of plays, but when you break down the game too many of them came downfield, not at or around the line of scrimmage.
5

5.

Kenny Britt, WR (First, No. 30)
Wide receiver is one of the toughest positions to develop at this level, but if Week 1 is any indication, Britt is well on his way to being a missing piece of the puzzle in Tennessee. He ran nice crisp routes and showed the ability to adjust his routes on the move.
NR

6.

Rey Maualuga, ILB (Second, No. 6)
Had eight tackles and a number of explosive hits. He also did a nice job in underneath coverage, showing the instincts to close quickly on the ball. The Bengals' defense took big strides in Week 1 and Maualuga was a big part of that.
9

7.

Michael Oher, RT (First, No. 23)
Of the rookie offensive linemen who started, Oher had the best game. He did a nice job in protection and as a run-blocker, which showed in the Ravens' solid offensive performance. His ability to protect allowed TE Todd Heap to be more involved in the passing game, which will be critical to the offense this season.
16

8.

Louis Delmas, S (Second, No. 1)
Lost in the long day for the Lions' secondary was that Delmas had a few nice hits and an interception. He found himself out of position a few times, but you are going to get some big play/bad play from rookies at this position, and his big plays stood out.
8

9.

Peria Jerry, DT (First, No. 24)
He had one tackle and one QB pressure, but you have to look at more than the numbers. He was able to play on the edges and at times drew double-teams that contributed to DE John Abraham's big-time game (two sacks and numerous pressures).
14

10.

Jason Smith, OT (First, No. 2)
Even though the Rams' offensive line struggled, Smith actually held his own. He looked fairly solid one-on-one in space, but he does need to do a better job of adjusting to stunts and working combo blocks in the run game.
3
SPONSORED HEADLINES
MORE NFL HEADLINES
MOST SENT STORIES ON ESPN.COM
NFL WEEK 2 PREVIEW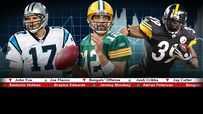 POWER RANKINGS
PICKS
FINAL WORD
STADIUM RATINGS
MVP WATCH
STOCK WATCH: Fallers, risers
COLUMNS/BLOG POSTS
SCOUTS INC.
ESPN FAN SHOP