Commentary
Rookie Watch: Week 2
Originally Published:
September 22, 2009
By
Jeremy Green
| Scouts Inc.
Jets quarterback Mark Sanchez is still on top, but Vikings wide receiver Percy Harvin and Ravens right tackle Michael Oher are moving up fast.

Rookie Watch
Ranking
Player, Position (Draft position)
Team
Last Week

1.

Mark Sanchez, QB (First round, No. 5)
He continues to grow each week, and the Jets continue to gain more confidence in him. His decision-making is excellent, and when he does make a poor throw, he makes sure only his target has a chance to make a play on the football. He is farther ahead of where Joe Flacco was at this point last season.
1

2.

Percy Harvin, WR/RB (First, No. 22)
Averaged 7.0 yards per carry and 8.2 yards per reception in Week 2. He was targeted five times and caught five passes. He is the best athlete in this rookie class and a threat to score from anywhere on the field. He opens up the field for everyone else because he commands a lot of attention despite being a rookie.
3

3.

Michael Oher, RT (First, No. 23)
He looks like a player who is going to get better each week as he adjusts to the speed of the game. He understands angles in pass protection. He was physical in the running game Sunday as the Ravens' backs ripped off numerous runs over the right side, where he was putting his helmet on people and creating running lanes.
7

4.

James Laurinaitis, LB (First, No. 3)
Led all rookies in tackles (eight) for the second consecutive week. St. Louis had a much better defensive performance in Week 3 than it had in Week 1, and Laurinaitis was a big reason. Even though he had fewer tackles this week, he was more sound fundamentally and was out of position less.
4

5.

Rey Maualuga, ILB (Second, No. 6)
Finished Week 2 with four tackles and a sack. Not huge numbers, but the Bengals used him on the blitz quite a bit, and his ability to occupy blockers helped Antwan Odom get one-on-one situations on the edge and finish with five sacks.
6

6.

Aaron Curry, OLB (First, No. 4)
He has dropped every week so far. Against the 49ers on Sunday, he lost containment on a few of Frank Gore's runs. He is a speedy sideline-to-sideline player but he needs to learn to play under control. While playing aggressively is good, he overran a few plays and busted a few assignments this week.
2

7.

Louis Delmas, S (Second, No. 1)
Lost in another Detroit defeat Sunday was another solid game from Delmas, who had six tackles and broke up a pass. Delmas also had a few nice first-half hits on RB Adrian Peterson. Delmas is really starting to grasp the defense, and that allows the Lions to move him around and show off his versatility.
8

8.

Jason Smith, OT (First, No. 2)
He played better in Week 2 than he played in Week 1. The Rams held the Redskins' defensive ends without a sack Sunday. Smith did a nice job of protecting the edge and adjusting to blitz pickups. He was better in the running game as well.
10

9.

Julian Edelman, WR (Seventh, No. 23)
Edelman stepped in for the injured Wes Welker and led all Patriots wide receivers with eight receptions for 98 yards. He understands the offensive system playing in the slot, where QB Tom Brady targeted him 16 times against the blitz-happy Jets defense.
NR

10.

Johnny Knox, WR (Fourth, No. 4)
Knox is quickly becoming a top target for QB Jay Cutler and the Bears, who lack a No. 1 wide receiver. The speedy Knox caught six balls for 70 yards in an upset win over Pittsburgh on Sunday.
NR
NFL WEEK 3 PREVIEW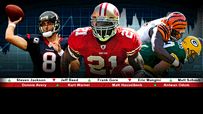 PICKS
MNF: PANTHERS AT COWBOYS
FINAL WORD
FANTASY
POWER RANKINGS
MVP WATCH
STOCK WATCH: Fallers, risers
COLUMNS/BLOG POSTS
INSIDER
SCOUTS INC.

MOST SENT STORIES ON ESPN.COM