Checketts, Limbaugh in bid to buy Rams
Updated:
October 6, 2009, 4:05 PM ET
Associated Press
ST. LOUIS -- The lowly Rams have someone who loves them.
Conservative talk radio host Rush Limbaugh said Tuesday he is teaming up with St. Louis Blues owner Dave Checketts in a bid to buy the Rams, owners of the NFL's longest current losing streak at 14 and just 5-31 since 2007.
In a statement, Limbaugh declined to discuss details, citing a confidentiality agreement with Goldman Sachs, the investment firm hired by the family of former Rams owner Georgia Frontiere to review assets of her estate, including the NFL team.
[+] Enlarge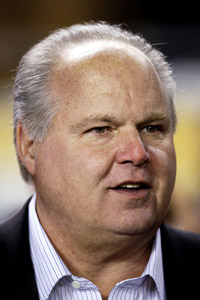 AP Photo/Rob CarrRush Limbaugh, who is from Missouri, is considered by some followers to be the voice of the Republican Party.
Limbaugh also declined to discuss other partners who might be involved in the bid, but said he and Checketts would operate the team.
"Dave Checketts and I have made a bid to buy the Rams and we are continuing the process," Limbaugh said.
Forbes magazine has estimated the Rams franchise has a value of $929 million.
Frontiere's children, Chip Rosenbloom and Lucia Rodriguez, inherited 60 percent of the Rams when their mother died in January 2008. Stan Kroenke, a billionaire from Columbia, Mo., owns the remaining 40 percent.
It wasn't clear if the Limbaugh/Checketts bid was for 100 percent of the Rams or just the share owned by Rosenbloom and Rodriguez.
"Our strategic review of our ownership of the Rams continues," Rosenbloom said in a statement released late Monday. "We will make an announcement upon the completion of the process."
NFL spokesman Greg Aiello declined comment. Spokesmen for Checketts and the Blues declined comment.
Limbaugh is a native of Cape Girardeau, Mo., about 100 miles south of St. Louis. He's so popular among conservatives -- fans of his show call themselves "dittoheads" -- that he has been called by some the voice of the Republican Party.
Limbaugh, who lives and works in Palm Beach, Fla., once worked for the Kansas City Royals and is an avid sports fan.
In 2003, Limbaugh worked briefly on ESPN's NFL pregame show, but resigned after saying Philadelphia Eagles quarterback Donovan McNabb was overrated because the media wanted to see a black quarterback succeed.
[+] Enlarge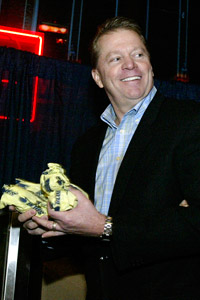 AP Photo/Tom GannamUnder Dave Checketts' ownership, the St. Louis Blues have risen from moribund franchise to playoff contender.
Checketts, 53, and his SCP Worldwide and Towerbrook Capital Partners purchased the Blues in 2006 from Bill and Nancy Laurie. The Blues have gradually rebuilt under his leadership and made the playoffs last season for the first time since 2004.
Checketts first approached Rosenbloom in early 2009 about possibly buying the Rams. Eric Gelfand, a spokesman for Checketts, said in June that Checketts had put together a group consisting of local and outside investors.
An NFL rule allows ownership of NFL teams and teams in other sports, but only if they are in the same market. That would be a problem if Kroenke wanted to become majority owner of the Rams because he owns the NBA's Denver Nuggets and the NHL's Colorado Avalanche.
Checketts' company also owns Utah's Real Salt Lake Major League Soccer team. But an NFL spokesman has said the cross-ownership rule does not apply to the MLS.
The potential sale of the Rams has been rumored since Frontiere's death. Her children both are involved in other interests and neither has ties to St. Louis.
The sale has raised concerns in St. Louis, which lost the Cardinals franchise after the 1987 season when Bill Bidwill moved the team to Arizona.
The NFL passed over St. Louis for the smaller Jacksonville, Fla., market when it awarded an expansion team in 1993. Two years later, civic leaders convinced Frontiere, a St. Louis native, to move the team from Los Angeles, the nation's second-largest market, back to her hometown.
Los Angeles still is without a team, and a loophole in the Rams' lease allows them to move as early as 2014 if the Edward Jones Dome is not deemed among the top quarter of all NFL stadiums. Though just 14 years old, the dome is fast becoming one of the league's older venues, and getting it into the top quarter seems unlikely.
Checketts became the youngest person ever to run an NBA team at age 28 when he became president and general manager of the Utah Jazz in 1984. He later ran the New York Knicks and Madison Square Garden.

Copyright 2009 by The Associated Press
NFL WEEK 5 PREVIEW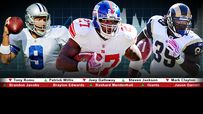 PICKS
COLUMNS/BLOG POSTS
MNF: Jets at Dolphins
FINAL WORD
POWER RANKINGS
HOT READ: Johnson, Fitzgerald duel
STOCK WATCH: Fallers, risers
ROOKIE SURPRISES
SCOUTS INC.

MOST SENT STORIES ON ESPN.COM