Commentary
Rookie Watch: Week 6
Originally Published:
October 20, 2009
By
Jeremy Green
| Scouts Inc.
Houston Texans linebacker Brian Cushing has vaulted to the top spot in the rookie standings after an impressive performance in Week 6. New York Jets quarterback Mark Sanchez fell out of the top 10 after throwing five interceptions against the Buffalo Bills.
Preseason
|
Week 1
|
Week 2
|
Week 3
|
Week 4
|
Week 5
Rookie Watch
Ranking
Player, Position (Draft position)
Team
Last Week

1.

Brian Cushing, Texans, OLB (First round, No. 15)
Cushing makes the jump into the top spot for this week based on his performance in Cincinnati. He finished the game with nine tackles, two passes broken up and an interception. He was all over the field, playing sideline to sideline as the Texans pulled the upset. We have been impressed with his run defense, but he is getting better in coverage every week.
7

2.

Clay Matthews, Packers, LB (First, No. 26)
You look at the game prior to the Packers' bye week and now this performance against Detroit, and Matthews has no fewer than three explosive plays. He finished Sunday's game with five tackles and two sacks. He added another tackle for loss and a pass deflection. I though he really improved his pass rushing this week. He has the speed to come off the edge but has improved his overall pass-rush moves with better hand usage.
NR

3.

DeAndre Levy, Lions, LB (Third, No. 12)
Despite the Lions' losing efforts, Levy continues to shine on a weekly basis. He finished the game at Green Bay with eight total tackles, an interception and a fumble recovery. He quickly is showing he is one of the most versatile LBs in this draft class, as he is an every-down player who can make plays versus the run and the pass.
10

4.

James Lauranitis, Rams, LB (Second, No. 3)
After tallying another interception in the Rams' upset bid that fell short in Jacksonville, Lauranitis has picks in back-to-back games. He added five tackles and two QB hits. Even though his tackle numbers were down this week, the rookie continues to expand the versatility of his game on a weekly basis.
NR

5.

Michael Oher, Ravens, RT (First, No. 23)
He takes a dip in the rankings this week, but that is going to happen to any rookie offensive tackle who has to face the Vikings' Jared Allen. He gave up one sack and numerous pressures. On a few occasions, he looked good handling the speed, and on others, he was just a little slow out of his stance. He needs to continue to develop his hand techniques and get locked on a little quicker. He will have better days.
2

6.

Johnny Knox, Bears, WR (Fifth, No. 4)
He continues to be a favorite target for Bears QB Jay Cutler. He finished the game with three receptions for 34 yards and one touchdown, and was targeted seven times. He also averaged 24.5 yards on three kickoff returns. Knox has speed, and you should see his reception numbers increase as he continues to develop as a route runner.
NR

7.

Louis Delmas, Lions, S (Second, No. 1)
Despite the losses piling up in Detroit, there are a few bright spots. They are DeAndre Levy at MLB and Delmas at S. Delmas was second on the team in tackles in Week 6 with nine. He needs to be a little more consistent in coverage, but overall, he played another solid game.
8

8.

Knowshon Moreno, Broncos, RB (First, No. 12)
Moreno did not have a monster game against the Chargers, with only 18 carries for 44 yards, but he did grind out some tough yards on the ground. He came up with some critical third-and-short carries to keep the chains moving, and he did a nice job recognizing and picking up blitz pressure from the Chargers' LB unit.
5

9.

Aaron Curry, Seahawks, LB (First, No. 4)
Consistency has to be the key with any player, but especially rookies. Curry has been a little up and down this season, but that is expected. He finished Sunday's game with five tackles, a pass deflection and a QB hit. However, he was out of position at times in coverage. He has to be more disciplined with his underneath route recognition.
4

10.

Percy Harvin, Vikings, WR/RB (First, No. 22)
He did not put up big numbers Sunday, with only two receptions for 10 yards and a 20.3-yard average on four kickoff returns, but he did a lot of little things very well. His blocking was much improved, and even when he does not touch the ball, his route running is such that he draws coverage to open up the field for other targets.
1
SPONSORED HEADLINES
MORE NFL HEADLINES
MOST SENT STORIES ON ESPN.COM
NFL WEEK 7 PREVIEW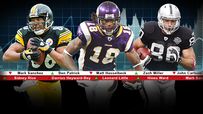 PICKS
POWER RANKINGS
MNF: Eagles at Redskins
FINAL WORD
HOT READ: JaMarcus Russell
UNDERACHIEVERS
STOCK WATCH: Fallers, risers
COLUMNS/BLOG POSTS
SCOUTS INC.