Commentary
Rookie Watch: Week 7
Originally Published:
October 27, 2009
By
Jeremy Green
| Scouts Inc.
Minnesota Vikings all-purpose back Percy Harvin has jumped 10 spots to the top of the Rookie Watch after an electrifying performance against the Steelers in Week 7.
Preseason
|
Week 1
|
Week 2
|
Week 3
|
Week 4
|
Week 5
|
Week 6
Rookie Watch
Ranking
Player, position (draft position)
Status
Last week

1.

Percy Harvin, Vikings WR/RB (first round, No. 22)
Harvin has been one of the most consistent rookies in this class. He is electrifying and can change games, as he showed this past Sunday on his kickoff-return touchdown that kept the Vikings in that tough road loss to Pittsburgh. He is becoming a big part of the offense, as he was targeted 10 times Sunday.
10

2.

Michael Oher, Ravens RT (first round, No. 23)
Although Oher is coming off a bye week, he rises back into the No. 2 spot based on his body of work this season. If you throw out the game against Minnesota and its outstanding defensive end, Jared Allen, Oher has been a dominant player at times, which is high praise for a rookie who had to move from right to left tackle because of injuries.
5

3.

Brian Cushing, Texans OLB (first round, No. 15)
After missing some of the preseason with injury, Cushing has established himself as the most consistent linebacker in a rookie class loaded with talent at the position. The Texans have won two straight while playing much better on defense, and Cushing has led that charge. He led all Texans in tackles in Week 7 with eight and gets my early vote for rookie of the year.
1

4.

James Laurinaitis, Rams LB (second round, No. 3)
Even though he is coming off a less-than-great game against the Colts, his body of work throughout the season has been excellent. We knew he would have excellent instincts, but he has been just impressive in coverage with two interceptions. He is the most instinctive of an excellent LB group.
4

5.

Clay Matthews, Packers LB (first round, No. 26)
Matthews leads all rookie defensive ends and linebackers in sacks with three this season. He has adapted well to Green Bay's 3-4 defense, adjusted nicely to the speed of the game and developed his edge pass-rush moves. Matthews improves every week, specifically against the run and when dropping into coverage.
2

6.

DeAndre Levy, Lions LB (third round, No. 12)
Levy has been an under-the-radar type of rookie because he plays on the Lions, but you could argue he has been as impressive as any of the other young rookie linebackers. He is coming off his bye week, but we expect him to pick up where he left off next week as an instinctive run-stuffer who makes a lot of tackles in and around the line of scrimmage.
3

7.

Louis Delmas, Lions S (second round, No. 1)
It is kind of odd to have two Lions on the Rookie Watch, but Delmas has been one of few rookies on this list every single week. He is coming off his bye week, but he has been a tough physical hitter. He also has been solid in coverage, showing very good instincts in zone coverage and athletic ability in man coverage.
7

8.

Aaron Curry, Seahawks LB (first round, No. 4)
The Seahawks are coming off their bye week, but Curry's body of work has kept him on this list all season. Quite a few rookie linebackers are playing more consistently than Curry this season, but some of that might have to do with expectations, and his were lofty coming into this season.
9

9.

Mark Sanchez, Jets QB (first round, No. 5)
Even though his numbers are not outstanding, Sanchez is trying to make his mark at the toughest position to play as an NFL rookie. He has led his team to a 4-3 start, and the Jets will make some adjustments during their bye-week self-scouting. Expect a big second half of the season from Sanchez.
NR

10.

Jairus Byrd, Bills FS (second round, No. 10)
Byrd has really jumped onto the radar during the past few weeks. He is a converted corner who has moved to free safety and is having a major impact. He has four interceptions in the past two weeks and five in the past three. He has excellent instincts and playmaking ability and could be a rookie of the year dark horse if he could lead the NFL in interceptions this season.
NR
SPONSORED HEADLINES
MORE NFL HEADLINES
MOST SENT STORIES ON ESPN.COM
NFL WEEK 8 PREVIEW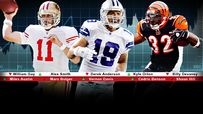 PICKS
POWER RANKINGS
MNF: Falcons at Saints
FINAL WORD
STOCK WATCH: Fallers, risers
COLUMNS/BLOG POSTS
HOT READ: Green Bay GM Ted Thompson
JOE FLACCO
HOW LONG WILL IT LAST?
FANTASY
SCOUTS INC.
PAGE 2