Commentary
Rookie Watch: Week 8
Originally Published:
November 3, 2009
By
Jeremy Green
| Scouts Inc.
Another dynamic performance by Minnesota Vikings all-purpose back Percy Harvin in Week 8 leaves him atop the Rookie Watch for a second consecutive week.
Preseason
|
Week 1
|
Week 2
|
Week 3
|
Week 4
|
Week 5
|
Week 6
|
Week 7
Rookie Watch
Ranking
Player, position (draft position)
Status
Last week

1.

Percy Harvin, Vikings WR/RB (first round, No. 22)
Harvin had his best day as a pro on Sunday in a big game against the Packers. He totaled 261 all-purpose yards as a receiver, running back and kick returner. He is one of the three most electrifying players in the NFL with the ball in his hands.
1

2.

Michael Oher, Ravens RT (first round, No. 23)
He is having the type of rookie season Browns LT Joe Thomas had a few years ago, and if he stays on pace, he should be a rookie starter in the Pro Bowl. Outside of the Minnesota loss, he has been a dominant force up front. He held Elvis Dumervil, one of the best pass-rushers in the NFL, sackless in the Ravens' big win over the Broncos on Sunday.
2

3.

Brian Cushing, Texans OLB (first round, No. 15)
He was all over the field in the Texans' win at Buffalo. He led the team in tackles with 10 while adding a sack and an interception. He has the best motor of all the rookie linebackers selected in the 2009 draft. He understands leverage and has excellent instincts to explode up through the hole to find the ball carrier.
3

4.

Jairus Byrd, Bills FS (second round, No. 10)
Moves up this week, and he and Cushing are the top selections for defensive rookie of the year at the midpoint of the season. He has had three straight two-interception games, giving him seven total picks on the season. As a former corner, he has tremendous ball skills. He also has showed excellent route recognition and instincts to be in the right spots to make plays.
10

5.

Mark Sanchez, Jets QB (first round, No. 5)
He has been making a steady climb up the list, and that trend will continue if he plays as well as he played this past week. Despite the loss to Miami, Sanchez played solid football, completing 20 of 35 passes for 265 yards with two touchdowns and, more importantly, no turnovers. He is making strides at becoming a true field general for the Jets.
9

6.

James Laurinaitis, Rams LB (second round, No. 3)
He led all Rams tacklers with seven tackles this past week and had a pass deflection in their first win this season over Detroit. Despite the Rams' struggles, he has been all over the field making plays with his exceptional motor and ability.
4

7.

Clay Matthews, Packers LB (first round, No. 26)
He had a solid game in Green Bay's loss to Minnesota on Sunday, totaling five tackles, one tackle for loss and a pass deflection. Although he had one QB hit, he was held without a sack and was not around QB Brett Favre enough in this game. When he remembers that he can't beat people just with speed on every snap, he is a much better pass-rusher.
5

8.

LeSean McCoy, Eagles LB (second round, No. 21)
He is one of the more talented rookies in the NFL, but what keeps him off the list is that he does not have the touches to put up healthy numbers on a weekly basis. When he does get touches, however, he can produce, and he did that in a big way for the Eagles on Sunday.
NR

9.

Louis Delmas, Lions S (second round, No. 1)
He turned in another solid performance in the Lions' loss to St. Louis. He had five tackles, including one for a loss, and a pass breakup. As a safety, he won't put up many big numbers, but you want to see that he is not giving up a lot of big plays while out of position, and he has consistently made sure that has not happened.
7

10.

Aaron Curry, Seahawks LB (first round, No. 4)
He has regressed in recent weeks, even though it is too early to hit that rookie wall. What I like more about some of the other rookie linebackers on subpar teams is that they seem to make a lot of plays even when the team is not playing well. Curry seems to go the way of his team's entire defense, and the Seahawks' defense has not been very good of late.
8
NFL WEEK 9 PREVIEW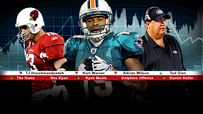 PICKS
HOT READ: Jacksonville viable for NFL?
FINAL WORD
POWER RANKINGS
DANGEROUS PLAYERS
MNF: Steelers at Broncos
COLUMNS/BLOG POSTS
FANTASY
SCOUTS INC.
PAGE 2

MOST SENT STORIES ON ESPN.COM