Commentary
Rookie Watch: Week 9
Originally Published:
November 10, 2009
By
Jeremy Green
| Scouts Inc.
Despite the Minnesota Vikings' bye in Week 9, Percy Harvin maintains his No. 1 spot in the Rookie Watch and is the leading candidate for NFL Rookie of the Year.
Preseason
|
Week 1
|
Week 2
|
Week 3
|
Week 4
|
Week 5
|
Week 6
|
Week 7
|
Week 8
Rookie Watch
Ranking
Player, position (draft position)
Status
Last week

1.

Percy Harvin, Vikings WR/RB (first round, No. 22)
He was on his bye this week but remains in the top spot based on his first-half production. The top spot means he would get my vote for midseason rookie of the year. Not only is he one of the most explosive rookies, he is one of the most explosive players in the NFL and is going to make a ton of plays for this team down the stretch.
1

2.

Brian Cushing, Texans OLB (first round, No. 15)
The Texans' defense has played much better in the second quarter of the season, and Cushing is the main reason. He has excellent instincts to read, react and get to the football, as shown by his 12-tackle performance in a close loss to Indy on Sunday.
3

3.

Jairus Byrd, Bills FS (second round, No. 10)
Byrd moved up this week despite being on his bye week. He grabbed seven interceptions over the past four games, so the only thing that could stop him was apparently his bye week. We love his vision and range in coverage. He covers a lot of ground and does an excellent job of reading the quarterback's eyes to get a jump on the football.
4

4.

Michael Oher, Ravens RT (first round, No. 23)
He dropped this week after a sluggish performance in Cincinnati. The entire Baltimore offense was sluggish this past week, and a lot of their issues started with a lack of continuity up front on the offensive line. The Ravens' offense was on the field for only 20 minutes as Baltimore was dominated in time of possession, but when Oher was out there, he got beat a few times.
2

5.

Mark Sanchez, Jets QB (first round, No. 5)
Like a lot of the top five from last week, Sanchez was on his bye week, and nobody really stood out enough to bump him out of his spot. We think the bye week came at a good time for him because it came right at the midway point for the rookie and he should be recharged for a good second half. The Jets' playoff hopes will rest squarely on his ability to ascend in the second half of the season.
5

6.

James Laurinaitis, Rams LB (second round, No. 3)
Laurinaitis is another player coming off his bye week. He has been a steady guy the first half of the season, and we are encouraged that he has quickly adapted to the speed of the game in the coverage area of the Rams' defense. We look for him to continue making explosive plays the second half of the season.
6

7.

Louis Delmas, Lions S (second round, No. 1)
Despite another loss by the Detroit Lions, Delmas had another solid outing in Seattle, totaling five tackles, a tackle for loss and two pass deflections. He also did a solid job in coverage on Seattle TE John Carlson, who caught six balls that went for only 42 yards.
9

8.

DeAndre Levy, Lions LB (third round, No. 12)
After dropping out of the top 10 last week, he moved back in with his performance in Seattle. He totaled only four tackles, but one of them was for a loss; he also broke up a pass. Levy has been a solid playmaker for the majority of the first half of the season.
NR

9.

Clay Matthews, Packers LB (first round, No. 26)
Matthews, like the Green Bay defense, struggled Sunday in the Packers' loss at Tampa Bay. He finished the game with only two tackles and one quarterback hit. His overall body of work for the first half of the season keeps him in the top 10, but we would like to see him develop his pass-rush moves in the second half of the season instead of always trying to win with his quickness off the edge.
7

10.

Mike Wallace, Steelers WR (third round, No. 20)
He played a big role in the Steelers' win in Denver on Monday night with four catches for 69 yards. He has been on the verge of being on this list all season because every week he seems to come up with a big play in a key moment as the Steelers' No. 3 WR. He is one of the better young playmakers in the NFL, averaging 17.5 yards per reception.
NR
NFL WEEK 10 PREVIEW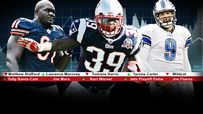 FINAL WORD
PICKS
POWER RANKINGS
PATRIOTS VS. COLTS
HOT READ: Dallas Clark
MIDSEASON REPORT
MNF: Ravens at Browns (8:30 ET)
COLUMNS/BLOG POSTS
FANTASY
SCOUTS INC.
PAGE 2