Commentary
Rookie Watch: Week 10
Originally Published:
November 17, 2009
By
Jeremy Green
| Scouts Inc.
Minnesota Vikings' all-purpose back Percy Harvin maintains his No. 1 spot in the Rookie Watch as his presence is opening up the field for his teammates to excel.
Preseason
|
Week 1
|
Week 2
|
Week 3
|
Week 4
|
Week 5
|
Week 6
|
Week 7
|
Week 8
|
Week 9
Rookie Watch
Ranking
Player, position (draft position)
Status
Last week

1.

Percy Harvin, Vikings WR/RB (first round, No. 22)
He had a quiet week against the Lions as the Vikings' entire team came out a little flat in the game. He finished the game with only three receptions, but they did go for 53 yards. What we are starting to see, however, is that his presence and production is starting to open up the field for guys like Sidney Rice.
1

2.

Michael Oher, Ravens RT (first round, No. 23)
He moves back up this week after a solid Monday night performance against the Cleveland Browns. Oher is one of the better young tackles we have seen in the NFL in pass protection over the past few years in all facets of his game. He has an outside shot to make the Pro Bowl this year as a rookie.
4

3.

Brian Cushing, Texans OLB (first round, No. 15)
Cushing drops one spot this week to make room for Oher as the Texans were on their bye week. We pulled out some tape this week to go back and look at him, and he has just been a dominant force in the Texans' defense. Cushing has speed, range and a nose for the football. He is a playmaker and is poised for a huge second half of the season.
2

4.

Jairus Byrd, Bills FS (second round, No. 10)
Dropped one spot this week even though statistically he did not have a great game. We have become so accustomed to seeing him with interceptions it would be easy to say he did not play well. However, when you break down his game, he did a nice job in run support and in coverage.
3

5.

Clay Matthews, Packers LB (first round, No. 26)
He was around the football all day in the Packers' upset win over Dallas. He had only one tackle, but it was a sack in a critical situation and he recovered two fumbles. He just has great instincts and a nose for being around the football.
9

6.

Mark Sanchez, Jets QB (first round, No. 5)
He had an up-and-down day in the Jets' loss to the Jaguars. He settled down and played better after throwing an interception on their first play from scrimmage. He looks a lot more comfortable playing from inside rather than outside the pocket, so look for the Jets to design their offense more this week off rhythmic three- and five-step drops from the middle of the pocket.
5

7.

James Laurinaitis, Rams LB (second round, No. 3)
Laurinaitis finished Sunday's game against the Saints with only four tackles but played a solid game. The Saints did not run the ball a lot, so Lauranaitis was in coverage a lot more often. He did a nice job getting his hands on some balls and keeping the Saints' underneath passing game in check.
6

8.

Brian Orakpo, Redskins DE (first round, No. 13)
He was on the cusp of being on the list and makes a breakthrough this week after 1.5 sacks in the Redskins' upset win over Denver. He has 3.5 sacks over the past two games and leads all rookies with seven sacks for the season. He is starting to develop his pass-rush moves, understanding that he can't just win with speed against top NFL tackles.
NR

9.

Knowshon Moreno, Broncos RB (first round, No. 12)
Moreno moves back into the top 10 this week off his 97-yard, 18-carry performance in Washington. He needs to get more touches.
NR

10.

Josh Freeman, Buccaneers QB (first round, No. 17)
He has provided a bit of a spark for the Bucs' offense over the past few weeks and is 1-1 as the starting QB. He has a nice pocket presence, though he needs to learn to play taller in the pocket as he has had some balls batted down. He is a good athlete who can stay alive and make plays with his feet and his arm outside the pocket.
NR
SPONSORED HEADLINES
MORE NFL HEADLINES
MOST SENT STORIES ON ESPN.COM
NFL WEEK 11 PREVIEW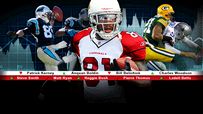 PICKS
FINAL WORD
POWER RANKINGS
HOT READ: Percy Harvin
MNF: Titans at Texans (8:30 ET)
COLUMNS/BLOG POSTS
FANTASY
PAGE 2
SCOUTS INC.
Nike Men's Home Game Jersey Minnesota Vikings Christian Ponder #7 Shop »