Commentary
Rookie Watch: Week 11
Originally Published:
November 24, 2009
By
Jeremy Green
| Scouts Inc.
After leading his team on a game-winning drive against the Cleveland Browns, Detroit Lions QB Matthew Stafford is rising in the latest Rookie Watch.
Preseason
|
Week 1
|
2
|
3
|
4
|
5
|
6
|
7
|
8
|
9
|
10
Rookie Watch
Ranking
Player, position (draft position)
Status
Last week

1.

Percy Harvin, Vikings WR (first round, No. 22)
Caught all five balls thrown his direction for 79 yards and a TD in the Vikings' blowout win over Seattle. He gets better as a route runner every week and is going to be one of a handful of rookies to help his team try to reach a Super Bowl title.
1

2.

Michael Oher, Ravens RT (first round, No. 23)
Despite the Ravens' loss to Indianapolis, Oher played an excellent game, holding outstanding Colts DEs Dwight Freeney and Robert Mathis sackless. RB Ray Rice also ripped off a few nice runs on Oher's side, where he had a few pancake blocks in the run game.
2

3.

Brian Cushing, Texans OLB (first round, No. 15)
He was all over the field in the Texans' loss to the Titans. He led Houston with 10 total tackles. He also had a nice tackle for loss on which he sniffed out a TE screen. He has outstanding instincts and a nose for the football.
3

4.

James Laurinaitis, Rams LB (second round, No. 3)
He was a one-man wrecking crew in the Rams' defense, totaling 16 tackles versus the Arizona Cardinals. He is always going to be around the ball because of his great instincts, but on Sunday, some of his tackles were in space, where he had to show not only speed and range to get to the ball carrier, but also the ability to break down and make that play in space. He is an outstanding football player.
7

5.

Jairus Byrd, Bills FS (second round, No. 10)
Byrd was not involved much in coverage or the run game in Week 11. Right now, he is better in coverage than run support, which is not surprising because he is a converted corner. He missed a few tackles against the Jaguars but overall turned in another solid performance.
4

6.

Clay Matthews, Packers LB (first round, No. 26)
He did not have a great statistical day, but in breaking him down, he played well. He is getting more comfortable in coverage every week and took away throws in the 49ers' underneath passing game by being in passing lanes.
5

7.

Knowshon Moreno, Broncos RB (first round, No. 12)
They fell behind early, and he was not as big a factor as he could have been, but he had 10 carries for 80 yards. He did have a costly fumble at the goal line, but it came in the form of him trying to make an effort play and reaching the ball out to stretch it into the end zone. He made some great cuts in this game and looked sharp with the ball in his hands.
9

8.

Matthew Stafford, Lions QB (first round, No. 1)
Based on his performance against the Browns, he would be No. 1, but this list is more about body of work for the season. That said, we can't leave him off based on his five-TD performance Sunday. He became the youngest QB to throw five TD passes in one game in the history of the NFL and showed great toughness on the last play of the game, throwing a TD pass with an injured left shoulder.
NR

9.

Brian Orakpo, Redskins DE (first round, No. 13)
He did not record a sack Sunday but tallied a few tackles in the Redskins' upset bid in Dallas. Even though his numbers were not great this week, Orakpo did a much better job of holding the point of attack in the run game and is becoming a more complete football player.
8

10.

Louis Delmas, Lions S (second round, No. 1)
After his first week off the list last week, he moves back into the top 10 off his numbers in the Lions' win against Cleveland. He finished the game with eight tackles, and while he is always a force against the run, we would like to see him start to develop a little more in coverage where he needs to be quicker over the top in help situations.
NR
NFL WEEK 12 PREVIEW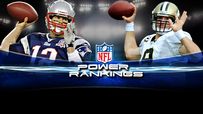 PICKS
FINAL WORD
POWER RANKINGS
HOT READ: Jim Caldwell
MNF/SUPERDOME SHOWDOWN: Pats-Saints
COLUMNS/BLOG POSTS
FANTASY
SCOUTS INC.
PAGE 2
ESPN FAN SHOP