Rhodes demoted in favor of Smith
Updated:
November 25, 2009, 11:01 PM ET
Associated Press
FLORHAM PARK, N.J. -- For the first time in his NFL career, Kerry Rhodes is no longer a starting safety.
He's also not quite sure how much longer he'll be with the New York Jets after being demoted Wednesday by coach Rex Ryan in favor of Eric Smith.
AFC East blog

The Bills had nothing to lose aside from nine more football games and some cash so they took a flyer on linebacker Shawne Merriman, ESPN.com's Tim Graham writes. Blog
"I don't know," Rhodes said of his future with the team. "I didn't expect to be in this position, so I don't know."
Rhodes has failed to be the playmaking presence Ryan expected when he compared him to the Baltimore Ravens' Ed Reed in the offseason. Instead, Rhodes has struggled with no interceptions, sacks, forced fumbles or fumble recoveries.
"Do I expect more of Kerry? I would say that's a true statement than what we're getting," Ryan said. "He probably expected more of himself also."
Rhodes has started every game of his NFL career since being a fourth-round pick out of Louisville in 2005. Big things were expected after he had nine interceptions and seven sacks from 2006-07, but Rhodes has only one sack and two picks since.
"I'm not a disruptive guy, so I won't be on suicide watch," he said. "It's definitely one of those things that is tough on me, but I'm not going to cause problems or start problems in the locker room or anything. That's not me. I'll try to do the things he wants me to do and get back in every package."
Starting this week, though, Rhodes will be involved primarily in nickel and dime packages rather than the base defensive packages -- as he has since he joined the Jets.
"Yeah, I'm embarrassed," he said. "I mean, I have a lot of pride."
He also wanted to clarify that he isn't getting benched.
"I'm still pretty much in every package," he said. "It's kind of like a little kid in timeout."
Still, it's a huge shot to the confidence of Rhodes, who acknowledged having doubts about his ability.
"If the coaches don't think you're doing enough for your team, then you start to question yourself as an individual and as a player," he said. "I've done a lot for this team, a lot for this league. But to be in this situation right now, it's definitely a situation where you think."
Rhodes signed a five-year, $33 million deal in April 2008 and was considered one of the cornerstones of the franchise. He's not so sure now. When asked if he wanted to be with the Jets for the long term, Rhodes gave a cryptic non-answer by saying, "I'm not going to answer that one right now."
Rhodes, who had been lobbying his fans for Pro Bowl votes a week ago on Twitter, had a weak game at New England on Sunday. He was run over by running back Laurence Maroney and pulled up on a chance to pop Wes Welker on a play over the middle.
"I thought I was doing OK," he said. "I haven't made the big plays that I have before, but part of that is trying to figure out. There were a couple of plays I tried to make this year that I didn't, due to that."
Ryan said he was not trying to send a message to the entire team by making an example of Rhodes. Some have suggested Rhodes might have been a scapegoat as the team has dropped six of its last seven.
"It may be a message to the team," Rhodes said. "I'm a guy who's looked upon to do a lot of things for this team and I'm a guy who makes a little money as well, so when you have those situations, you want to have those guys be the guys that are doing a lot for you."
Ryan, at least publicly, remains confident Rhodes will come out of his demotion a better player.
"I'm almost banking on how Kerry will respond," Ryan said. "I'll say this: I know Kerry wants to be out there with his teammates. I'm banking on that."
Smith was a third-round pick out of Michigan State in 2006 and has started 10 games. He has four interceptions and 102 tackles in his career and leads the team this season with 15 special teams tackles.
"When you get an opportunity like this, you've got to do something with it," he said. "I'm just going to come out and try to help the defense as much as I can."
He blocked a punt that was returned for a touchdown last Sunday at New England and has been known as a hard hitter. Smith was suspended and fined last season for a helmet-to-helmet hit that sent Arizona's Anquan Boldin to the hospital.
"It's only awkward if you make it," Smith said of stepping in for Rhodes. "We're both good friends and we know it's just something they're trying to change up and maybe get something done on defense a little differently."

Copyright 2009 by The Associated Press
SPONSORED HEADLINES
MORE NFL HEADLINES
MOST SENT STORIES ON ESPN.COM
NFL WEEK 12 PREVIEW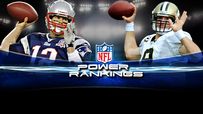 PICKS
FINAL WORD
POWER RANKINGS
HOT READ: Jim Caldwell
MNF/SUPERDOME SHOWDOWN: Pats-Saints
COLUMNS/BLOG POSTS
FANTASY
SCOUTS INC.
PAGE 2
Fremont Die New York Jets 8" Helmet Magnet Shop »